Tesi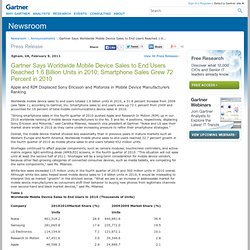 Egham, UK, February 9, 2011 View All Press Releases Apple and RIM Displaced Sony Ericsson and Motorola in Mobile Device Manufacturers Ranking Worldwide mobile device sales to end users totaled 1.6 billion units in 2010, a 31.8 percent increase from 2009 (see Table 1), according to Gartner, Inc.
Says Worldwide Mobile Device Sales to End Users Reached 1.6 Billion Units in 2010; Smartphone Sales Grew 72 Percent in 2010
Questo articolo è stato pubblicato il 14 gennaio 2011 alle ore 18:27. Un miliardo di utenti quest'anno, poco meno di quattro nel 2015: questi i numeri del mobile broadband secondo Ericsson, che attribuisce un ruolo decisivo a tale (per altro ampiamente previsto da tempo) boom di connessioni ultra veloci su reti wireless a smartphone e soprattutto tablet. Un'altra tendenza ribadita dalle rilevazioni della società svedese riguarda il ruolo dell'Asia Pacifico, destinata a fare da locomotiva dello sviluppo del traffico dati con circa 400 milioni di nuove attivazioni, quante se ne dovrebbero registrare congiuntamente (in egual misura) fra Nord America ed Europa occidentale. Il salto in avanti del numero di abbonati ai servizi di Internet a banda larga via reti 3G e 4G rimane quindi uno dei temi principali che caratterizzano presente e futuro prossimo dell'industria telco.
Un miliardo di utenti in banda larga mobile nel 2011
Motore multi cervello nell'iPad 2 e nell'iPhone 5
iPad 2 News, Rumors ed Anticipazioni
Android scavalca Symbian e diventa ora il sistema più venduto al mondo: si conclude un dominio che durava da oltre 10 anni | Batista70Phone
La società di ricerca Canalys, ha fatto un'analisi per quanto riguarda le vendite di smartphone nell'ultimo quarto del 2010 e i numeri che sono usciti fuori sono di quelli che devono far riflettere. In questa finestra temporale sono stati venduti 32,9 milioni di smarphone con sistema operativo Android, (circa 7 volte di più rispetto all'anno prima !) contro i 31 milioni di smartphone con sistema Symbian.
Mobile Users Prefer Browsers over Apps