Capitolo Smart phone
Says Android to Become No. 2 Worldwide Mobile Operating System in 2010 and Challenge Symbian for No. 1 Position by 2014. STAMFORD, Conn., September 10, 2010 View All Press Releases    The worldwide mobile operating system (OS) market will be dominated by Symbian and Android, as the two OSs will account for 59.8 percent of mobile OS sales by 2014, according to Gartner, Inc.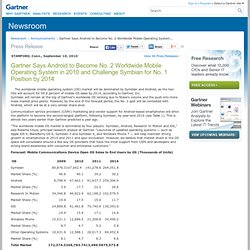 Symbian will remain at the top of Gartner's worldwide OS ranking due to Nokia's volume and the push into more mass market price points. However, by the end of the forecast period, the No. 1 spot will be contested with Android, which will be at a very similar share level. Communication service providers' (CSPs') marketing and vendor support for Android-based smartphones will drive the platform to become the second-largest platform, following Symbian, by year-end 2010 (see Table 1). This is almost two years earlier than Gartner predicted a year ago. Says Worldwide Mobile Phone Sales to End Users Grew 8 Per Cent in Fourth Quarter 2009; Market Remained Flat in 2009. Egham, UK, February 23, 2010 View All Press Releases Combined Market Share of Top Five Mobile Phone Vendors Dropped More Than 4 Percentage Points in 2009 Worldwide mobile phone sales to end users totalled 1.211 billion units in 2009, a 0.9 per cent decline from 2008, according to Gartner, Inc.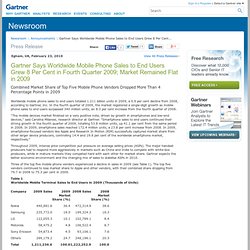 In the fourth quarter of 2009, the market registered a single-digit growth as mobile phone sales to end users surpassed 340 million units, an 8.3 per cent increase from the fourth quarter of 2008. "The mobile devices market finished on a very positive note, driven by growth in smartphones and low-end devices," said Carolina Milanesi, research director at Gartner. "Smartphone sales to end users continued their strong growth in the fourth quarter of 2009, totalling 53.8 million units, up 41.1 per cent from the same period in 2008.
Perché il patto Nokia-Microsoft per gli smartphone è una scommessa difficile da vincere. Tonfo in Borsa. Storia dell'articolo Chiudi Questo articolo è stato pubblicato il 11 febbraio 2011 alle ore 12:48. l Ceo di Nokia e Microsoft Stephen Elop e Steve Ballmer (Afp) di Mario CianfloneSarà il mercato, saranno i consumatori e gli sviluppatori a decretare se la mossa di Stephen Elop, Ceo di Nokia, è stata giusta.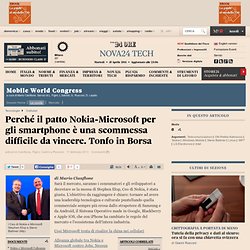 Rim/ Il profilo dell'azienda che ha inventato il BlackBerry. Research In Motion (RIM - www.rim.com) è un'azienda leader nella progettazione, produzione e commercializzazione di soluzioni wireless innovative per il mercato globale delle comunicazioni.La gamma di prodotti RIM comprende tra gli altri la piattaforma wireless BlackBerry e lo smartphone BlackBerry, il dispositivo mobile che più di qualsiasi altro è riuscito ad interpretare le esigenze dei professionisti di tutto il mondo e che sempre di più si sta avvicinando a quelle della clientela consumer.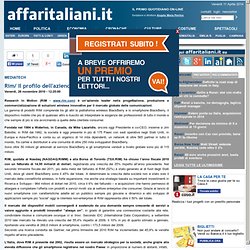 Google Android 2011 growth forecasts. Pouring some facts onto the wild predictions. This is the fourth post in a series analyzing the rise of Android in 2010 and beyond.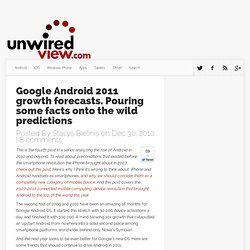 To read about preconditions that existed before the smartphone revolution the iPhone brought about in 2007, check out this post. Here's why I think it's wrong to think about iPhone and Android handsets as smartphones, and why we should consider them as a completely new category of mobile device. And this post covers the 2007-2010 connected mobile computing device revolution that brought Android to the top of the world this year. The second half of 2009 and 2010 have been an amazing 18 months for Google Android OS. The official skinny on RIM's BlackBerry OS 6. BlackBerry maker RIM officially announced BlackBerry 6 on Tuesday, alongside the company's unveiling of the BlackBerry Torch smartphone .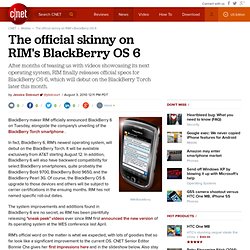 In fact, BlackBerry 6, RIM's newest operating system, will debut on the BlackBerry Torch. It will be available exclusively from AT&T starting August 12. In addition, BlackBerry 6 will also have backward compatibility for select BlackBerry smartphones, quite probably the BlackBerry Bold 9700, BlackBerry Bold 9650, and the BlackBerry Pearl 3G. Of course, the BlackBerry OS 6 upgrade to those devices and others will be subject to carrier certifications in the ensuing months.
RIM has not named specific roll-out dates. » Perché i so android sono così dominanti sul mercato degli Smartphone? Non è la prima volta che in questo blog vi parliamo di Android e, più in generale, degli Smartphone (per chi avesse la memoria corta, ecco qua il link all'ultimo articolo in merito).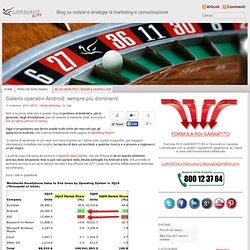 Oggi vi proponiamo una breve analisi sullo stato del mercato per gli apparecchi Android, che ci arriva direttamente dalle pagine di Marketing Pilgrim: "A rischio di sembrare un po' nerd (non sarà la prima né l'ultima volta, questo è garantito, per maggiori informazioni contattate mia moglie) ho deciso di dare un'occhiata a qualche ricerca e a provare a ragionarci un po' sopra. La prima cosa che balza all'occhio è il rapporto della Gartner, che per fortuna ci dà un quadro piuttosto preciso della situazione. Non si può non parlare della attuale battaglia tra Android e iOS, che promette di animarsi ancora di più se la Verizon lancerà il suo iPhone nel 2011 (cosa che sembra effettivamente destinata ad avverarsi). » Qualche statistica in più sui sistemi operativi per Smartphone. Non è certo la prima volta che ci occupiamo di smartphone, ed in particolare dell'eterna sfida tra Android e iOS (Ne avevamo infatti parlato l'ultima volta poco tempo fa!)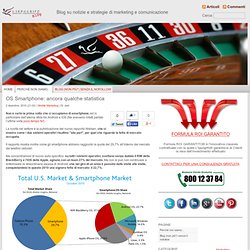 . La novità nel settore è la pubblicazione del nuovo rapporto Nielsen, che ci mostra come i due sistemi operativi risultino "alla pari", per quel che riguarda la fetta di mercato occupata. Il rapporto mostra inoltre come gli smartphone abbiano raggiunto la quota del 29,7% all'interno del mercato dei telefoni cellulari. Ma concentriamoci di nuovo sullo specifico: su tutti i sistemi operativi, svettano senza dubbio il RIM della BlackBerry e l'iOS della Apple, ognuno con un buon 27% del mercato. Nuove tariffe Vodafone per BlackBerry, una stangata per i nuovi clienti! Come qualcuno di voi si è già accorto, a partire dal 6 febbraio 2011 Vodafone Italia ha deciso di modificare, in peggio, le tariffe del servizio BlackBerry per tutti i nuovi clienti.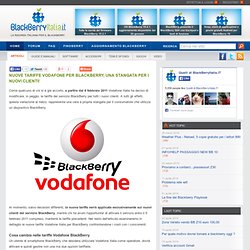 A tutti gli effetti, questa variazione al rialzo, rappresenta una vera e propria stangata per il consumatore che utilizza un dispositivo BlackBerry. Al momento, salvo decisioni differenti, la nuova tariffa verrà applicata esclusivamente sui nuovi clienti del servizio BlackBerry, mentre chi ha avuto l'opportunita' di attivare il servizio entro il 5 febbraio 2011 compreso, manterrà le tariffe precedenti.
Nel resto dell'articolo esamineremo in dettaglio le nuove tariffe Vodafone Italia per BlackBerry confrontandone i costi con i concorrenti. Cosa cambia nelle tariffe Vodafone BlackBerry Un utente di smartphone BlackBerry che desidera utilizzare Vodafone Italia come operatore, dovrà attivare e quindi gestire non una ma due opzioni tariffarie. Guida all'acquisto di un BlackBerry - Perche' dovrei scegliere un BlackBerry come smartphone? HTC, Apple, Nokia, Samsung, HP e Android sono cresciute tantissimo negli ultimi anni in termini di qualità e capacità dei propri dispositivi mobile.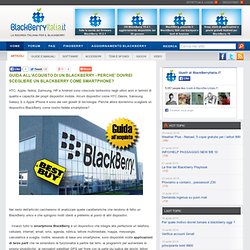 Alcuni dispositivi come HTC Desire, Samsung Galaxy S o Apple iPhone 4 sono dei veri gioielli di tecnologia. Perchè allora dovremmo scegliere un dispositivo BlackBerry come nostro fedele smartphone? Nel resto dell'articolo cercheremo di analizzare quelle caratteristiche che rendono di fatto un BlackBerry unico e che spingono molti utenti a preferirlo al posto di altri dispositivi.
Dell Means Business | Batista70Phone. "Dell Means Business" è il concetto con il quale Dell vuole dare il via ad una nuova serie di prodotti concepiti per il business ed il consumer quali la compagnia americana non ha mai avuto a catalogo. I prodotti di questa nuova serie saranno 39 ed includeranno netbook, notebook, desktop, tablet, workstation e, ovviamente, smartphone. Alcuni di questi dispositivi li conosciamo già: Streak, Streak 7, Venue e Venue Pro. Ma la vera sorpresa di Dell sono due nuovi tablet indirizzati a due distinte categorie: un Windows 7 per una clientela business ed un Android per la clientela consumer. Proprio quest'ultimo sembra il più vicino all'uscita. Display da 10 pollici, Android FroYo, interfaccia personalizzata UI Stage. Le applicazioni Android compatibili con il tablet RIM BlackBerry PlayBook. Pura suggestione. Tornando indietro a qualche mese fa e più precisamente alla scorsa estate avevamo ricevuto diverse indiscrezioni sulla presentazione del tablet RIM BlackBerry PlayBook che avrebbe avuto il nuovo sistema operativo QNX – introdotto successivamente anche sui palmari BlackBerry – e che lo stesso sarebbe stato in grado di eseguire applicazioni Android.
Oggi abbiamo ancora conferme da più fonti che sul tablet RIM BlackBerry PlayBook e sui prossimi futuri palmari BlackBerry RIM con sistema operativo QNX saranno in grado di eseguire applicazioni Android attraverso una Java Virtual Machine. RIM ha indicato che una Java VM sta per supportare applicazioni BlackBerry legacy, e sembra che possono scegliere di attuare la JM Dalvik che utilizza Android (la decisione finale la devono ancora compiere).
La grande notizia è che ci viene confermato che Research In Motion sta per scegliere e confermare la macchina virtuale Dalvik. 54% of Verizon's Android, Blackberry users to switch to iPhone, survey says. By Josh Ong More than half of Verizon's current Android and Blackberry users indicated they are likely to switch to the iPhone when it arrives on the Verizon network on Feb. 10, according to a new survey. Online sample company uSamp, which conducted a "highly profiled online panel" of more than 700 smartphone users in late January, published the results Thursday. Broadband - Latest Articles. Predicts Android will grow more than twice the rate of major competitors in 2011 (Canalys research release: r2011011)
Canalys today announced its projection that Android will continue to grow at more than twice the rate of its major smart phone competitors in 2011, despite market concerns over platform fragmentation and the arrival of the iPhone 4 on Verizon in the US. According to Canalys Q3 2010 estimates, the Google-backed platform already claims a 25% share of the worldwide smart phone market, with over 20 million shipments of Android-based worldwide. Reports global PC market growth of 19% in Q4 2010 (Canalys research release: r2011012) Canalys today announced strong PC industry growth of 19% in Q4 2010, with Apple climbing to third place in the market, thanks to impressive iPad and Mac sales, as well as fast growth in Asia Pacific. The analyst company attributes the majority of Q4 market growth to the rising demand for pads, a new product category. 'Pads gave consumers increased product choice over the holiday season,' said Canalys Analyst Tim Coulling.
'While they do not appeal to first-time buyers or low-income households, they are proving extremely popular as additional computing devices.' Canalys urges vendors to accept new market realities, by recognizing pads as an integral new component of the overall PC landscape. Google's Android becomes the world's leading smart phone platform (Canalys research release: r2011013) Index of latest press and research releases. Light Reading Mobile - Broadband - Android Dethrones Symbian Globally. IDC: Apple now No. 4 mobile phone manufacturer. iPhone 5, cambia tutto: in estate l'annuncio? Intanto spunta il 4 bianco [foto. In Italia si parla tanto di iPhone ma si compra Nokia.
---