Capitolo Smart phone
STAMFORD, Conn., September 10, 2010 View All Press Releases    The worldwide mobile operating system (OS) market will be dominated by Symbian and Android, as the two OSs will account for 59.8 percent of mobile OS sales by 2014, according to Gartner, Inc.
Says Android to Become No. 2 Worldwide Mobile Operating System in 2010 and Challenge Symbian for No. 1 Position by 2014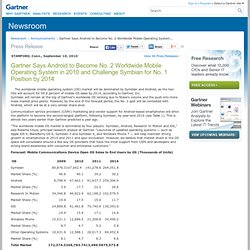 Egham, UK, February 23, 2010 View All Press Releases Combined Market Share of Top Five Mobile Phone Vendors Dropped More Than 4 Percentage Points in 2009
Says Worldwide Mobile Phone Sales to End Users Grew 8 Per Cent in Fourth Quarter 2009; Market Remained Flat in 2009
Storia dell'articolo Chiudi Questo articolo è stato pubblicato il 11 febbraio 2011 alle ore 12:48. l Ceo di Nokia e Microsoft Stephen Elop e Steve Ballmer (Afp) di Mario CianfloneSarà il mercato, saranno i consumatori e gli sviluppatori a decretare se la mossa di Stephen Elop, Ceo di Nokia, è stata giusta.
Perché il patto Nokia-Microsoft per gli smartphone è una scommessa difficile da vincere. Tonfo in Borsa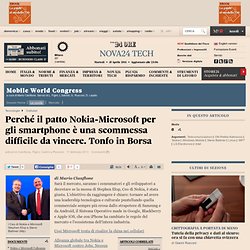 Rim/ Il profilo dell'azienda che ha inventato il BlackBerry
Research In Motion (RIM - www.rim.com) è un'azienda leader nella progettazione, produzione e commercializzazione di soluzioni wireless innovative per il mercato globale delle comunicazioni.La gamma di prodotti RIM comprende tra gli altri la piattaforma wireless BlackBerry e lo smartphone BlackBerry, il dispositivo mobile che più di qualsiasi altro è riuscito ad interpretare le esigenze dei professionisti di tutto il mondo e che sempre di più si sta avvicinando a quelle della clientela consumer.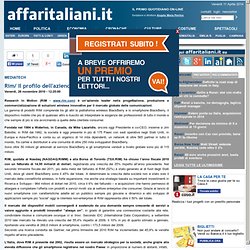 Google Android 2011 growth forecasts. Pouring some facts onto the wild predictions
This is the fourth post in a series analyzing the rise of Android in 2010 and beyond. To read about preconditions that existed before the smartphone revolution the iPhone brought about in 2007, check out this post. Here's why I think it's wrong to think about iPhone and Android handsets as smartphones, and why we should consider them as a completely new category of mobile device. And this post covers the 2007-2010 connected mobile computing device revolution that brought Android to the top of the world this year. The second half of 2009 and 2010 have been an amazing 18 months for Google Android OS.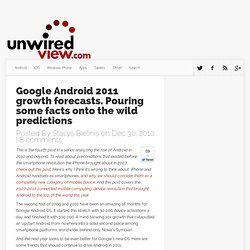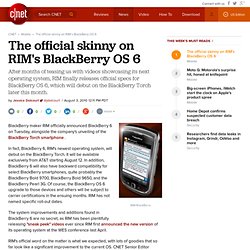 (Credit: RIM/BlackBerry) BlackBerry maker RIM officially announced BlackBerry 6 on Tuesday, alongside the company's unveiling of the BlackBerry Torch smartphone. In fact, BlackBerry 6, RIM's newest operating system, will debut on the BlackBerry Torch.
The official skinny on RIM's BlackBerry OS 6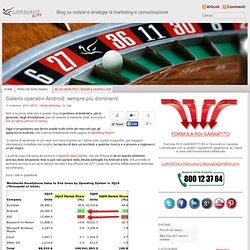 Non è la prima volta che in questo blog vi parliamo di Android e, più in generale, degli Smartphone (per chi avesse la memoria corta, ecco qua il link all'ultimo articolo in merito).
» Perché i so android sono così dominanti sul mercato degli Smartphone?
Non è certo la prima volta che ci occupiamo di smartphone, ed in particolare dell'eterna sfida tra Android e iOS (Ne avevamo infatti parlato l'ultima volta poco tempo fa!)
» Qualche statistica in più sui sistemi operativi per Smartphone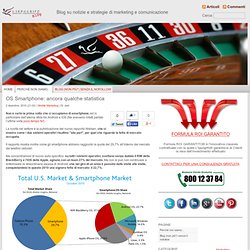 Come qualcuno di voi si è già accorto, a partire dal 6 febbraio 2011 Vodafone Italia ha deciso di modificare, in peggio, le tariffe del servizio BlackBerry per tutti i nuovi clienti. A tutti gli effetti, questa variazione al rialzo, rappresenta una vera e propria stangata per il consumatore che utilizza un dispositivo BlackBerry.
Nuove tariffe Vodafone per BlackBerry, una stangata per i nuovi clienti!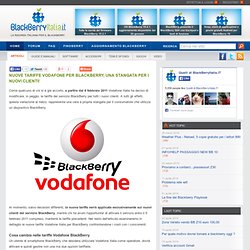 Guida all'acquisto di un BlackBerry - Perche' dovrei scegliere un BlackBerry come smartphone?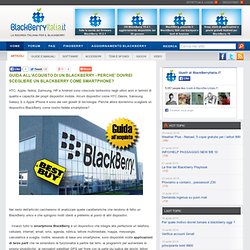 HTC, Apple, Nokia, Samsung, HP e Android sono cresciute tantissimo negli ultimi anni in termini di qualità e capacità dei propri dispositivi mobile.
"Dell Means Business" è il concetto con il quale Dell vuole dare il via ad una nuova serie di prodotti concepiti per il business ed il consumer quali la compagnia americana non ha mai avuto a catalogo. I prodotti di questa nuova serie saranno 39 ed includeranno netbook, notebook, desktop, tablet, workstation e, ovviamente, smartphone. Alcuni di questi dispositivi li conosciamo già: Streak, Streak 7, Venue e Venue Pro. Ma la vera sorpresa di Dell sono due nuovi tablet indirizzati a due distinte categorie: un Windows 7 per una clientela business ed un Android per la clientela consumer. Proprio quest'ultimo sembra il più vicino all'uscita. Display da 10 pollici, Android FroYo, interfaccia personalizzata UI Stage.
Dell Means Business | Batista70Phone
Pura suggestione. Tornando indietro a qualche mese fa e più precisamente alla scorsa estate avevamo ricevuto diverse indiscrezioni sulla presentazione del tablet RIM BlackBerry PlayBook che avrebbe avuto il nuovo sistema operativo QNX – introdotto successivamente anche sui palmari BlackBerry – e che lo stesso sarebbe stato in grado di eseguire applicazioni Android.
Le applicazioni Android compatibili con il tablet RIM BlackBerry PlayBook
54% of Verizon's Android, Blackberry users to switch to iPhone, survey says
By Josh Ong More than half of Verizon's current Android and Blackberry users indicated they are likely to switch to the iPhone when it arrives on the Verizon network on Feb. 10, according to a new survey. Online sample company uSamp, which conducted a "highly profiled online panel" of more than 700 smartphone users in late January, published the results Thursday.
Broadband - Latest Articles
As traditional Telcos communications services have reached saturation, operators are looking to open their capabilities with Communications as a Service (CaaS) as an alternative revenue stream. This Radio Show will introduce the CaaS operating model; discuss why it is needed, the benefits that it provides to both operators and their partners and customers and why legacy solutions have not so far met the requirements to provide such services. This Show will also emphasize the key success factors for implementing CaaS and discuss how Huawei's solution helps operators provide such an offering with an end-to-end ecosystem approach.
predicts Android will grow more than twice the rate of major competitors in 2011 (Canalys research release: r2011011)
Canalys today announced its projection that Android will continue to grow at more than twice the rate of its major smart phone competitors in 2011, despite market concerns over platform fragmentation and the arrival of the iPhone 4 on Verizon in the US. According to Canalys Q3 2010 estimates, the Google-backed platform already claims a 25% share of the worldwide smart phone market, with over 20 million shipments of Android-based worldwide.
reports global PC market growth of 19% in Q4 2010 (Canalys research release: r2011012)
Google's Android becomes the world's leading smart phone platform (Canalys research release: r2011013)
index of latest press and research releases
Light Reading Mobile - Broadband - Android Dethrones Symbian Globally
IDC: Apple now No. 4 mobile phone manufacturer
iPhone 5, cambia tutto: in estate l'annuncio? Intanto spunta il 4 bianco [foto
In Italia si parla tanto di iPhone ma si compra Nokia