Answer
Bas Jan Ader
Translate
artnet - The Art World Online
Cuisine Italienne Légumes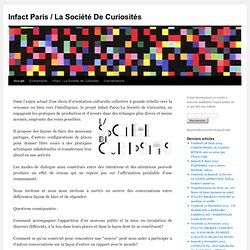 La Soci?t? de Curiosit?s
Dans l'enjeu actuel d'un choix d'orientation culturelle collective à grande échelle vers la croyance ou bien vers l'intelligence, le projet Infact Paris/La Société de Curiosités, en engageant les pratiques de production et d'écoute dans des échanges plus divers et moins normés, emprunte des voies possibles. Il propose des façons de faire des nouveaux partages, d'autres configurations de places pour donner libre cours à des pratiques artistiques inhabituelles et transformer leur abord en une activité. Les modes de dialogue ainsi constitués entre des intentions et des attentions peuvent produire un effet de réseau qui ne repose pas sur l'affirmation préalable d'une communauté. Nous invitons et nous nous invitons à mettre en oeuvre des conversations entre différentes façons de faire et de répondre. Questions conséquentes : Comment accompagner l'apparition d'un nouveau public et la mise en circulation de discours différents, à la fois dans leurs places et dans la façon dont ils se constituent?
...have both wandered in the british countryside. http://www.tate.org.uk/context-comment/articles/nancy-holt-and-robert-smithson-england-1969 "To the right and left bushes of some sort, golden and crimson, glowed with the colour, even it seemed burnt with the heat, of fire. On the further bank the willows wept in perpetual lamentation, their hair about their shoulders. The river reflected whatever it chose of sky and bridge and burning tree, and when the undergraduate had oared his boat through the reflections they closed again, completely, as if he had never been.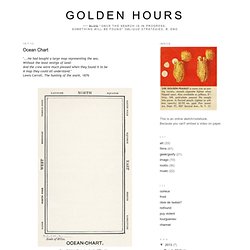 GOLDEN HOURS
DRAGONAUT
artnet - The Art World Online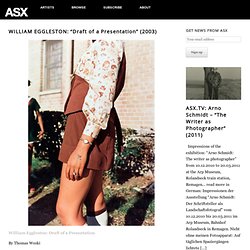 William Eggleston: Draft of a Presentation By Thomas Weski It's hard for me to describe the fascination that William Eggleston's photographs exert on me.
THEORY: "William Eggleston - Draft of a Presentation (2003)"
DESSINS DE PRESSE -Chappatte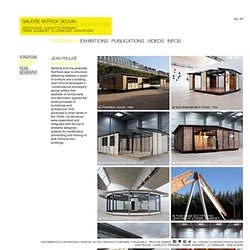 Working from the postulate that there was no structural difference between a piece of furniture and a building, Jean Prouvé developed a "constructional philosophy" whose artifice-free aesthetic of functionality and fabrication applied the same principles to furnishings and architecture. First produced in small series in the 1930s, his structures were assembled and integrated with the aid of shrewdly designed systems for modification, dismantling and moving of both furniture and buildings.
Jean Prouvé | Architecture | Galerie Patrick Seguin