Answer
Bas Jan Ader
Translate
artnet - The Art World Online
Cuisine Italienne Légumes
La Soci?t? de Curiosit?s
GOLDEN HOURS
DRAGONAUT
artnet - The Art World Online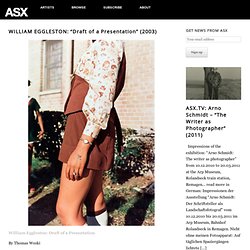 William Eggleston: Draft of a Presentation By Thomas Weski It's hard for me to describe the fascination that William Eggleston's photographs exert on me.
THEORY: "William Eggleston - Draft of a Presentation (2003)"
DESSINS DE PRESSE -Chappatte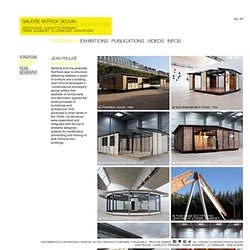 Working from the postulate that there was no structural difference between a piece of furniture and a building, Jean Prouvé developed a "constructional philosophy" whose artifice-free aesthetic of functionality and fabrication applied the same principles to furnishings and architecture. First produced in small series in the 1930s, his structures were assembled and integrated with the aid of shrewdly designed systems for modification, dismantling and moving of both furniture and buildings.
Jean Prouvé | Architecture | Galerie Patrick Seguin