Les news musicales du 20 au 25 Juin
Fight Club Screenwriter to Write Television Miniseries Based on Nine Inch Nails' Year Zero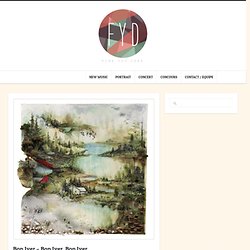 Suite à de difficiles ruptures, avec une fille et avec son groupe DeYarmond Edison, avec qui il jouait depuis son enfance, en 2008 Justin Vernon se retire 3 mois dans la cabane de chasse de son père au fin fond d'une forêt du Wisconsin (clip de Wolves réalisé par Matthiew Amato). Déprimé, malade, un peu alcoolique, il compose un album intime et émotionnellement très chargé: For Emma, Forever Ago. Bon Iver - Skinny Love* (via Jagjaguwar) extrait de For Emma, Forever Ago. Les choses ont bien changé depuis.
Bon Iver – Bon Iver, Bon Iver | Funk You Dear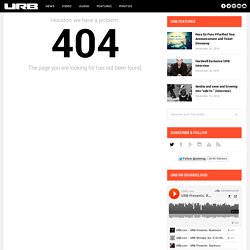 All Tomorrow's Parties has a long history of getting some of the most interesting bands of all time to curate their boutique festivals. So when Portishead was announced to co-curate the upcoming I'll Be Your Mirror gathering, it made perfect sense. For those who can't make the trip to London next month to see Portishead, along with Grinderman, PJ Harvey, Doom, Godspeed You! Black Emperor and Swans, Geoff Barrow, Beth Gibbons and Adrian Utley have made a two hour mix of music by ATP performers for us all to enjoy—in a melancholy way.
Download Portishead's ATP Mix
Il faudra attendre l'année prochaine pour écouter le deuxième album de The Glitch Mob, qui fera suite à l'excellent « Drink The Sea » sorti il y a tout juste un an. Le trio californien va quand même sortir d'ici là de quoi nous faire patienter un peu puisqu'un nouvel Ep est annoncé pour le 12 juillet prochain. Intitulé « We Can Make The World Stop », il comprendra trois titres et sonnera selon le groupe comme ce qui restera comme la musique la plus innovante qu'il ait jamais produite. A suivre.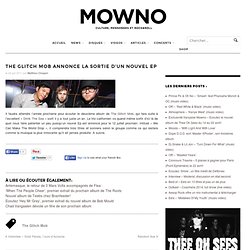 The Glitch Mob annonce la sortie d'un nouvel Ep
Free Music Downloads - Drummer, Singer & Songwriter
If you are a YouTube channel owner: You have permission to use the tracks on this page as the soundtracks to your YouTube video That permission is only relative to use; we reserve the right to claim the video and potentially monetise it in future You may see claims from State51/Merlin who administer Florrie's music on YouTube You should clearly credit Florrie and link to her website If you're a DJ, feel free to add any of the tracks to your live set... all I ask is that you help support me by doing at least one of the following: I'll be excited to know how the track went down! :) Share this page: Twitter Facebook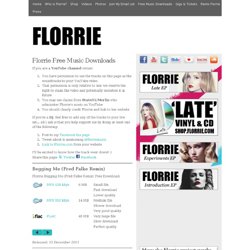 Watch Explosions in the Sky's First-Ever Video
Sourdoreille s'est rendu au festival "Papillons de Nuit" du 21 au 23 juin. Ils nous rapportent lives, accoustiques, interviews et blind tests. Nous vous invitons à plonger dans ces reportages vidéos, "comme si vous y étiez". Dès demain, une partie du collectif Sourdoreille débarque aux Papillons de nuit. Le festival, à la croisée des chemins normands et bretons, propose une programmation alléchante, devant près de 20 000 personnes par soir.
Le festival Papillons de Nuit vu et entendu par Sourdoreille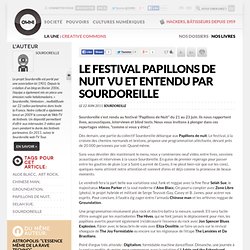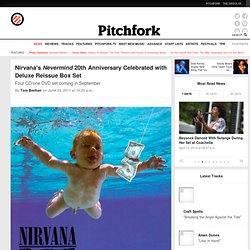 This might make you feel old, but Nirvana's Nevermind turns 20 this September. As Spin reports, Universal will celebrate that anniversary by releasing a box set of the album on September 19, which will include a whole ton of extra material.The box will consist of four CDs and one DVD, including rarities, B-sides, unreleased recordings, and BBC radio appearances. The DVD will feature an entire unreleased live show.
Nirvana's Nevermind 20th Anniversary Celebrated with Deluxe Reissue Box Set
Club Bizarre fête la musique by Club Bizarre on SoundCloud
Jeudi dernier, ma femme et moi sommes sortis… En fait, j'ai commencé cet article, à ma sortie du concert de Ray Lamontagne, le 17 février 2011, mais je n'ai jamais réussi à le terminer (c'est mon côté Jean-Claude Dus, j'ai toujours eu du mal à conclure). Au fond, je n'avais probablement pas envie de faire un live report. C'était pourtant une prestation mémorable. Pourquoi faire simple quand on peut faire compliqué? La prestation était assez courte, à mon goût, mais a remporté un franc succès.
La country Bluegrass de The Secret Sisters « L'esprit Rock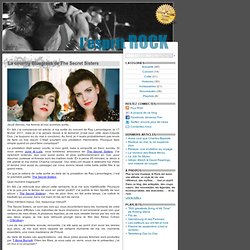 Selon GigaOM, le réseau social Facebook pourrait bien dévoiler en août prochain lors de sa conference f8 (pour les développeurs) un service musical basé sur plusieurs partenaires, dont Spotify. Facebook pourrait entre autres se lier au Suédois Spotify Facebook domine déjà les secteurs des réseaux sociaux, des jeux sociaux, du stockage des photos et même de la publicité en ligne aux États-Unis. Or la musique est un excellent moyen de garder plus longtemps encore ses utilisateurs. Or avant une probable entrée en bourse l'an prochain, monétiser un maximum Facebook est devenu indispensable. Tous les secteurs possibles seront donc visés par Facebook, dont la musique en ligne.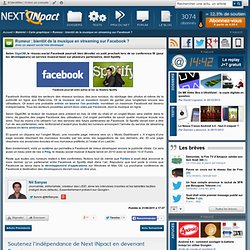 Rumeur : bientôt de la musique en streaming sur Facebook ?
Comment migrer de Spotify vers Grooveshark. | Graphisme & interactivité blog par Geoffrey Dorne
Bon dimanche à toutes et à tous Depuis que nos principaux services de musiques en ligne comme Deezer & Spotify sont devenus « limités » a un certain nombre d'heures, j'ai été un peu désapointé. En effet, comme beaucoup j'utilisais Spotify (version gratuite / illimitée) depuis maintenant 4 ans mais depuis la limitation de temps, je me suis rabattu sur Grooveshark. (je tiens à préciser que l'idée n'étant pas tant de ne pas « payer », mais surtout d'avoir la possibilité de récupérer la musique et plus précisémment les « fichiers », les vrais, directement sur mon ordinateur si le besoin se présente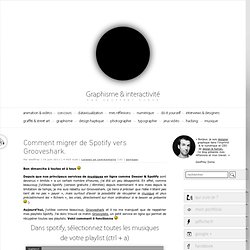 Cet article a été publié il y a 2 ans 6 mois 19 jours, il est possible qu'il ne soit plus à jour. Les informations proposées sont donc peut-être expirées. La guerre entre Facebook et Twitter fait rage. Si Facebook bénéficie d'une audience bien plus large que son concurrent avec un nombre de comptes avoisinant les 700 millions, Twitter a su se développer en se concentrant sur ses forces, et principalement son instantanéité.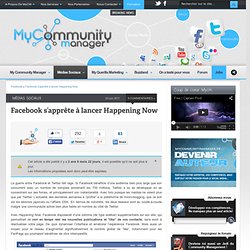 Facebook s'apprête à lancer Happening Now
Weird Al Yankovic: "Perform This Way" (Video)
New CSS: "Hits Me Like a Rock"
Brazilian dance-rock revelers CSS will release their new album La Liberación on August 22, via V2/Cooperative/Downtown. The album's first single is a breezily funky number called "Hits Me Like a Rock", and it features a guest vocal from Primal Scream frontman Bobby Gillespie. Stream the track below, or an email address into the widget to get the free mp3.The "Hits Me Like a Rock" single will feature remixes from Dillon Francis and Depressed Buttons. Talking about the song in a press release, CSS frontwoman Lovefoxxx says, "It's about the power of music to date our lives.
Watch Damon Albarn Perform "Apple Carts", A Song From His New Opera Doctor Dee
Radiohead - Staircase (live From the Basement)