Anonymous
Mobile. In remembrance of Mohommed Nabbous ~ March 19 2011. #opnewblood : Chat on opnewblood IRC channel. Groups | THE SIEGE-Federal Reserve Protests beginning March 24 | Home. Matériel chiffré de maille de construire , combinée à la technologie Hyperfuse pour fournir une expérience pieds nus respirable ultra-cool , définitivement cette chaussures d'étéAu large de la quantité de chaleur de l'été en Nike , " Comment pouvons-nous faire mieux ?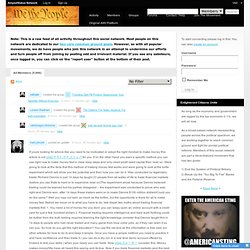 " Cette question a été le moteur de l'innovation , de nourrir de nouvelles idées . racine Selon le concept de Nike Air Max 90 a été améliorée , de nouveaux produits seront lancés au printemps 2014. Cette fois , la Nike Air Max 90 modèles classiques optimisées sur la base de la plante , dessus , amélioration du confort et de respirabilité des chaussures , le rendant plus léger, avec. Anonymous Hackers will Expose Something Awful About Bank Of America On Monday ! ~ The Hackers News. EgyptOfficers. #Opnewblood : Chat on Opnewblood IRC channel. /3rCiJrVSba.
Israel Shamir: How the Swedes Set Up Julian Assange. The British magistrate court has decided to surrender Julian Assange to the Nordic Amazons who were hunting for his head – pending appeal.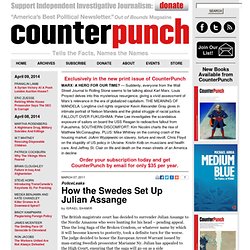 Thus the long Saga of the Broken Condom, or whatever name by which it will become known to posterity, took a definite turn for the worse. The judge decided to honor the European Arrest Warrant issued by man-eating Swedish prosecutor Marianne Ny. Julian has appealed to the High Court, ensuring that the saga will go on as a side divertissement to the main story, Cablegate. We shall not delve again into what happened between Julian and the two women; this has already been covered in previous installments. Everything Anonymous. Operation Payback 03/08/11 Operation Payback's third target since its revival is www.bmi.com We will not rest until our demands our met.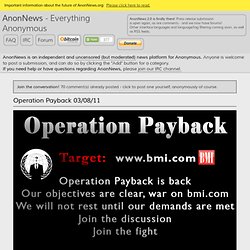 We are Anonymous We are Legion. Lessons from Anonymous on cyberwar. "Cyberwar" is a heavily loaded term, which conjures up Hollywood inspired images of hackers causing oil refineries to explode.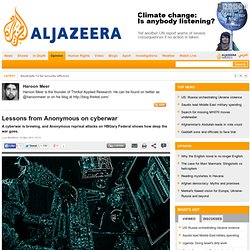 Some security celebrities came out very strongly against the thought of it, claiming that cyberwar was less science, and more science fiction. Last year on May 21, the United States Cyber Command (USCYBERCOM) reported reaching initial operational capability, and news stories abound of US soldiers undergoing basic cyber training, which all point to the idea that traditional super powers are starting to explore this arena. Recent activities with one government contractor and Anonymous, however, show clearly that cyber operations have been going on for a long while, and that the private sector has been only too ready to fill the cyber mercenary role for piles of cash.
Anonymous vs. Bit.ly | Basic | a simple URL shortener. Anonymous Vows Personal Attacks on U.S. Military Families, "War" on U.S. Thousands of U.S. hackers have declared "war" on the U.S. government and select businesses due to their crackdown on Wikileaks and the pending charges against Wikileaker Bradley Manning.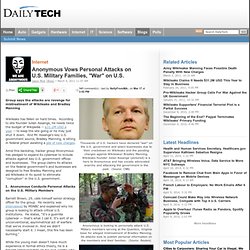 Wikileaks founder Julian Assange (pictured) is a hero to Anonymous and has vocally advocated anarchy and attacking the government in the past. (Source: CNN) Anonymous is looking to personally attack U.S. Military members serving at the Quantico, Virginia base for alleged mistreatment of Bradley Manning. Hackers' threat to base holding Bradley Manning. By Daily Mail Reporter Updated: 18:24 GMT, 9 March 2011 The Pentagon has ordered an investigation into threats against a military base that is holding a U.S. soldier accused of giving documents to WikiLeaks.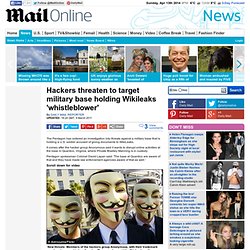 It comes after the hacker group Anonymous said it wants to disrupt online activities at the base in Quantico, Virginia, where Private Bradley Manning is in custody. Pentagon spokesman Colonel David Lapan said: 'The base at Quantico are aware of that and they have made law enforcement agencies aware of that as well.' #AnonLeaks&nick=BarrettBrown... : Chat on AnonLeaks&nick=BarrettBrown... IRC channel. Anonymous.tc. #OpNewBlood : Chat on OpNewBlood IRC channel. n0JSY. We_are_winning. YnGPA. For Middle East democracy, send in the geeks | Tom Glaisyer and Shawn Powers. When the Berlin Wall fell, the western response was swift and obvious: send in the free-market economists.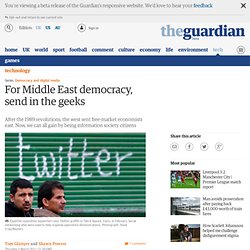 Soviet Communism was a system structured for failure that had left a group of governments and citizens in need of political and cultural tools, as well as knowledge of markets and the institutions they require to function. Professor Jeff Sachs, the economist, was dispatched to Poland and across the former Soviet Union (FSU). Funding streams were brought online and bright students from the eastern bloc attended Harvard Business School and learned about how markets work. An Anonymous storm is gathering - Let it rain. "Anonymous is not the name of an organization.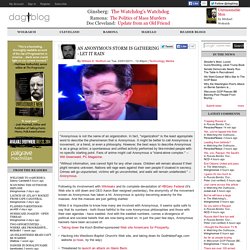 In fact, "organization" is the least appropriate word to describe the phenomenon that is Anonymous. It might be better to call Anonymous a movement, or a trend, or even a philosophy. However, the best ways to describe Anonymous is as a group action, a spontaneous and unified activity performed by like-minded people with no specific starting point. Fans of anime might call Anonymous a "stand-alone complex. " -- Will Greenwald, PC Magazine. "Without information, one cannot fight for any other cause. Democrats call for probe of top D.C. law firm - War Room. In a separate development Monday, HBGary Federal CEO Aaron Barr, who personally drafted memos calling for various kinds of disinformation tactics, has stepped down.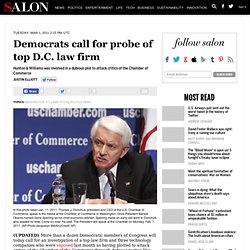 "I need to focus on taking care of my family and rebuilding my reputation," he told Threat Post. March 1, 2011 Honorable Darrell Issa Chairman, Committee on Oversight and Government Reform Honorable Lamar Smith, Chairman, Committee on the Judiciary Honorable Mike Rogers, Chairman, Permanent Select Committee on Intelligence Honorable Howard McKeon, Chairman, Armed Services Committee Dear Chairman Issa, Chairman Smith, Chairman Rogers and Chairman McKeon, We ask that your Committee immediately begin an investigation with hearings into the issues raised by recent reports alleging that three federal defense and intelligence agency data security contractors, and a leading law firm, planned a "dirty-tricks" campaign that included possible illegal actions against citizens engaged in free speech.
---