English
Anonymous on TV, Al Jazeera reporters still tweeting. FACTBOX-Major foreign companies operating in Egypt. Jan 31 (Reuters) - Egyptian protesters were camped out in central Cairo on Monday and vowed to stay until they had toppled President Hosni Mubarak, whose fate appeared to hang on the military as pressure mounted from the street and abroad.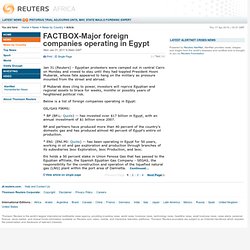 If Mubarak does cling to power, investors will reprice Egyptian and regional assets to brace for weeks, months or possibly years of heightened political risk. Below is a list of foreign companies operating in Egypt: * BP (BP.L: Quote) -- has invested over $17 billion in Egypt, with an annual investment of $1 billion since 2007. Al Jazeera undeterred by Egypt curb - Middle East. Al Jazeera has expressed its "utter disappointment" with the blockage of its signal on Nilesat and sees this as a further attempt to block its reporting out of Egypt.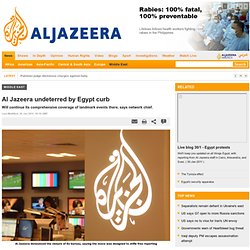 The news network said on Sunday that the move was a reaction to the popularity of its wide coverage of the events in Egypt. On its bureau in Cairo being closed earlier by the Egyptian government, the network said it retained the right to take any available legal measures to reverse the move. "Regardless of the multiple attempts by the Egyptian authorities to deter and impede our reporting, Al Jazeera continues its comprehensive coverage of the landmark events unfolding in Egypt," Wadah Khanfar, the news organisations's director general said.
Sudan protests 'echo Egypt unrest' Proposal for a Directive on attacks against information systems, repealing Framework Decision 2005/222/JHA. Brussels, 30 September 2010 Proposal for a Directive on attacks against information systems, repealing Framework Decision 2005/222/JHA What is the problem to be addressed?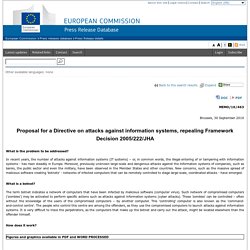 In recent years, the number of attacks against information systems (IT systems) – or, in common words, the illegal entering of or tampering with information systems - has risen steadily in Europe. Moreover, previously unknown large-scale and dangerous attacks against the information systems of companies, such as banks, the public sector and even the military, have been observed in the Member States and other countries.
New concerns, such as the massive spread of malicious software creating 'botnets' - networks of infected computers that can be remotely controlled to stage large-scale, coordinated attacks - have emerged. The Syrians are watching - Features. In one of Old Damascus' new cafes, text messages buzzed between mobiles in quick succession, drawing woops of joy and thumbs up from astonished Syrians.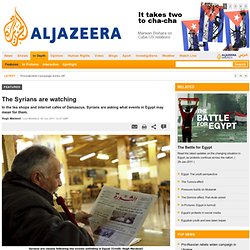 Suzan Mubarak, the wife of the Egyptian president, had flown into exile with her son - so the rumours went - driven out of the country by days of unprecedented protest against the 30-year rule of her husband. The news from Cairo brought a flutter of excitement to this country, founded on principles so similar to Egypt that the two nations were once joined as one. Like Egypt, Syria has been ruled for decades by a single party, with a security service that maintains an iron grip on its citizens. Both countries have been struggling to reform economies stifled for generations by central control in an effort to curb unemployment among a ballooning youth demographic. EGYPT: A Complete Guide To The 2011 Revolution.
---