Anonymous Culture
The Book of Anon/The Book of Genes/i/s - /i/ William Gibson. William Ford Gibson (born March 17, 1948) is an American-Canadian speculative fiction novelist who has been called the "noir prophet" of the cyberpunk subgenre.[2] Gibson coined the term "cyberspace" in his short story "Burning Chrome" (1982) and later popularized the concept in his debut novel, Neuromancer (1984).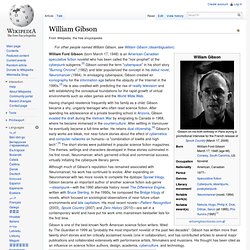 In envisaging cyberspace, Gibson created an iconography for the information age before the ubiquity of the Internet in the 1990s.[3] He is also credited with predicting the rise of reality television and with establishing the conceptual foundations for the rapid growth of virtual environments such as video games and the World Wide Web.
Having changed residence frequently with his family as a child, Gibson became a shy, ungainly teenager who often read science fiction. Hackers' Role in Mideast Revolutions (Al Jazeera) Derek Sivers: How to start a movement. Le monde change, et nous avons un grand rôle. Après les Latinos, les Arabes.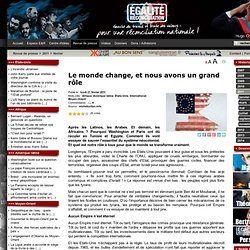 Et demain, les Africains ? Pourquoi Washington et Paris ont dû reculer en Tunisie et Egypte. Comment ils vont essayer de sauver l'essentiel du système néocolonial. Et quel est notre rôle à tous pour que le monde se transforme vraiment. Longtemps, l'Empire a paru invincible. "Is it a Revolt? No Sire, It's a Revolution" Google imagine le Super-Wifi. Vichot_ray_200905_mast. Main Page - /i/ Urizenus Sklar: Generation W: WikiLeaks Ignites a New Generation of Hacktivists. While the traditional media and the United States government continue to fixate on the individual Julian Assange, a not so subtle cultural shift is taking root worldwide: Hacktivist culture is rapidly morphing from a small underground subculture into mainstream culture for a younger generation, not just in the United States, but worldwide.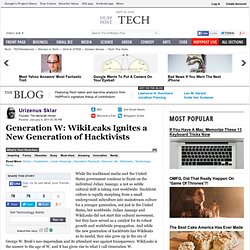 Julian Assange and WikiLeaks did not start this cultural movement, but they have served as a catalyst for its robust growth and worldwide propagation. And while the new generation of hacktivists has Wikileaks as its model, they also grew up in the era of George W. Bush's neo-imperialism and its attendant war against transparency. WikiLeaks is the answer to the age of W, and it has given rise to what I call Generation W. Inside Sina Weibo. HOW TO JOIN ANONYMOUS - A BEGINNER'S GUIDE mobile.
OpenMedia.ca | Engage, Educate, Empower. Main Page - Wikiop. Antonio Casilli : "Le web ne désocialise pas plus qu'il n'hypersocialise, mais il reconfigure notre manière de faire société" Par Hubert Guillaud le 08/09/10 | 5 commentaires | 5,374 lectures | Impression A l'occasion de la parution des Liaisons numériques, vers une nouvelle sociabilité ?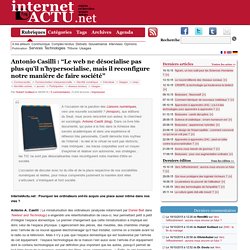 (Amazon), aux éditions du Seuil, nous avons rencontré son auteur, le chercheur en sociologie, Antonio Casilli (blog). A message from #Anonymous to the #US #Gov @whitehouse.
Internet Culture Documentation
Political Stuff. Economy. The internets of Democratic Peoples Republic of Korea. :Site Navigation: - A Discovery - I got interested - IP Range - Results: 175.45.176 - Results: 175.45.177 - Results: 175.45.178 - Results: 175.45.179 - A Discovery So today i discoevered that the DPRK managed to get some servers in their country This may be old news to some people, but since it is the only true communistic dictatorship left in the world i thought that it is quite interesting.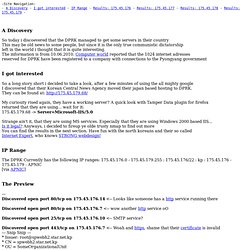 The information is from 10.06.2010. Computer world reported that the 1024 internet adresses reserved for DPRK have been registered to a company with connections to the Pyongyang government I got interested. Operation Clambake - The Inner Secrets Of Scientology. The Book of Anon/The Book of Memes - /i/
---