Autism
Speech therapy for autism-itherapy. Autism Internet Modules (AIM) | autismpdc.fpg.unc.edu. Our center is in the process of developing online modules for each of the 24 identified evidence-based practices.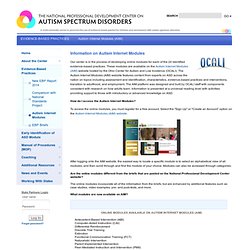 These modules are available on the Autism Internet Modules (AIM) website hosted by the Ohio Center for Autism and Low Incidence (OCALI). The Autism Internet Modules (AIM) website features content from experts on ASD across the nation on topics including assessment and identification, characteristics, evidence-based practices and interventions, transition to adulthood, and employment. The AIM platform was designed and built by OCALI staff with components consistent with research on how adults learn. Autism & The iPad. Autism Spectrum Directory. iPad, iPod Touch and iPhone Apps – Social Life Skills Apps By Autism Spectrum Directory, All Rights Reserved.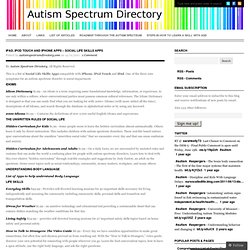 This is a list of Social Life Skills Apps compatible with iPhone, iPod Touch and iPad. #AppMondayTAS - VAST apps by SpeakinMotion. UPDATE (08/19): Winners of promo codes for VAST speech therapy apps have been announced.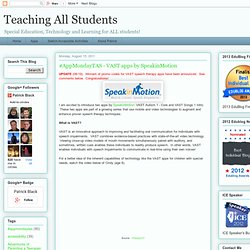 See comments below. Congratulations! Proposed Revision | APA DSM-5.
---