Art & Crafts
Artvex.com - Free Clipart, Images, and Graphics. National Gallery of Art NGAkids Art Zone. SEA-SAWS SEA-SAWS is fun for kids of all ages.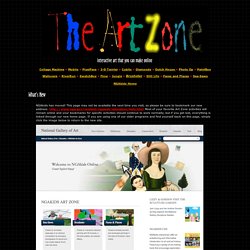 Select photographs of natural and man-made objects, then arrange the pieces to create a seascape or an abstract composition. The BUILD tool helps you construct animated characters and set them in motion. (Shockwave, 7.5 MB) Simple Pop-Ups You Can Make! Do-it-Yourself DIY String Wedding Lanterns Yarn Chandeliers. Jessica of Wednesday Inc shows us how to make those gorgeous twine chandeliers from the inspiration shoot she shared with us this morning.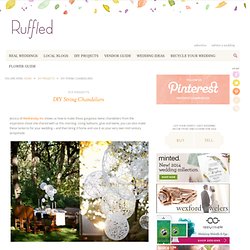 Using balloons, glue and twine, you can also make these lanterns for your wedding – and then bring it home and use it as your very own mid century lampshade. What you will need are: balloons, glue, yarn, tray for glue, corn starch 1/2 cup of Corn starch, 1/4 cup of Warm water, clear fast drying spray paint, hanging lamp cord or fishing line (depending on your desired final product), and a lighting kit if you're looking for a fully functional lantern. Jessica recommends using a sharpie to mark on the inflated balloon how much room you need to leave for the lighting cord.
She also recommends coating the balloon with vaseline prior to wrapping the yarn coated with glue so it doesn't stick on the balloon once it's dry. You can see all the details on Jessica's blog. Nice Home Garden Patio & Wood Path Design Idea. Landscaping sounds complex to those of us not gifted with green thumbs – but making paths, patios or decks to define space in a garden or yard can be as simple as slicing sections of wood and infilling the gaps with sand.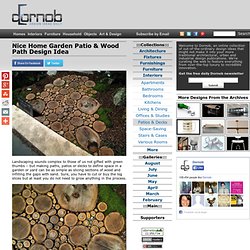 Sure, you have to cut or buy the log slices but at least you do not need to grow anything in the process. Katy Elliott spotted these at a flower show but they would make a great do-it-yourself garden project. Arranged in groups they can make broader outdoor patio surfaces and define gathering spaces while creating an array makes for an easy stepping-stone style path through existing greenery. Everything but the Paper Cut: Eye-popping Ways Artists Use Paper. In the year since the Museum of Art and Design reopened in its new digs on Columbus Circle, they've been delivering consistently compelling shows--from punk-rock lace to radical knitting experiments.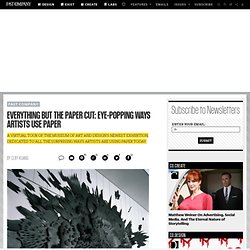 The newest, "Slash: Paper Under the Knife", opened last weekend and runs through April 4, 2010. The focus is paper--and the way contemporary artists have used paper itself as a medium, whether by cutting, tearing, burning, or shredding. In all, the show features 50 artists and a dozen installations made just for the show, including Andreas Kocks's Paperwork #701G (in the Beginning), seen above. Here's a sampling of the other works on display: How to Draw Lips. For a video version of this tutorial visit www.proko.com/how-to-draw-lips-anatomy-and-structure This tutorial is a continuation of How to Draw the Head from Any Angle.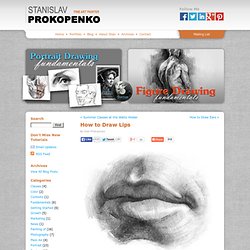 I will cover the basic forms of the mouth, some anatomical information, and the key information about the minor planes. At the end, I will show a step by step drawing of the lips. Basic Forms One of the most overlooked ideas of the mouth is the cylindrical tooth cylinder underneath. Craftgawker | look to inspire. Drawing the Nose. Update 09-26-2012 – Above is a video version of this tutorial.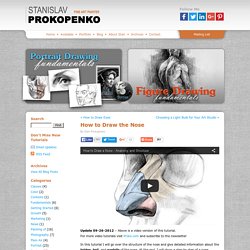 For more video tutorials visit Proko.com and subscribe to the newsletter In this tutorial I will go over the structure of the nose and give detailed information about the bridge, ball, and nostrils of the nose. Fun fun fun fun - clikr. Drawing Eyes. For a video version of this tutorial visit www.proko.com/how-to-draw-eyes-structure This tutorial is a continuation of How to Draw the Head from Any Angle.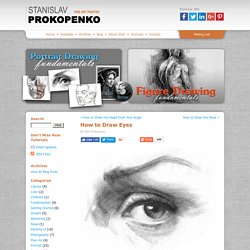 I will go over the structure of the eye and detailed information on drawing the brow ridge, eyeball, eyelids, eyelashes, iris, cornea, and pupil. Origami For Everyone. To make all of these Instructables, download this collection of How To's as an ebook.
Download » Origami for Everyone gives you full step-by-step instructions for 30 awesome origami projects for everyone from beginners to experts. Learn how to make flowers, masks, and the ubiquitous paper crane! How to Make Leaf Skeletons | The Idea Room. I wanted to share with you a project from one of my readers who shares with us how to make leaf skeletons.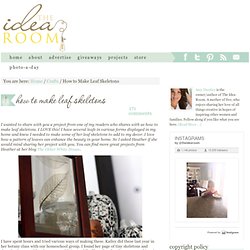 I LOVE this! I have several leafs in various forms displayed in my home and knew I needed to make some of her leaf skeletons to add to my decor. I love how a pattern of leaves can enhance the beauty in your home. Simple Pop-Ups You Can Make!
---