annmacd
Get flash to fully experience Pearltrees
Convenience and efficiency are king when it comes to product design. What could be more efficient than a natural ecosystem? That's the insight behind a "living kitchen" designed by the brilliant young design studio Studio Gorm.
How to Easily Dip Cookie Balls To easily coat cookie balls with the melted chocolate, add balls, in batches, to bowl of melted chocolate. Use 2 forks to roll balls in chocolate until evenly coated.
Tesla inherited from his father a deep hatred of war. Throughout his life, he sought a technological way to end warfare.
Last month I hopped out to Breckenridge for a weekend to go skiing and catch up with my good friend Courtney. For years, she has been one of my favorite crafty/cooking friends. So when she mentioned that she brought along some yummy "energy bites" for us to take on the slopes, I was intrigued. Upon first glance in the fridge, I admit I commented they kind of looked like meatballs. :) But after one delicious bite, I realized they were basically a healthy version of my favorite no bake cookies !! I'm not kidding. For any of you who have ever loved no bakes, these little guys taste amazingly similar, but without the sticks of butter and with lots of other fun healthy ingredients thrown in.
Energy & Sustainability :: Climatewire :: February 16, 2012 :: :: Email :: Print Human-made nitrogen now affects even isolated waterways, presaging a world where humanity drives the natural cycle of this vital nutrient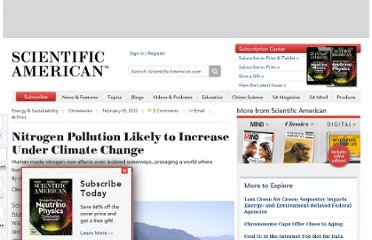 A homemade balsamic bbq sauce is used to glaze chicken as it's grilling.
I've tried lots of brownie recipes: Boxes, scratch, frosted, plain, nuts, chips, fudge … Each of them has something to like, but depending on my mood I might want a change of pace.