Advice
Get flash to fully experience Pearltrees
Rule No. 1: Show and Tell. Most people say, "Show, don't tell," but I stand by Show and Tell, because when writers put their work out into the world, they're like kids bringing their broken unicorns and chewed-up teddy bears into class in the sad hope that someone else will love them as much as they do.
Finding — and Using — Your Life's Essential Strangeness You mention a friend you haven't heard from in twenty years . .. and three days later you receive an e-mail from that friend. Your child tells you who is on the other end of the phone . .. before you pick it up — or even stranger, right before it rings.
Your job as a writer is much more than just selling your books, believe it or not.
The problem with novels is that you can't sit down in one day and complete one from start to finish. (At least I can't. If you can, you have my undying envy.)
1. A Series Of Word Choices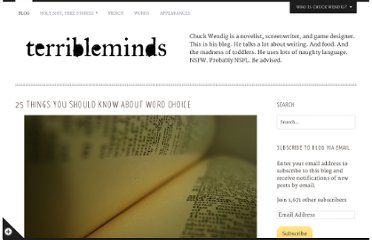 When you're first learning to write as a student , it can seem overwhelming that there are so many things you need to know and so few things with which you have any real experience.
English 50 – Intro to Creative Writing: Exercises for Story Writers Basic Theory: What is a short story? As soon as someone delivers a definition, some good writer will write a story that proves the theory wrong. About the only thing we can say for sure is that short stories are short and that they are written in what we call prose .
Just as every tree is different but still recognizably a tree, every story is different but contains elements that make it a story.
Hypotheticals aren't always good examples, even when there's some detail to them, as Anders tried to spin out here.