funny
Get flash to fully experience Pearltrees
Funny Emails: Hmmm. I'm pretty sure this is somewhat offensive to my Asian readers, but it is still funny and even interesting. To read the sign below, pull the corner of your eyes (thus the Japanese part). Now get the Japanese Eye Test shirt! Please note: Because of the optical illusion, the smaller you make this graphic, the easier it is to read. Therefore the message is easily seen on the pictures of the shirts, BUT on the actual shirts the graphic works even better than the one in this post.
Spacious Studio Apartment Posted at: 2011-02-10 14:39:39 Original ad: Hello. I am a responsible young professional looking to sublet a studio or 1 br apt in or around East village. I am looking to move in on Mar 15. 2000/mo is my budget.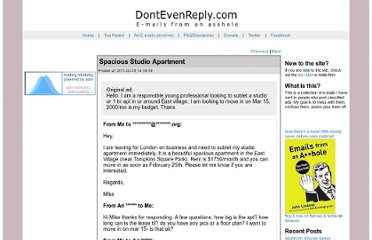 If you have raised kids (or been one), and gone through the pet syndrome including toilet flush burials for dead goldfish, the story below will have you laughing out LOUD! Short version: I had to take my son's lizard to the vet. Now, here's the long version: Just after dinner one night, my son came up to tell me there was "something wrong" with one of the two lizards he holds prisoner in his room.
Mozambique based illustrator Alex Noriega loves drawing, reading and drawing even more. Alex was born and raised in Barcelona, went to Llotja, an art and illustration school also in Barcelona. After finishing school, he worked odd jobs and eventually landed a job as an illustrator in a fashion company. Finally, the call to blog got to him.