Linkedin Presentatie
LinkedIn belangrijker dan Facebook in onderzoek onder 3.000 social media gebruikers | Internetmarketing. Study: LinkedIn top social media site for journalists. When 92 percent of journalists have a LinkedIn account, there has to be a good reason.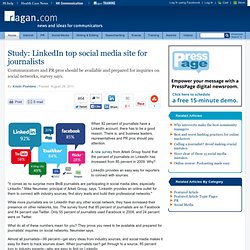 There is, and business leaders, representatives and PR pros should pay attention. A new survey from Arketi Group found that the percent of journalists on LinkedIn has increased from 85 percent in 2009. LinkedIn. For Journalists. Sign In. Sign In. LinkedIn for journalists: 5 reasons to shoot for 500+ connections. This post is part 2 in a series, Social Media for Journalists.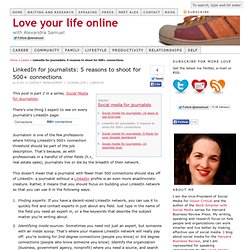 There's one thing I expect to see on every journalist's LinkedIn page: Journalism is one of the few professions where hitting LinkedIn's 500+ connection threshold should be part of the job description. That's because, as with professionals in a handful of other fields (h.r., real estate sales), journalists live or die by the breadth of their network.
---