Lessons
Khan Academy. Fusionknots.com. Origami club. Crochet School. Sorry I've taken so long to post this very last post of the crochet school series.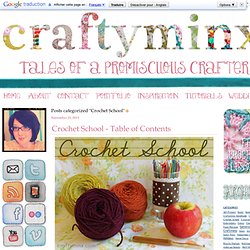 Would you believe me if I said I don't want it to end? Haha That's not the real reason, although it is a little weird to be writing the last crochet school post (for now). I've just been busy designing new patterns and crocheting my butt off for the craft show I'm in next month, Deluxe. I was also waiting for all of you to have time to put in questions you want answered in this post. Math Tutorials.
CROCHET
Kidipede - History for Kids - Homework Help for Middle School Social Studies. How to do Reflexology on the hand, foot, face and ear, with charts and maps. Etiquette Police -Free Online Etiquette Training Course.
---