Misc
infographie-2010-fev-14-clan-ben-ali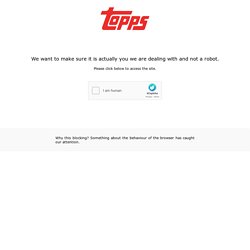 Topps BUNT is the only real-time, real world Major League Baseball digital trading card game where the cards you own and collect earn points based on how your players perform on the field each day. Download BUNT for your iPhone, iPad or iPod touch on the App Store. You call yourself an NFL fan? Pick your favorite NFL team, collect real NFL players, follow the latest news, and earn points based on the game's top players. Don't just watch, compete and conquer in this fun combination of fantasy football and card collecting available on your iPhone, iPod touch, and iPad.
Pennant
Sponsored Post Career Expert, Lauren Berger, releases her second book, Welcome to the Real World:Finding Your Place, Perfecting Your Work, and Turning Your Job Into Your Dream Career(Harper Business), on April 22nd. In this book, Berger shares everything she wishes someone told her after graduation. Her book is the essential guide to anyone starting their first, second, or third job. She encourages readers to be fearless, step outside of their comfort zones, and go after what they want.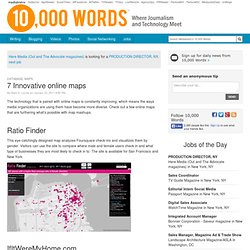 7 Innovative online maps - 10,000 Words
Year in Reviews 2010
Reportaje 360 - Todas las caras de la informaci?n
We were happy to win a design competition in Wired US this month. It was around re-envisioning medical data. Specifically, blood test results.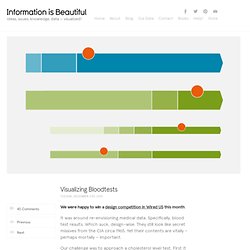 Visualizing Bloodtests
2010 - the year in review | World news
Visualizing data is like photography. Instead of starting with a blank canvas, you manipulate the lens used to present the data from a certain angle. When the data is the social graph of 500 million people, there are a lot of lenses through which you can view it. One that piqued my curiosity was the locality of friendship. I was interested in seeing how geography and political borders affected where people lived relative to their friends.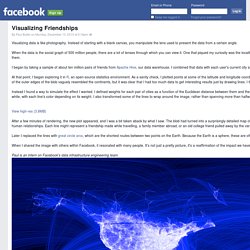 2010: Mapped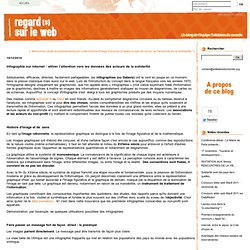 Séduisantes, efficaces, directes, facilement partageables, les infographies (ou Dataviz) ont le vent en poupe en ce moment, dans la presse classique mais aussi sur le web. Lors de l'introduction du concept dans la langue française vers les années 1970, l'infographie désigne uniquement les graphismes, que l'on appelle alors « infographies » (mot valise exprimant l'idée d'information par le graphisme), destinés à mettre en images des informations généralement statiques au moyen de diagrammes, de cartes ou de schémas. Aujourd'hui, le concept d'infographie s'est élargi à tous les graphismes produits par des moyens numériques. Des médias comme lemonde.fr ou Owni en sont friands. Au-delà du sempiternel diagramme circulaire ou du tableau réservé à l'analyste, les infographies sont là pour dire des choses, rendre compréhensibles les chiffres et les enjeux qu'ils soulèvent et transmettre de l'information.
Infographie sur internet : attirer l?attention vers les donn?es des acteurs de la solidarit?
10 Best Data Visualization Projects of the Year – 2010
2010 Music Website Heat Map
Economy Transcript We are poised for progress. Two years after the worst recession most of us have ever known, the stock market has come roaring back.
Breaking down the State of the Union 2011