Livres/Textes de référence
Get flash to fully experience Pearltrees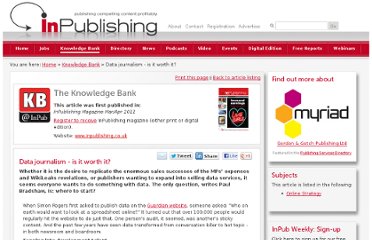 Whether it is the desire to replicate the enormous sales successes of the MPs' expenses and WikiLeaks revelations, or publishers wanting to expand into selling data services, it seems everyone wants to do something with data. The only question, writes Paul Bradshaw, is: where to start? When Simon Rogers first asked to publish data on the Guardian website , someone asked: "Who on earth would want to look at a spreadsheet online?"
Visualization is the graphic presentation of data -- portrayals meant to reveal complex information at a glance. Think of the familiar map of the New York City subway system, or a diagram of the human brain.
A resource on data-driven journalism has just been released by the European Journalism Centre (EJC).
Cover, Making Maps, 2nd edition ( Amazon | Guilford )
Don't look for how-tos, lectures, or any mechanics. This book is the liberal arts version of computer science. Thirty-nine individuals, each with varying degrees of experience and all covering an array of industries, present stories on how they use data and how data have influenced their work.