Journalism
Coding for Journalists: A four-part series | Dan Nguyen pronounced fast is danwin. Photo by Nico Cavallotto on Flickr Update: Read the Bastards Book of Ruby Just wanted to point web-scraping-interested visitors to a much better resource than this page: The Bastards Book of Ruby, which I wrote and have put online for your free perusal.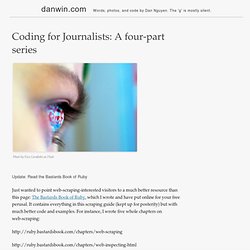 It contains everything in this scraping guide (kept up for posterity) but with much better code and examples.
Liste médias
Columbia Journalism Review : The News Frontier Database. Journalists' Toolkit. Future of journalism. Actu. Site participatif, initiative citoyenne. Webdoc. Data journalism. Infographie. Photojournalisme. Video games.
---