Journalism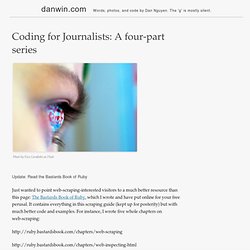 Photo by Nico Cavallotto on Flickr Update: Read the Bastards Book of Ruby Just wanted to point web-scraping-interested visitors to a much better resource than this page: The Bastards Book of Ruby, which I wrote and have put online for your free perusal. It contains everything in this scraping guide (kept up for posterity) but with much better code and examples.
Coding for Journalists: A four-part series | Dan Nguyen pronounced fast is danwin
Columbia Journalism Review : The News Frontier Database
Journalists' Toolkit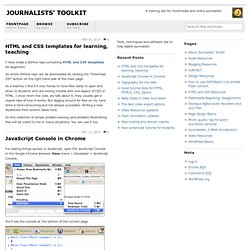 How do you choose the best settings for exporting your video, after you have edited it? I remember how confusing this was for me when I started working with Web video several years ago. With the slower computers we had back then, I would wait for what seemed like forever while exporting a small 2-minute video — only to have it come out looking horrible. Then I would change the export settings, using whatever information I had to base decisions on, and then go through the process again. I kept thinking someone, somewhere must have the list of instructions for how to export my video properly! Why couldn't I find that list?
Site participatif, initiative citoyenne