VBA
Access 2000 Tutorial · FGCU Technology Skills Orientation
Free Online Web Tutorials - Microsoft Access Tutorial
The Access Web - Welcome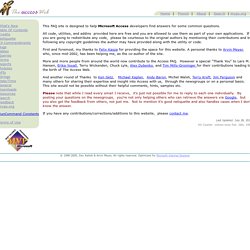 This FAQ site is designed to help Microsoft Access developers find answers for some common questions. All code, utilities, and addins provided here are free and you are allowed to use them as part of your own applications. If you are going to redistribute any code, please be courteous to the original authors by mentioning their contributions and by following any copyright guidelines the author may have provided along with the utility or code. First and foremost, my thanks to Felix Kasza for providing the space for this website. A personal thanks to Arvin Meyer , who, since mid-2002, has been helping me, as the co-author of the site. More and more people from around the world now contribute to the Access FAQ.
Microsoft Access Tutorial - Prof. Richard Holowczak
Visual Basic Tutorial
Visual Basic Tutorial - visual basic learning center
VBA Tutor - Help, Tutorials and Free Lessons.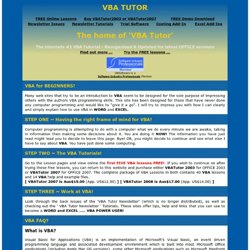 What is the 'ESSENCE' of VBA? To understand the 'Essence' of VBA, you must understand that every part of a MS Office program is made up of , and these Objects have that can be 'set' or 'altered' in response to a user initiated such as a 'mouse click' or a 'keypress'. In WORD for example, the 'Menu Bar' is an Object.
Wuestefeld-online.de
accessvba.com