Typography
soyouneedatypeface.jpg (JPEG-Grafik, 1983x1402 Pixel) - Skaliert (56%)
Typographie, Layout & Schrift Online (Startseite Typograph)
This roundup was gathered through a combination of top notch Google-ing and What the Font?-ing. Midway through my travels across the internet, I stumbled upon a Web 2.0 logo font roundup, which is worth a look as well. You've seen these fonts, now you get to learn their names: Twitter – Pico Alphabet (Modified)
Fonts Used In Logos of Popular Websites | Build Internet!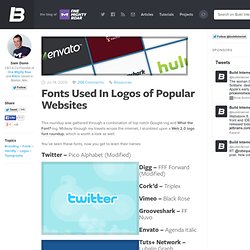 WhatTheFont!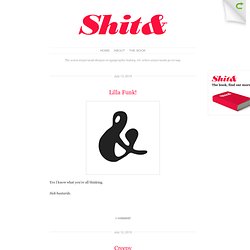 **** Ampersand
Cute? Not a word in my language. Shit is though, which is handy.
Famous Fonts - Fonts you recognize, FREE for download! - famousf
Help support Famous Fonts by buying font-related software, books, scrapbooking items and more through the Famous Fonts store - click here! Looking for a font? Need identification of a typeface? Check out the ALL NEW Famous Fonts Discussion Forum! Welcome to the ORIGINAL Famous Fonts! Famous Fonts is the first font archive on the web to collect ONLY fonts used in TV shows, movies, publications, and other media and products - over 300 typefaces have been offered for download and/or identified!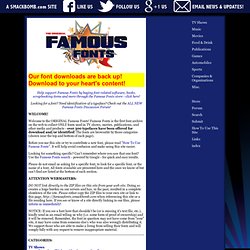 Type Folly—Google Font API web fonts preview
What Font is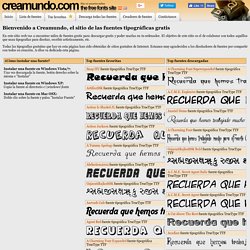 En este sitio web vas a encontrar miles de fuentes gratis para descargar gratis y poder usarlas en tu ordenador. El objetivo de este sitio es el de colaborar con todos aquéllos que usan tipografías para diseñar, escribir artísticamente, etc. Todas las tipografías gratuitas que hay en esta página han sido obtenidas de sitios gratuitos de Internet. Estamos muy agradecidos a los diseñadores de fuentes por compartir con todos su creación.
Fuentes Gratis TrueType TTF
25 Free Brilliant Fonts For Logo Design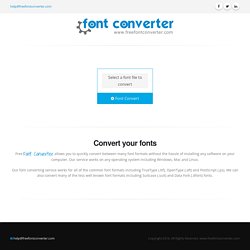 FreeFontConverter.com allows you to quickly convert between many font formats without the hassle of installing any software on your computer. Our service works on any operating system including Windows, Mac and Linux. Our font converting service works for all of the common font formats including TrueType (.ttf), OpenType (.oft) and PostScript (.ps). We can also convert many of the less well known font formats including Suitcase (.suit) and Data Fork (.dfont) fonts. You can convert from pfa, pfb, pt3, sfd, ttf, otf, otb, t42, cef, cff, gsf, ttc, svg, ik, mf, dfont, bin, suit and bdf.
Free Online Font Converter
FontEditor BitfontMaker
Fonts by Appearance
Font Directory
09. Type and colour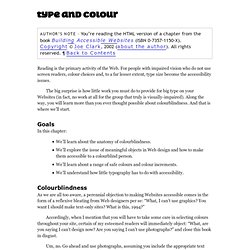 AUTHOR'S NOTE – You're reading the HTML version of a chapter from the book Building Accessible Websites (ISBN 0-7357-1150-X). Copyright © Joe Clark, 2002 (about the author). All rights reserved. ¶ Back to Contents Reading is the primary activity of the Web.
Typedia una enciclopedia tipográfica online
Como el otro día hablaba de una ayuda para buscar tipografías quizá te haya picado el gusanillo por saber más sobre las mismas. Puedes pasarte por Typedia que pretender servirnos de ayuda para conocer todo lo que hay detrás de la creación de estas letritas. Año de creación, autores, un poco de historia… Actualmente rondan las 300 tipografías y más de 1000 usuarios registrados por lo que no empiezan nada mal.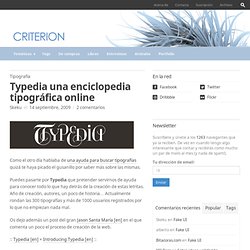 En este útil artículo les brindaremos todo tipo de información acerca de útiles herramientas que los pueden ayudar a trabajar con las tipografías de sus sitios web. Hay herramientas para que creen sus propias fuentes, para que encuentren fuentes que necesitan o desean, herramientas siFR y recursos, algunos plugins Firefox y varios relacionados con CSS. ¿Qué esperas para conocerlos?
Las mejores 32 herramientas tipográficas de la web - elWebmaster