ToBeRead
Integrationsprojekt für Menschen mit Behinderung - Mit kleinen Schritten voran - Erding
Anzeige Ran an den Job und rein in die Arbeitswelt: Die Lebenshilfe Werkstatt Erding-Freising unterstützt Menschen mit Behinderung auf dem Weg zu einem festen Job. Die Werkstatt der Lebenshilfe Erding-Freising beteiligt sich an einem Modellprojekt zur Vermittlung von Menschen mit Behinderung auf dem regulären Arbeitsmarkt. Das Projekt ist eine gemeinsame Initiative des Bezirks Oberbayern, fünf Werkstätten für behinderte Menschen und den zuständigen Integrationsfachdiensten (IFD). Die Projektteilnehmer mit körperlicher oder geistiger Behinderung werden dabei für die Anforderungen des Arbeitsmarktes qualifiziert und bei Bedarf nachgeschult, um ihre Teilnahme am beruflichen Leben zu fördern.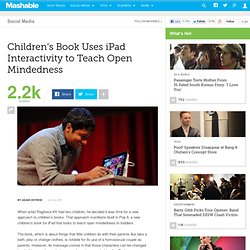 Children's Book Uses iPad Interactivity to Teach Open Mindedness
When artist Raghava KK had two children, he decided it was time for a new approach to children's books. That approach manifests itself in Pop It, a new children's book for iPad that looks to teach open mindedness to toddlers. The book, which is about things that little children do with their parents like take a bath, play or change clothes, is notable for its use of a homosexual couple as parents. However, its message comes in that those characters can be changed to a lesbian couple or a heterosexual couple upon shaking the iPad. "It's a metaphor for shaking from one perspective to another," said Raghava in an interview with Mashable.
Barrierefreiheit mit HTML5 | iX
Seit 2005 schreibt eine Verordnung Behörden vor, ihre Websites barrierefrei zu gestalten. Das noch in der Entwicklung befindliche HTML5 soll dazu beitragen, das Design solcher leicht zugänglichen Seiten zu erleichtern. Mittlerweile gehört die Entwicklung barrierefreier Webangebote zu einer der etablierten Disziplinen der Internettechniken und ist für zahlreiche Anbieter gesetzlich verordnet. Zur Zielgruppe gehören zum einen Menschen mit Einschränkungen in Motorik, Sehen und Hören.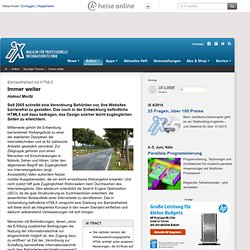 Was gibt es beim Online Fundraising zu beachten? «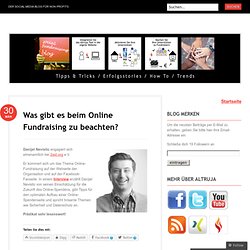 30 Mär Danijel Nevistic engagiert sich ehrenamtlich bei 2aid.org e.V. Er kümmert sich um das Thema Online-Fundraisung auf der Webseite der Organisation und auf der Facebook-Fanseite. In einem Interview erzählt Danijel Nevistic von seinen Einschätzung für die Zukunft des Online-Spendens, gibt Tipps für den optimalen Aufbau einer Online-Spendenseite und spricht brisante Themen wie Sicherheit und Datenschutz an.
A new survey shows U.S. consumers are shockingly lax about basic security on their mobile phones. Most of us have no qualms about making purchases via mobile, and the vast majority of us use the same phone for business and personal use — two common vulnerabilities in web security. Yet in spite of these yellow flags, few of us use phone-locking passwords and duplicate the same passwords for mobile apps that we use on our desktops. The survey [PDF] in question comes from security firm AVG and research and consulting firm The Ponemon Institute. One key finding we mentioned was the crossover between business and personal use of the same device.
Survey Shows We're Too Lazy About Mobile Phone Security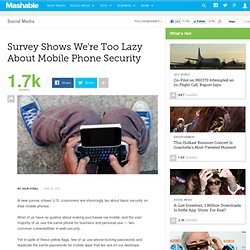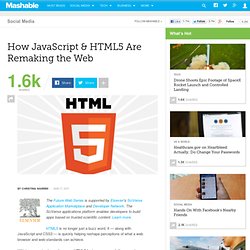 HTML5 is no longer just a buzz word. It — along with JavaScript and CSS3 — is quickly helping reshape perceptions of what a web browser and web standards can achieve. With browsers implementing more HTML5 features across platforms and devices, developers are starting to integrate many of the new features and frameworks into their web apps, websites and web designs. Although HTML5 is its own standard, the power of HTML5 is really only best realized with the use of CSS 3 and JavaScript.
10 steps for working smarter with social media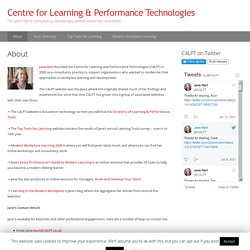 Jane Hart's Articles & Presentations 10 Steps for Working Smarter with Social Media Webinar for Learning & Skills Group, 17 March 2010 Workplace Learning is changing! A number of people, my Internet Time Alliance (ITA) colleague Charles Jennings in particular, have highlighted the fact that training that simply involves filling people's heads with knowledge, is ineffective and inefficient – as most people forget what they have learnt very quickly. And that online courses, which do pretty much the same, take time, effort and money to develop. Many are also "over-engineered" solutions – and this often leads to resentment by those who have to spend time to work through courses – when the material could have been provided in a much simpler way.
Sie sind schneller, sicherer und sie sehen besser aus als ihre Vorgänger: Nahezu gleichzeitig bringen die Marktführer neue Versionen ihrer Web-Browser auf den Markt - und es gibt gleich drei gute Gründe, auf einen der neuen umzusteigen. Googles Chrome ist jetzt in der Version 10 verfügbar,Microsofts komplett neuer Internet Explorer 9 erscheint am Montag undMozillas Firefox 4 folgt in Kürze. Letzte Vorab-Versionen, sogenannte Release Candidates, gibt es von beiden schon jetzt zum Download. Was die neuen Netznavigatoren taugen - der Überblick: Mehr Tempo: Alle drei Hersteller haben die Geschwindigkeit ihrer Browser erheblich verbessert. Firefox und Internet Explorer haben damit endlich zu Chrome aufgeschlossen, doch auch der hat noch einmal zugelegt.
Internet-Browser: Was die neuen Netznavigatoren taugen - SPIEGEL ONLINE - Nachrichten - Netzwelt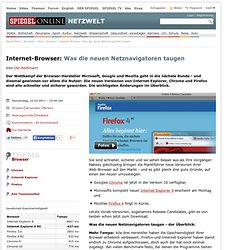 Social Media in Education
New research into the role and contribution of international workers in the adult social care workforce has highlighted many critical issues for recruitment and retention. Carolyn Barber writes about a recent seminar hosted by the Kings College Social Care Workforce Research Unit which showcased emerging findings from a two year national study commissioned by the Department of Health in England. Within this broad and diverse service sector, the research made some useful distinctions about different groups of international social care recruits. The GSCC data on the register of social workers identifies over 7,000 (8.8%) as non-UK qualified social workers.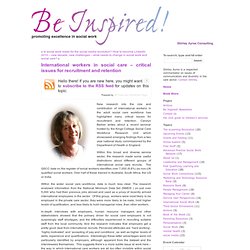 International workers in social care – critical issues for recruitment and retention | Be Inspired! Shirley Ayres Consulting
The topic of history immediately draws to mind a dusty classroom in which professors tell stories of war, royalty and civilizations lost to the sands of time. While traditional history is expressed as a vibrant tapestry of events, dates, people and places, we often forget that the web has its own rich history and a legacy to leave future generations that needs both preservation and recognition. By examining current problems in how we preserve our digital heritage and through a significant change in our attitude towards web content, we can hope to leave future Internet users with something tangible and useful. History doesn't exist separate from our actions; it is built up over time in what we write and record, allowing those in the future to analyze and improve upon our work. Addressing our current perspective of web content as "disposable data" is critical at this time. Evolution of Knowledge-Sharing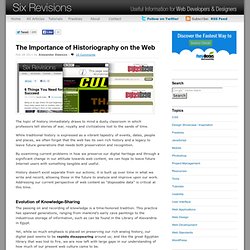 The Importance of Historiography on the Web
Social Media Dashboard Competitors Chart
Check it out!
Motorola wird den Anfang machen, das steht fest. Auf der CES (Consumer Electronics Show), Anfang Januar in Las Vegas, hat das bloße Gerücht, der US-Konzern werde ein Honeycomb-Tablet zeigen, ausgereicht, um Hunderte Journalisten zur Motorola-Pressekonferenz zu locken. Enttäuscht wurden sie nicht. Tatsächlich zeigte Motorola das Xoom, ein 10-Zoll-Tablet mit Honeycomb darauf - theoretisch zumindest. Denn was die Top-Manager der jetzt Motorola Mobility genannten Mobilfunkfirma da auf ihrem schicken Flunder-PC zeigten, waren Videos.
Neue iPad-Konkurrenz: Das sind die ersten Honigwaben-Tablets - SPIEGEL ONLINE - Nachrichten - Netzwelt
Great Support Our friendly team can help you get up and running and will support your team until you're well under control. We want you to succeed!
08.05.09 | Das staubgesaugte Universum | Technology Review
Brief an die Ex-Schülerin: "Charlotte, was soll ich Dir Tröstliches sagen?" - SPIEGEL ONLINE - Nachrichten - SchulSPIEGEL
Liebe Charlotte, es tut mir leid! Ich konnte es nicht besser, aber ich habe eine Entschuldigung: Man hat mich völlig falsch auf das Lehrerleben vorbereitet! Begründe argumentativ! Kein Problem: Als ich 1989 mein Lehramtsstudium (Deutsch und Geschichte) an der altehrwürdigen Universität Göttingen begann, sah die Sache so aus: Die Professoren hatten eine großen Namen, einen noch größeren Hörsaal. Dort liefen die Vorlesungen mit mitreißenden Semesterthemen wie zum Beispiel Goethes Romane (I), Goethes Romane (II), Goethes Lyrik (I), Goethes Lyrik (II) etc.
Social Learning Handbook von Jane Hart in Computers & Internet
[l3t] Technologien aus Sicht von Kindern
(Posted as an answer due to the length.) Quora is just starting up. They want to be a definitive source for everything that is asked on it. It might not be easy, but surely achievable. They plan to make it available for scraping, and their terms are slightly open. They might make it big, and we will have another resource to link to (like Wikipedia) and that is not bad, but will they share the same ethics?
What can we learn from Quora?
Create your own Free Social Networking Site.
Five Emotions Invented By The Internet
Top 25 Web 2.0 Sites for Education - Mark Repp's Blog
DAYTUM
Online Mind Mapping - MindMeister
Surly Artisan Studio ArtFire Buy & Sell Handmade
Literaturverwaltung — Amys Welt
10 Amazing YouTube Channels You Should Subscribe To
GRaiN: A Simple Way To Get Desktop Notifications For Google Reader
DokDok: Easily find, share, and work on the latest version of any document in your inbox
5 Text Reader Apps That Really Help You Speed Read
DESIGNING BUSINESS MODELS - DRAWING TOOL BY @JOOSTC - Google Docs Templates
Setting up Firefox Sync Just Got a Lot Easier :: Mozilla Services
Quora: Was steckt hinter dem Hype?
Benutzer:Torstn/Das Vorstellungsgespräch – Wiki Birkenbihl
Speed Reader Enhanced: Improve Your Reading Speed
3D ohne Brille: Der Kampf ums Holodeck hat begonnen - SPIEGEL ONLINE - Nachrichten - Netzwelt
Roche asks employees to be social media 'scouts'
Willkommen bei den Soft Skills
10 Sites to Play with Colors and Create Color Palettes of Your Own
AnimatedExplanations: Cool How To Animations To Help You Underst
Cool Websites and Tools [July 6th] « MakeUseOf.com
Cool Websites and Tools [July 5th] « MakeUseOf.com
Cool Websites and Tools [July 8th] « MakeUseOf.com
Cool Websites and Tools [July 7th] « MakeUseOf.com
100+ Chrome Experiments for HTML5 and More
Trendero: Find & Follow Trends
Against dispossession: a note on visitors, residents and proletarianised education | Richard Hall's Space