Recycling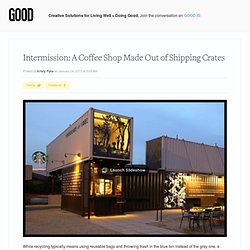 Intermission: A Coffee Shop Made Out of Shipping Crates - Design
While recycling typically means using reusable bags and throwing trash in the blue bin instead of the gray one, a new Starbucks in Seattle has created an entire store from four old shipping containers . The Starbucks officially opened in mid-December off Interstate 5 in Tukwila, according to Inman News . Spokesman Alan Hilowitz told the website the store will contribute to reducing the company's overall carbon footprint. Click through to see the company turned repurposed shipping crates into a trendy, eco-friendly, coffee shop.
Now that my university is closed for winter holidays, I finally have more free time to do all the crafty things I've been wanting to. One of these is a lamp made from plastic cups I've seen at taf , the art foundation, in the Monastiraki region in the center of Athens. When I first saw it at taf , I was amazed; I looked closely and I couldn't believe my eyes!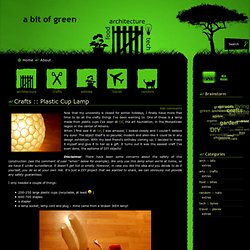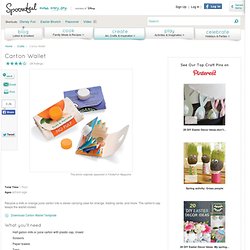 Total Time 1 hour Ages school-age Recycle a milk or orange juice carton into a clever carrying case for change, trading cards, and more. The carton's cap keeps the wallet closed.
22 Inspiring DIY Cork Projects
It's been a long work week.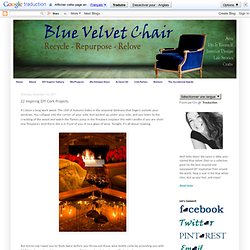 Bücher Ankauf, CD Ankauf & Verkauf, DVD Ankauf & Spiele verkaufen - momox.de
ecofreek - free and swap search engine
The Miss Rio Recycled Flip-Flop Ottoman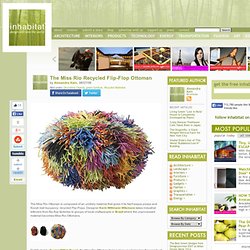 The Miss Rio Ottoman is composed of an unlikely material that gives it its Nerf-esque pizazz and Koosh ball buoyancy: recycled Flip-Flops. Designer Karin Wittmann Wilsmann takes industrial leftovers from flip-flop factories to groups of local craftspeople in Brazil where the unprocessed material becomes Miss Rio Ottomans. <a href="http://ad.doubleclick.net/jump/Inhabitat/Interiors;article=articlename;kw=content1;sz=300x250;ord=123456789?"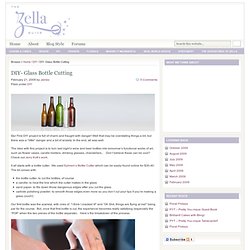 DIY- Glass Bottle Cutting : Zellaguide- your new BFF
Browse > Home / DIY / DIY- Glass Bottle Cutting February 21, 2009 by James Filed under DIY O ur First DIY project is full of charm and fraught with danger!
Printing With A Pencil Stub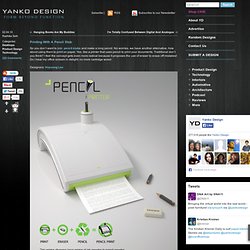 Make Your Own Gifts UPCYCLED TEA CUP SOY CANDLE – Green Holiday Gift Guide
10 Unique Creations Made From Computer Hard Drives [PICS]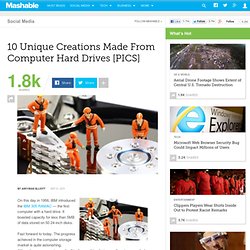 On this day in 1956, IBM introduced the IBM 305 RAMAC — the first computer with a hard drive. It boasted capacity for less than 5MB of data stored on 50 24-inch disks. Fast forward to today.
Friday, February 27, 2009 by Jeremy Dore - Categories: recycling < Back to the GrowBlog Index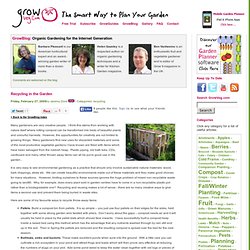 Recycling in the Garden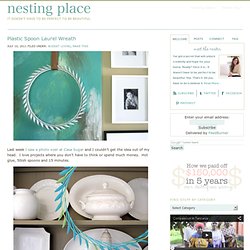 Last week I saw a photo over at Casa Sugar and I couldn't get the idea out of my head.
Crafts to make / very cute http://hiphiphoorayblog.com/2010/08/walnut-boat-diy
Hi stampers! In a small effort to go green, reduce, recycle, reuse. I am going to take this old TickTack box. That is not that old actually, I bought it and then one day they were gone because they are addicting. But I cleaned it all out.
So, it has not been a good week ... china wise :( Sometime ago I gently smacked the sugar bowl to my good china . I didn't even notice it at first - then a small crack appeared.
Busy Busy - Opps! ... and a Thimble Holder Tute!