Programming
Character sets. PHP und UTF-8 – eine Anleitung, Teil 1: MySQL | Gerd Riesselmann: Notizen aus dem Moor. Am Anfang der Serie über PHP und UTF-8 soll zunächst ein Abstecher zu MySQL stehen, schließlich ziehen die meisten PHP-Anwendungen ihre Daten aus einer MySQL-Datenbank.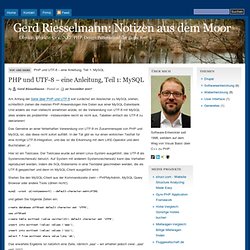 Und anders als man vielleicht annehmen würde, ist die Verwendung von UTF-8 mit MySQL alles andere als problemfrei - insbesondere reicht es nicht aus, Tabellen einfach als UTF-8 zu deklarieren! Das Gemeine an einer fehlerhaften Verwendung von UTF-8 im Zusammenspiel von PHP und MySQL ist, das diese nicht sofort auffällt. In der Tat gibt es nur einen wirklichen Testfall für eine richtige UTF-8-Integration, und das ist die Erkennung mit dem LIKE-Operator und dem Buchstaben "a". Codecademy. Ruby. Information flow part 2: Information and metadata | sys 64738. Honestly, metadata is really, really boring.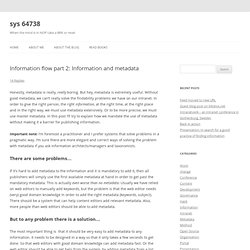 But hey, metadata is extremely useful. Without good metadata, we can't really solve the findability problems we have on our intranet.
The R programming language for programmers coming from other programming languages. IntroductionAssignment and underscoreVariable name gotchasVectorsSequencesTypesBoolean operatorsListsMatricesMissing values and NaNsCommentsFunctionsScopeMisc.Other resources Ukrainian translation Other languages: Powered by Translate Introduction.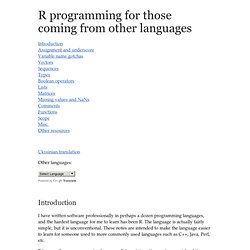 Webprogramming. SEO. Tools. Logics. HTML/CSS.
Wie Sie Ihre Website von den WCAG 1.0 auf die WCAG 2.0 aktualisieren. Einleitung Dieses Dokument gibt eine detaillierte Handlungsempfehlung für Designer, Entwickler und Projektleiter, die Websites von den WCAG 1.0 auf die WCAG 2.0 aktualisieren.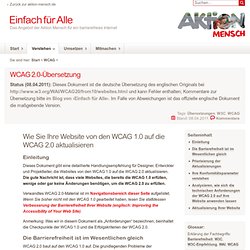 Die gute Nachricht ist, dass viele Websites, die bereits die WCAG 1.0 erfüllen, wenige oder gar keine Änderungen benötigen, um die WCAG 2.0 zu erfüllen. Verwandtes WCAG 2.0-Material ist im Navigationsbereich dieser Seite aufgelistet. MyFav.es: Create Minimalist Start Page With Favorite Website Ico. Bowser startpage users who like to keep it simple will instantly fall in love with MyFav.es.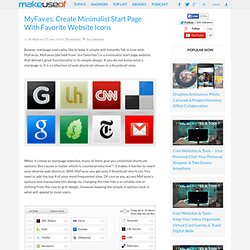 MyFav.es (derived from "my favorites") is a minimalist start page website that delivers great functionality in its simple design. If you do not know what a startpage is, it is a collection of web shortcuts shown in a thumbnail view. Award-Winning NoteTab Text Editors and HTML Editors. IE5/6 Doubled Float-Margin Bug - CSS fixes and workarounds. What Goes Wrong With Float Margins in IE6 A coder innocently places a left float into a container box, and uses a left margin on the float to push it away from the left side of the container.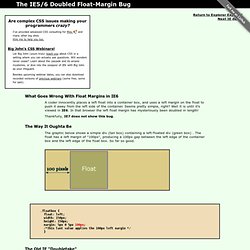 Seems pretty simple, right? Well it is until it's viewed in IE6. Using Dean Edwards IE7 Script. The issue When Internet Explorer version 6 (IE6) was introduced in 2001 it was a groundbreaking product but browsers were then being developed so fast that it was soon overtaken by others which conformed better with web standards.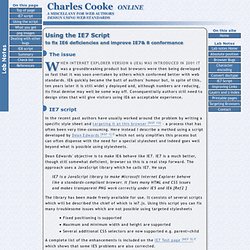 IE6 quickly became the butt of authors' humour but, in spite of this, ten years later it is still widel y deployed and, although numbers are reducing, its final demise may well be some way off.
---