Possible Institutions
About Us. Shadows is a U.K. based in-service training organisation dedicated to professional development throughout the European Union, encouraging the sharing of best practice and the formation of lasting bonds between fellow professionals.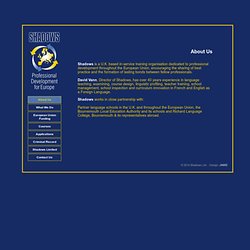 David Vann, Director of Shadows, has over 40 years experience in language teaching, examining, course design, linguistic profiling, teacher training, school management, school inspection and curriculum innovation in French and English as a Foreign Language. Shadows works in close partnership with: About British Study Centres. Our mission statement is to provide a creative, rewarding and successful learning and working environment for our students and staff.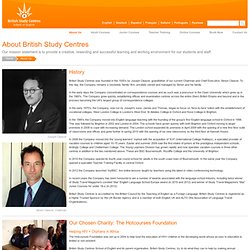 Joseph Cleaver Simon Cleaver, Chairman History British Study Centres was founded in the 1930's by Joseph Cleaver, grandfather of our current Chairman and Chief Executive, Simon Cleaver. Foundation: Spiritual Community, Ecovillage and Education Centre. Anglolang Scarborough. Anglolang is a Quality English school, accredited by the British Council.
The school was established almost 30 years ago in the beautiful British seaside resort of Scarborough on the North Yorkshire coast. The school provides a friendly and professional atmosphere, with a dedicated team giving each student individual attention Anglolang occupies a traditional 19th Century manor house with attractive gardens. The beach, town centre and accommodation are all within walking distance of the school. Facilities.
---