iPhone
Get flash to fully experience Pearltrees
#1 Business App in the US, Italy, France, Australia, the UK and 20 more countries! Scan any document, receipt, whiteboard or paper note with your new iPad or iPhone. Then upload your scans, saved as PDF files, to Dropbox and Google Docs, or email them.
Work has changed.
Last year, we covered a similar topic entitled 6 Ways To Sync Music To Your iPhone Without iTunes . The article was very popular and it covered 6 great applications.
By default, iTunes is the only media player that you can use to sync your iPhone and iPod Touch with your computer. However, iTunes is only supported in Mac and Windows, which means Linux users with iPhones will have to find an alternative way to sync their iPhones, or at least get their music into the mobile device. In addition, there may be a large group of Windows users who are using other media players (such as Winamp) to manage their music library and loathe the idea of migrating the whole library to iTunes just because they bought an iPhone.
With each upgrade of the iPhone, the camera improves, but if you want better functionality to take better pictures on the iPhone, I recommend starting off with the free Camera Plus app [iTunes Link]. Side by side, you can quickly see that even the free version of the Camera Plus has more features than what you will find with the native 3G camera. The 3GS gets a little better in that it has an autofocus feature, plus three megapixels of resolution.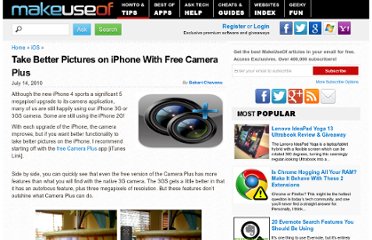 I was even more amazed watching a YouTube video of a young Korean girl who calls herself Applegirl doing solo Lady Gaga's Poker Face cover using her iDevices. I feel that a revolution is happening in the music world, especially in the iDevices country.
by John Sviokla | 11:49 AM June 28, 2010 For many years I've wanted to be able to link any physical object (e.g from the marketplace) to anything digital about that object (e.g. all the information in the marketspace ).
Not to mention that writing on a small screen using your thumbs on the touch keyboard is not exactly the same as ten fingers typing on a full screen keyboard.
So I searched the web and found several possibilities. One of the easiest ways is to use an iPhone PDF reader called GoodReader Lite .