Folding
I love 3D paper things. Love. And when I saw a little picture of what appeared to be paper balls in a CB2 catalog, I thought, "I am going to make those." So the other day while Alex was writing a paper about mysterious things like polymers and flexible films and tactoids, I made a paper ball. Then I proudly announced I had created a tactoid and it was sitting on my desk. He giggled.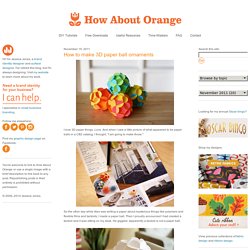 Inspiration: Origami Cranes |
Animal's origami in Crafts for home stationery and paper for birthdays, anniversaries or dinners
<div class="info"><span class="msg-icon"></span><p> To take full advantage of Flickr, you should use a JavaScript-enabled browser and <a href="http://www.macromedia.com/shockwave/download/download.cgi?P1_Prod_Version=ShockwaveFlash">install the latest version of the Adobe Flash Player</a>. </p></div>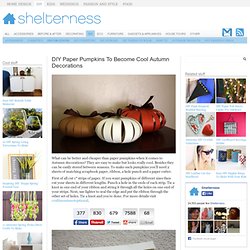 DIY Paper Pumpkins To Become Cool Autumn Decorations
What can be better and cheaper than paper pumpkins when it comes to Autumn decorations? They are easy to make but looks really cool. Besides they can be easily stored between seasons. To make such pumpkins you'll need 2 sheets of matching scrapbook paper, ribbon, a hole punch and a paper cutter.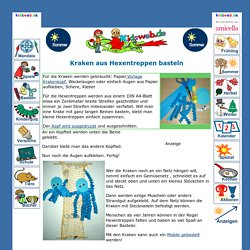 Für die Kraken werden gebraucht: Papier,Vorlage Krakenkopf, Wackelaugen oder einfach Augen aus Papier aufkleben, Schere, Kleber Für die Hexentreppen werden aus einem DIN A4-Blatt etwa ein Zentimeter breite Streifen geschnitten und immer je zwei Streifen miteinander verfaltet. Will man eine Krake mit ganz langen Beinen basteln, klebt man kleine Hexentreppen einfach zusammen. Der Kopf wird ausgedruckt und ausgeschnitten.
Kraken aus Hexentreppen basteln im kidsweb.de
Crafty / DIY: origami leaf.
our work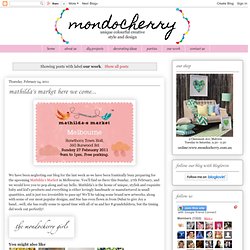 With all the rain chased away from Brisbane for the moment, tonight's twilight market at Portside Wharf should be a great spot to get a little festive With roving entertainment, live acts, and secret santa giveaways there will be lots to see, and you can get on top of that Christmas shopping, with stalls full of of unique and handmade gifts, decorations and yummies! And if you can't make it tonight, there is also the Christmas market on Sunday, also at Portside. We will have a stall at both, with lots of new artworks, cards and tags, so please come along and say Hello!
The "Finnish Star" Tutorial demonstrating a paper star made by weaving paper strips and that was originally found on this page, cannot be shown at this time. The author of this star and tutorial learned the technique from her Finnish teacher as a school art project in the 70's. The teacher herself also learned the weaving technique from her parents in her childhood.
Craft ideas for Christmas! How to make a paper Finnish Star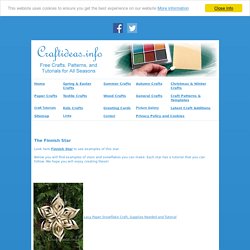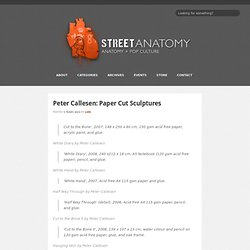 Cut to the Bone', 2007, 148 x 250 x 80 cm, 150 gsm acid free paper, acrylic paint, and glue. 'White Diary', 2008, 240 x212 x 18 cm, A5 Notebook (120 gsm acid free paper), pencil, and glue. 'White Hand', 2007, Acid free A4 115 gsm paper and glue.
Peter Callesen: Paper Cut Sculptures at Street Anatomy
Paper Butterfly II « Huikin
By Daily Mail Reporter Updated: 15:55 GMT, 24 December 2009 Artist Peter Callesen proves he is a cut above the rest with these dainty models made using glue, a scalpel - and just one sheet of A4 paper. Peter, 41, cuts intricate patterns from a white sheet of paper and uses the cutout to fold breathtaking designs such as skeletons, insects and buildings.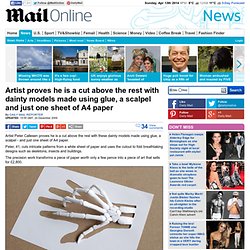 Artist proves he is a cut above the rest with dainty models made using glue, a scalpel and just one sheet of A4 paper
Flottille (detail) on Vimeo
Eric Joisel is considered by his peers to have been among the finest origami masters in the world. This beloved French artist and sculptor created stunningly beautiful and complex sculpted origami paper models. Origami is the Japanese art of forming sculptures out of paper only. And Eric Joisel took this to a whole new level. His pieces are not regular origami models, but completely different interpretations of a very ancient art form.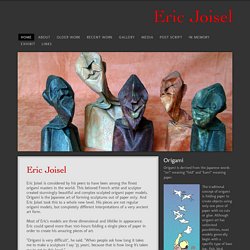 faltsucht.de
LE BLOG DE CLAUDE LOTHIER
I made some Waldorf-style window stars to decorate our big living room windows. I like to put them up in the winter, to liven up the wintry view. They are a bit fiddly, but satisfying to crank out, not unlike cut paper snowflakes. The best paper to use is square kite paper (ETA- it's 6 1/4" square.) I bought mine at a Waldorf school store, but you could get some from Nova Natural.