Countries
Datenschutz in sozialen Netzwerken: Deutsche besonders empfindlich. In keinem Land legen Internetnutzern so viel Wert auf Datenschutz und Wahrung der Privatsphäre wie in Deutschland.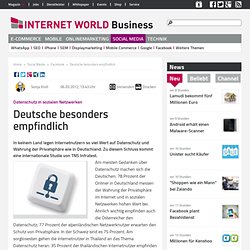 Zu diesem Schluss kommt eine internationale Studie von TNS Infratest. Am meisten Gedanken über Datenschutz machen sich die Deutschen: 78 Prozent der Onliner in Deutschland messen der Wahrung der Privatsphäre im Internet und in sozialen Netzwerken hohen Wert bei. F.A.Z.-Community. Latest Data on Facebook's US Growth by Age and Gender – October 1, 2009. Latest Data on Facebook's US Growth by Age and Gender – October 1, 2009 We've been keeping track of Facebook's self-reported demographic statistics on the US market for a while now, and here's the latest update for October 1, 2009.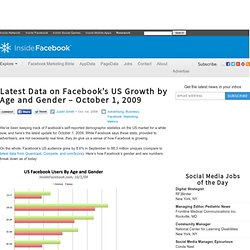 While Facebook says these stats, provided to advertisers, are not necessarily real time, they do give us a sense of how Facebook is growing. On the whole, Facebook's US audience grew by 8.6% in September to 88.3 million uniques (compare to latest data from Quantcast, Compete, and comScore). Here's how Facebook's gender and sex numbers break down as of today: (Note: about 5% of users do not report either gender or age, and are not included in this chart.) How Big is Social Media in the UK? The social media and networking phenomenon is growing extremely fast in the UK.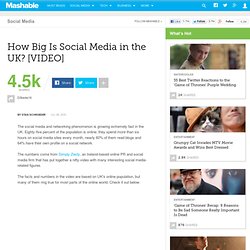 Eighty-five percent of the population is online; they spend more than six hours on social media sites every month, nearly 60% of them read blogs and 64% have their own profile on a social network. The numbers come from Simply Zesty, an Ireland-based online PR and social media firm that has put together a nifty video with many interesting social media-related figures.
---