Civilization II
Win 7 and XP (64 bit) civ 2 MGE and TOT issues (Fix inside!!) Hi guys Just to let you know that version 1.2 of the patcher is now available.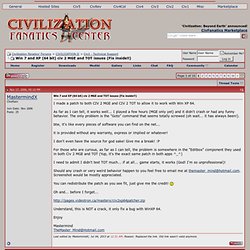 I have received notification from Phil Gomm (Thanks for the notification BTW) that the patcher wasn't working with the version distributed by Direct2Drive. DOSBox, an x86 emulator with DOS. Sid Meier's Civilization. Civilization ist eine Reihe von Globalstrategie-Computerspielen des Entwicklers Sid Meier und seiner Unternehmen MicroProse und Firaxis Games.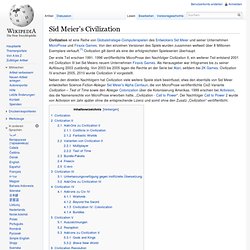 Von den einzelnen Versionen des Spiels wurden zusammen weltweit über 8 Millionen Exemplare verkauft.[1] Civilization gilt damit als eine der erfolgreichsten Spieleserien überhaupt. Der erste Teil erschien 1991. 1996 veröffentlichte MicroProse den Nachfolger Civilization II, ein weiterer Teil entstand 2001 mit Civilization III bei Sid Meiers neuem Unternehmen Firaxis Games. Als Herausgeber war Infogrames bis zu seiner Auflösung 2003 zuständig. Von 2003 bis 2005 lagen die Rechte an der Serie bei Atari, seitdem bei 2K Games. Civilization IV erschien 2005, 2010 wurde Civilization V vorgestellt. BestOldGames.net | Star? hry - mno?stvo na voln? stiahnutie.
Install - The Freeciv Wiki - Mods, coding, art, and more. Requirements Edit The requirements for Freeciv and the platforms it's been reported successfully installed on.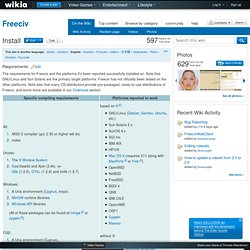 ---