Arts
The Jealous Curator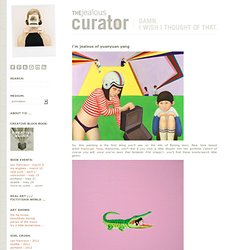 i'm jealous of tokujin yoshioka Gorgeous Hermes scarves, video of a beautiful woman, and a strategically placed wind machine. This story is not new, but that doesn't make it any less brilliant. Japanese artist Tokujin Yoshioka installed this piece at Maison Hermes in Toyko over the 2009 ~ 2010 Christmas holidays.
A visit to Lost at Sea, Gallery Hanahou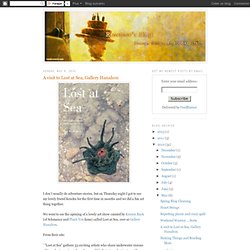 I don't usually do adventure stories, but on Thursday night I got to see my lovely friend Kendra for the first time in months and we did a fun art thing together. We went to see the opening of a lovely art show curated by Kristen Rask (of Schmancy and Plush You fame) called Lost at Sea, over at Gallery Hanahou. From their site: ' "Lost at Sea" gathers 33 exciting artists who share underwater visions of items lost, creatures forgotten, and life that struggles to stay with us.
Welcome to RHS Prints - High quality prints from the Royal Horticultural Society
ZDFkultur - ZDF.de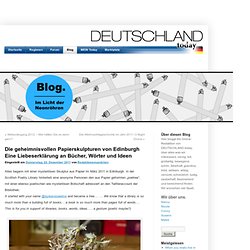 Die geheimnisvollen Papierskulpturen von Edinburgh Eine Liebeserklärung an Bücher, Wörter und Ideen | Im Licht der Neonröhren
Alles begann mit einer mysteriösen Skulptur aus Papier im März 2011 in Edinburgh. In der Scottish Poetry Library hinterließ eine anonyme Personen den aus Papier geformten "poetree", mit einer ebenso poetischen wie mysteriösen Botschaft adressiert an den Twitteraccount der Bibliothek: It started with your name @byleaveswelive and became a tree.… … We know that a library is so much more than a building full of books… a book is so much more than pages full of words.… This is for you in support of libraries, books, words, ideas….. a gesture (poetic maybe?) @Scottish Poetry Library Neben dem "poetree" lag ein aufgebrochenes, mit Gold ausgekleidetes Papierei in dem sich Papierschnipsel befanden die das Gedicht " A Trace of Wings " von Edwin Morgan ergaben. Auf den Schöpfer der fantastischen Skulptur und den Verfasser der Botschaft gab es keine Hinweise und niemand weiß wer es war oder gewesen sein könnte.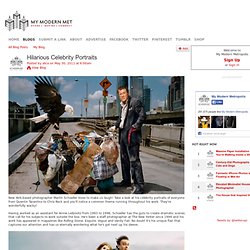 New York-based photographer Martin Schoeller loves to make us laugh! Take a look at his celebrity portraits of everyone from Quentin Tarantino to Chris Rock and you'll notice a common theme running throughout his work. They're wonderfully wacky! Having worked as an assistant for Annie Leibovitz from 1993 to 1996, Schoeller has the guts to create dramatic scenes that call for his subjects to work outside the box. He's been a staff photographer at The New Yorker since 1999 and his work has appeared in magazines like Rolling Stone, Esquire, Vogue and Vanity Fair. No doubt it's his unique flair that captures our attention and has us eternally wondering what he's got next up his sleeve.
Pictures of David Bowie Doing Normal Stuff
[ Editor's note: In celebration of the holidays, we're counting down the top 12 Flavorwire features of 2012. This post, at #2, was originally published January 8. ] Happy Birthday, David Bowie! The ultra-flamboyant king of glam rock turns 65 today, if you can believe it. Though he's known for his avant-garde attitude, ever-changing persona and incredible style no matter what his incarnation of choice (can you think of anyone else who looks as good in a sharp suit as he does in glitter face paint? We can't either), he's also just a normal guy.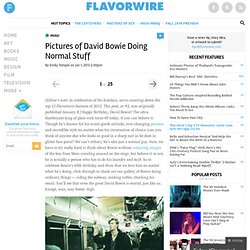 What's inside
An impossiblility in an impossible universe
ArtStack
12.jpg (1200×1603)
The hands are a notorious source of frustration. This section won't concentrate on the muscle structure, since the hand is very complex in this regard, and knowing this won't help much in drawing them. Instead, we'll look at proportions, range of motion, and possible simplifications. Structure and proportions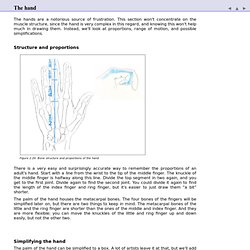 Spike Press
Spike Press
50 Watts
Nanna van Blaaderen
Putukajutud: Insect Stories from Estonia
www.vonmorris.de
Interview Project Germany
red onion GmbH Schönhauser Allee 10/11 10119 Berlin Germany Tel: +49.30.726 26 75-0 Fax: +49.30.726 26 75-20 Email: info@interviewproject.de Press inquiries: press@interviewproject.de USt-Id: DE812866010 Managing Director: Stephan Balzer District Court Berlin-Charlottenburg, HRB 73786 Content responsibility according to § 55 Abs. 2 RStV: Stephan Balzer, Schönhauser Allee 10/11, 10119 Berlin
Géraldine Gonzalez, créatrice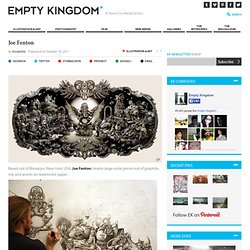 Joe Fenton
Based out of Brooklyn, New York, USA, Joe Fenton creates large-scale pieces out of graphite, ink, and acrylic on watercolor paper. http://joefentonart.com http://behance.net/joefenton http://saatchionline.com/profile/95283 Posted in: Drawings , Featured , Fine Art , Illustration & Art , Mixed Media , Painting Tags: acrylic , art blog , drawings , empty kingdom , Fine Art , graphite , ink , Joe Fenton , mixed media , Painting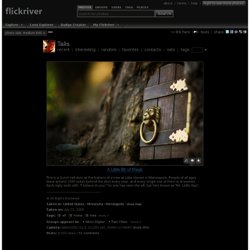 A Little Bit of Magic - a photo on Flickriver
Badge creator Use Flickriver Badge Creator to create a badge linking to your photos, your group or any other Flickriver view. You can place your badge on your Flickr profile, Blog or Website. Add to your iGoogle or Netvibes page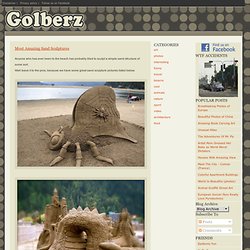 Most Amazing Sand Sculptures Anyone who has ever been to the beach has probably tried to sculpt a simple sand structure of some sort. Well leave it to the pros, because we have some great sand sculpture pictures listed below. Cool stuff on other blogs: 36 Comments: rachael said...
Perhaps I should begin this post by introducing you to my mom, also known as Her Ladyship Craftiness…er, Her Royal Craftiness? I'm still working on the title. Regardless, she's the coolest, most creative and talented woman I know. She can make pretty much anything.
Boneface
A. PAUL WEBER - DAS WERK
A Singular Creation - Art Community - Art Contests and Opportunities