Anne.ramallo
Anne Ramallo
Anne is the Manager of PR and Marketing at product innovation consultancy Karten Design.
The 20 Best Businesses For The World. B Lab, the nonprofit that certifies B Corporations--companies that meet strict legal accountability, environmental, and social performance standards--has only been around for half a decade.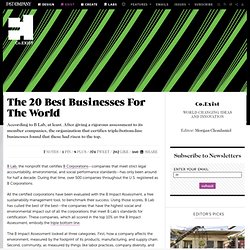 During that time, over 500 companies throughout the U.S. registered as B Corporations. All the certified corporations have been evaluated with the B Impact Assessment, a free sustainability management tool, to benchmark their success. Using those scores, B Lab has culled the best of the best--the companies that have the highest social and environmental impact out of all the corporations that meet B Lab's standards for certification. What Glass Ceiling? Killer Career Advice From Women Who Lead By Example.
It's been more than 100 years since 15,000 women marched through the streets of New York City demanding shorter hours, better pay, and voting rights, but how much progress have women really made in the workforce?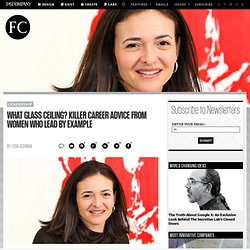 First, the tough news: Although women make up 49% of the total workforce, they represent 59% of low-wage workers. That number is down from 63% a decade ago, but research from the Institute for Women's Policy Research (IWPR) shows that it will take until 2056 for women and men's earnings to reach pay parity--if the wage gap continues to close at the same pace it has for the last 50 years. Another sobering statistic is from a study by Grant Thornton International on the status of women in leadership roles at top private companies worldwide.
In 2011, only 20% of those at the helm were women--down from 24% the year before.
Web Site Images
Kaitlin. Co.Design Bloggers. Learning Opportunities. Pearltrees videos. Getting started.
---