Article
The Franco Revolution - SBIFF - Santa Barbara Edhat
more articles like this The Franco Revolution updated: Jan 30, 2011, 7:18 AM By Mahil SenathirajahEdhat Film Festival Correspondentr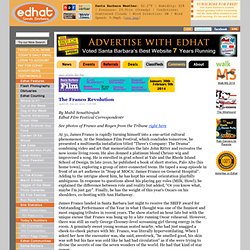 The only person who may be meditating more on the concept of "James Franco" than the actor himself is New York artist Nic Rad. His performance piece "The Celebritist Manifesto" is an ode, a study, and a satirical performance to the actor who defies all conventions of what it means to be "Hollywood." Originally written for a group show called "Hashtag," organized by William Powhida and Jennifer Dalton, Nic plans to stage a second showing of "Manifesto" in New York before the end of February. Nic writes on the "prologue" portion of his Celebritist Manifesto website his original concept for his Franco installation:
Artist Nic Rad On His James Franco Manifesto | Crushable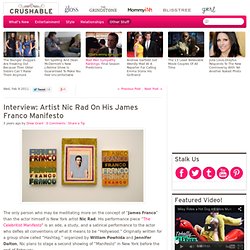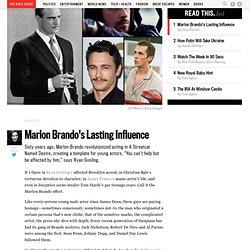 Marlon Brando's Lasting Influence on Ryan Gosling, Christian Bale, James Franco
Sixty years ago, Marlon Brando revolutionized acting in A Streetcar Named Desire, creating a template for young actors. "You can't help but be affected by him," says Ryan Gosling. It's there in Ryan Gosling's affected Brooklyn accent, in Christian Bale's torturous devotion to character, in James Franco's manic artist's life, and even in Inception scene-stealer Tom Hardy's gay teenage years. Call it the Marlon Brando effect. Like every serious young male actor since James Dean, these guys are paying homage—sometimes consciously, sometimes not–to the man who originated a certain persona that's now cliché, that of the sensitive macho, the complicated artist, the press-shy diva with depth. Every recent generation of thespians has had its gang of Brando acolytes.
The most valuable contribution a magazine employee can make is to invent a franchise: TIME's Person of the Year, Fortune's Fortune 500, People's Sexiest Man Alive, Franchise Times' Top 200 Franchises. With magazines dying and the recession not abating, I had to come up with a new franchise to save my job. Which is how, after several minutes of thinking, I came up with Joel Stein Presents: The Coolest Person of the Year™. The slight problem was that neither TIME nor I am an obvious arbiter of cool. But, I argued to myself, it's precisely the mass of uncool who can best determine who the cool is.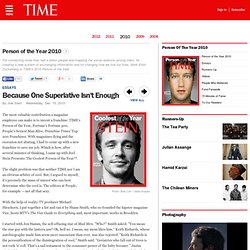 Coolest of the Year 2010
Time magazine has already called James Franco "the coolest guy alive", and the evidence piles up until you wonder: is that "evidence" or hype? Is he running a little too fast? Yes, in a few weeks' time he will be presenting the Academy awards show, along with Anne Hathaway, in the clearest sign yet that Oscar will do anything to get young viewers. And yes, he will be up for an Oscar himself for his performance in Danny Boyle's 127 Hours, where his character has to hack off an arm to get out of a tight squeeze in a Utah canyon. And no, people have not run to see that film. And yes, this is the James Franco who plays support in the Spider-Man franchise.
David Thomson on James Franco | Film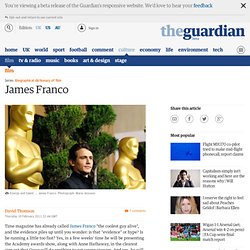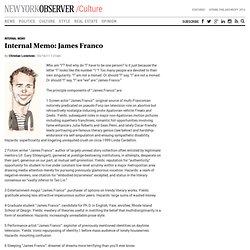 Who am "I"? And why do "I" have to be one person? Is it just because the letter "I" looks like the number "1″? Too many people are devoted to their own singularity. "I" am not a monad. Or should "I" say, "I" are not a monad.
Internal Memo: James Franco