Article
The Franco Revolution - SBIFF - Santa Barbara Edhat
more articles like this The Franco Revolution updated: Jan 30, 2011, 7:18 AM By Mahil SenathirajahEdhat Film Festival Correspondentr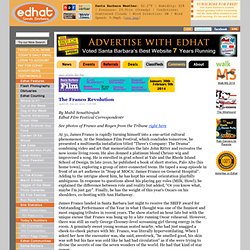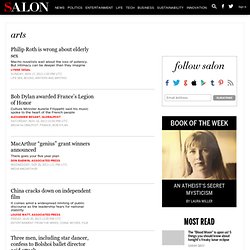 Philip Roth is wrong about elderly sex Macho novelists wail about the loss of potency.
The only person who may be meditating more on the concept of "James Franco" than the actor himself is New York artist Nic Rad.
Artist Nic Rad On His James Franco Manifesto | Crushable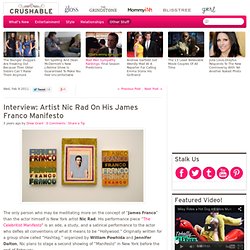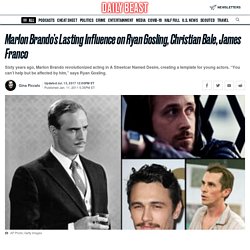 Marlon Brando's Lasting Influence on Ryan Gosling, Christian Bale, James Franco
In his eagerly anticipated memoir 'Duty,' former Defense Secretary Robert Gates pulls no punches about President Obama, a threat from David Petraeus, and Nancy Pelosi's bad side. Famous for the decisions he made in two wars as well as for serving two presidents of opposing parties, Robert Gates's memoir Duty leaves little room for misunderstanding how he saw people or events during his time as secretary of defense. Here are some of the juiciest bits from the memoir.
The most valuable contribution a magazine employee can make is to invent a franchise: TIME's Person of the Year, Fortune's Fortune 500, People's Sexiest Man Alive, Franchise Times' Top 200 Franchises.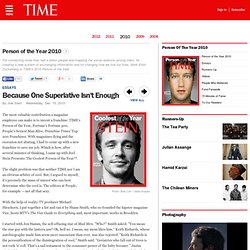 Coolest of the Year 2010
Time magazine has already called James Franco "the coolest guy alive", and the evidence piles up until you wonder: is that "evidence" or hype? Is he running a little too fast?
David Thomson on James Franco | Film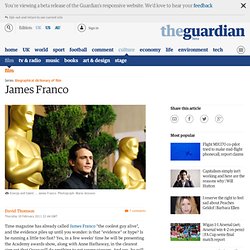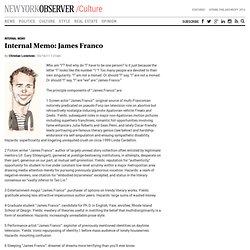 By Christian Lorentzen 2/16/11 1:27am Share this:
Internal Memo: James Franco