Masters
Celebrating Caravaggio: First Of The Bad-Boy Artists
hide captionItalian artist Caravaggio, seen in this 1754 rendering, is believed by many art lovers to be the greatest painter of all time. Hulton Archive/Getty Images Italian artist Caravaggio, seen in this 1754 rendering, is believed by many art lovers to be the greatest painter of all time. This year marks the 400th anniversary of the death of the Italian artist Caravaggio, believed by many art lovers to be the greatest painter of all time. Rome, the city where he was both hailed and rejected, is hosting a major exhibition of masterpieces from all over the world showcasing the first of the bad-boy artists. Exhibition visitors are plunged into near-total darkness — only the canvases are lighted: Lute Player, Cardsharps, Judith and Holofernes, the Conversion of Saul and many more.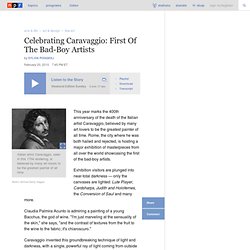 John William Waterhouse - The complete works
Portrait John William Waterhouse (April 6, 1849 - February 10, 1917) Painter of classical, historical, and literary subjects. John William Waterhouse was born in 1849 in Rome, where his father worked as a painter.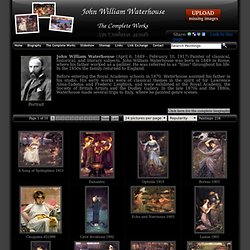 Edgar Degas (19 July 1834 – 27 September 1917), born Hilaire-Germain-Edgar Degas (pronounced [ilɛʀ ʒɛʁmɛ̃ ɛdɡɑʀ dœˈɡɑ]), was a French artist famous for his work in painting, sculpture, printmaking and drawing. He is regarded as one of the founders of Impressionism although he rejected the term, and preferred to be called a realist. A superb draughtsman, he is especially identified with the subject of the dance, and over half his works depict dancers. These display his mastery in the depiction of movement, as do his racecourse subjects and female nudes. His portraits are considered to be among the finest in the history of art. Early in his career, his ambition was to be a history painter, a calling for which he was well prepared by his rigorous academic training and close study of classic art.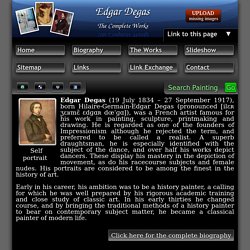 Anders Zorn (February 18, 1860 – August 22, 1920) was a Swedish painter and printmaker in etching. Zorn was born in Mora, Dalarna. He studied at Royal Swedish Academy of Arts in Stockholm, Sweden from 1875-1880.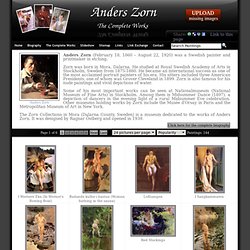 Anders Zorn - The complete works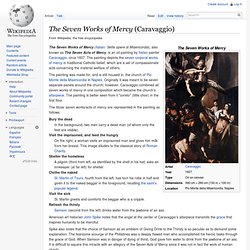 The Seven Works of Mercy (Caravaggio)
The Seven Works of Mercy (Italian: Sette opere di Misericordia), also known as The Seven Acts of Mercy, is an oil painting by Italian painter Caravaggio, circa 1607. The painting depicts the seven corporal works of mercy in traditional Catholic belief, which are a set of compassionate acts concerning the material welfare of others. The painting was made for, and is still housed in, the church of Pio Monte della Misericordia in Naples. Originally it was meant to be seven separate panels around the church; however, Caravaggio combined all seven works of mercy in one composition which became the church's altarpiece.
Old Fine Art: Scanned Antique Books and Postcards
The Life and Art of Artemisia Gentileschi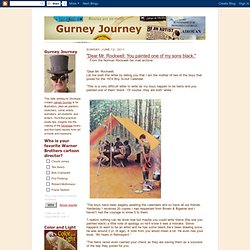 "Dear Mr. Rockwell: You painted one of my sons black."
From the Norman Rockwell fan mail archive: "Dear Mr. Rockwell, Let me start this letter by telling you that I am the mother of two of the boys that posed for the 1974 Boy Scout Calendar.
Art Renewal Center - Recent Additions
Lord Frederic Leighton (1830-1896), was one of the most famous British artists of the nineteenth century. The recipient of many national and international awards and honours, he was well acquainted with members of the royal family and with most of the great artists, writers and politicians of the late Victorian era. He was born in Scarborough, Yorkshire to a medical family. His father was a doctor, and his grandfather had been the primary physician to the Russian royal family in St.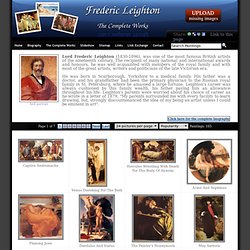 Lord Frederick Leighton - The complete works
Fine Arts Bogdány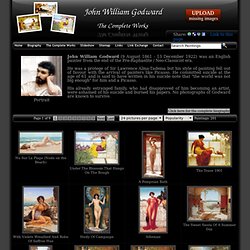 Portrait John William Godward (9 August 1861 - 13 December 1922) was an English painter from the end of the Pre-Raphaelite / Neo-Classicist era. He was a protege of Sir Lawrence Alma-Tadema but his style of painting fell out of favour with the arrival of painters like Picasso.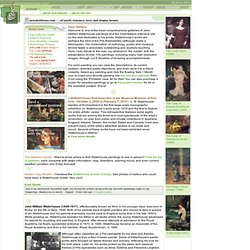 The Galleries Guide - Want to know where to find Waterhouse paintings to see in person? View the list of galleries, each complete with detail information, map, directions, opening hours, and even current weather condition and 5-day forecast! Modern Day Models - Checkout the Waterhouse women of today. See photos of visitors who could have been a Waterhouse model. Very cool!
500 Years of Women in Western Art