Art
PAINTING: POWERS OF OBSERVATION: Chuck Close: Note To Younger Self. I was in the eighth grade and was told not to even think about going to college.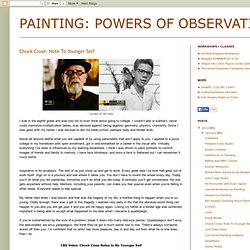 I couldn't add or subtract, never could memorize multiplication tables, was advised against taking algebra, geometry, physics, chemistry. Since I was good with my hands I was advised to aim for trade school, perhaps body and fender work. Never let anyone define what you are capable of by using parameters that don't apply to you. I applied to a junior college in my hometown with open enrollment, got in and embarked on a career in the visual arts.
Discussing How To Cite Smarthistory. We recommend that you cite Smarthistory.org content like other online sources.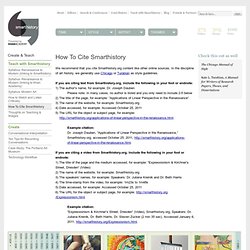 In the discipline of art history, we generally use Chicago or Turabian as style guidelines.If you are citing text from Smarthistory.org, include the following in your foot or endnote:1) The author's name, for example: Dr. Joseph Dauben Please note: In many cases, no author is listed and you only need to include 2-5 below. Lead the Field. Tonight I want to tell a personal story and give a recommendation for Earl Nightingales "Lead the Field".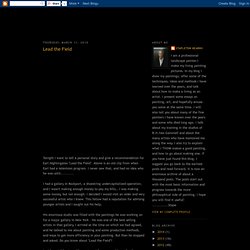 Above is an old clip from when Earl had a television program. I never saw that, and had no idea who he was until........... I had a gallery in Rockport, a shoestring undercapitalized operation, and I wasn't making enough money to pay my bills., I was making some money, but not enough. Adamo Macri.
Procrastination Buster Mind Map. Discover strategies for combating procrastination with the Procrastination Buster Mind Map.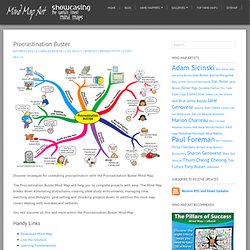 The Procrastination Buster Mind Map will help you to complete projects with ease. The Mind Map breaks down eliminating distractions, creating ideal study environments, managing time, watching your thoughts, goal setting and chunking projects down. In addition the mind map covers dealing with mistakes and setbacks. You will discover all this and more within the Procrastination Buster Mind Map. Time management for artists. I think a lot of us, especially if we are doing this full time, have difficulties in managing our time properly.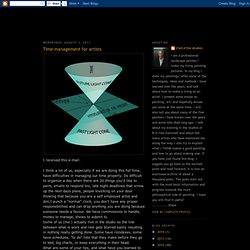 Its difficult to organize a day when there are 20 things you'd like to paint, emails to respond too, late night deadlines that screw up the next days plans, people knocking on your door thinking that because you are a self employed artist and don;t punch a "normal" clock, you don't have any proper responsibilities and can drop anything you are doing because someone needs a favour. We have commissions to handle, money to manage, shows to submit to.
Art Collections. Supplies. Golden Ratio. Indyarts.org. IDADA | Indianapolis Downtown Artists and Dealers Association. Sketchbooks and Sketching. Art Blogs. Art schools. Portraits. The oldest art in the Americas depicts a 13,000 year old mammoth. Free Technical Manual! - Cennini Forum. Contemporary Artists. Painting Education. Drawing Education.
---