Anything and everything!
Music, Television, and More. I'm actually helpful. I do find it hard to believe that people can't seem to open up to the ones they love the most.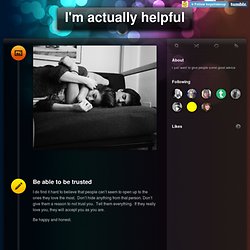 Don't hide anything from that person. Don't give them a reason to not trust you. Tell them everything. If they really love you, they will accept you as you are. Stay Alive. Cat gets caught barking by a human and resumes meowing - StumbleUpon.
---