Bfast
Chorizo and Red Pepper Quiche This is one of my first creations for my restaurant La Gamella in Madrid. I like it because is combines tastes of Spain in a new format. It is great as an appetizer or luncheon course. Yield: 8 servings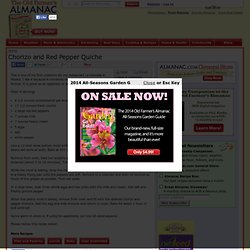 Pies and Pastries: Chorizo and Red Pepper Quiche Recipe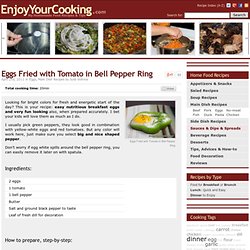 Eggs Fried with Tomato in Bell Pepper Ring Looking for bright colors for fresh and energetic start of the day? This is your recipe: easy nutritious breakfast eggs and very fun looking also, when prepared accurately. I bet your kids will love them as much as I do. I usually pick green peppers, they look good in combination with yellow-white eggs and red tomatoes.
Sourdough english muffins
I used some of my starter that would have been discarded last night during refreshment to make some english muffins. I found this recipe about 3 years ago on the KAF Baking Circle. It was submitted by a user going by the name chard. It makes great english muffins! The texture is similar to Wolfermans, not big "nooks and crannies", but a little meatier.
Sun-Maid Recipes - Rustic Raisin Biscotti
Ingredients 1/2 cup butter or margarine, softened 1 cup granulated sugar 3 large eggs, divided 1 tablespoon anise seeds 2 teaspoons grated lemon zest 2 teaspoons grated orange zest 3 cups all-purpose flour 1/2 teaspoon baking powder 1/4 teaspoon baking soda 1 cup Sun-Maid Natural Raisins 1 cup coarsely chopped almonds raw cane sugar, optional HEAT oven to 350 F. Grease cookie sheet.COMBINE butter, sugar and 2 eggs plus 1 egg yolk (reserve remaining egg white) and beat until light and fluffy.STIR in anise seeds, lemon and orange zest.COMBINE flour, baking powder and baking soda. Stir into butter mixture; mix well.STIR in raisins and almonds.DIVIDE dough in half.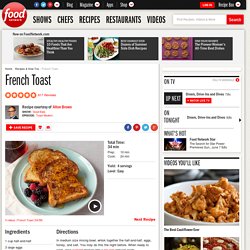 French Toast Recipe : Alton Brown
Ingredients 1 cup half-and-half 3 large eggs 2 tablespoons honey, warmed in microwave for 20 seconds 1/4 teaspoon salt 8 (1/2-inch) slices day-old or stale country loaf, brioche or challah bread 4 tablespoons butter Directions In medium size mixing bowl, whisk together the half-and-half, eggs, honey, and salt.