Software&tools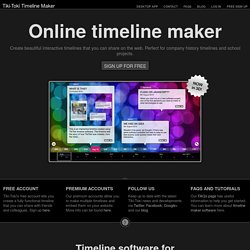 Why use Tiki-Toki? There are loads of timeline makers out there.What's so special about Tiki-Toki? Nothing to download Tiki-Toki works in your browser. Sign up for our freeaccount and you can start creating a timeline now Stunning 3d timelines No other online timeline makerallows you to view your timelines in 3d Include images and videos Tiki-Toki provides integration withYouTube and Vimeo for videos Share timelines with anyone Each timeline you create has its own unique urlthat you can send to friends or colleagues Colours and categories Tiki-Toki allows you to create different categoriesfor stories (events) and colour code them Group edit* Get your friends or colleaguesto contribute to your timelines Embed timelines on your site* Timelines created using Tiki-Toki can beembedded on your own website or blog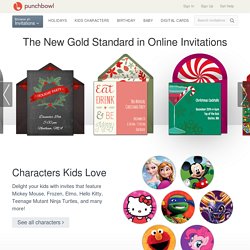 Frozen Have a magical day and plan a beautiful birthday party with a free Frozen invitation, sent online. Disney Princess Plan your birthday party with a Disney Princess online invitation — and have a magical day filled with fun. Minnie Mouse Enchant guests with a magical day – start it all with a Minnie Mouse online invitation. Mickey Mouse Clubhouse Gather up the gang for a birthday party with a Mickey Mouse Clubhouse theme with the online invitation!
SMART Notebook Tools - Symbaloo
What is Dipity? Dipity is a free digital timeline website. Our mission is to organize the web's content by date and time. Users can create, share, embed and collaborate on interactive, visually engaging timelines that integrate video, audio, images, text, links, social media, location and timestamps. Who is Dipity for?