Sociala Medier
Världsbubblan - en heldag om lokala sociala medier. Världsbubblan - en heldag om lokala sociala medier.
Statistik
Statistik på Facebook - räkna inte gillar som inte räknasWebbstrategerna. Killen på bilden är Dj-stjärnan Tiesto.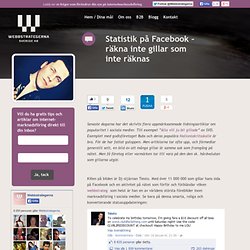 Med över 11 000 000 som gillar hans sida på Facebook och en aktivitet på nätet som förför och förbländar vilken webbstrateg som helst är han en av världens största förebilder inom marknadsföring i sociala medier. Se bara på denna smarta, roliga och konverterande statusuppdateringen: Även om Tiesto är en av världens största artister inom elektronisk musik imponeras jag som webbstrateg ofta över hur genomtänkt, smart och synkroniserat alla hans aktiviteter är online. Kvalitet framför kvantitet Givetvis kan inte alla artiklar handlar om världsstjärnor. TNS Digital Life. FREE Social Media Icon Sets Download | Webmaster Blog - Wordpress | SEO | Blogging | Design | Development.
FREE Social Media Icon Sets Download Social media is ruling today's internet!
If you have a blog or an online business, the best method to publicize and find traffic flowing into your website is by using Social media to its potential (often know as Social media Optimization – SMO). 12 Most Irritating Social Media Words And Phrases | Dear world of Social Media, Hi, how are you?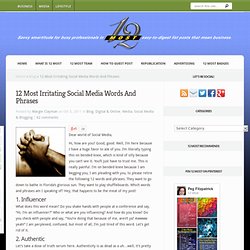 Good, good. Well, I'm here because I have a huge favor to ask of you. I'm literally typing this on bended knee, which is kind of silly because you can't see it. You'll just have to trust me. Därför måste du synas i sociala medier. Social media is good for smaller businesses « Wanobe. Social media is a great tool for smaller businesses to engage with new and existing customers, yet new research shows that almost 50 per cent of B2B businesses are not measuring return on investment when using social media.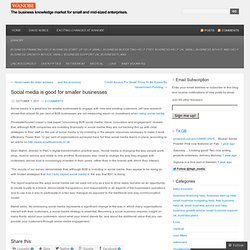 PricewaterhouseCooper's new paper 'Uncovering B2B social media: Value, innovation and engagement' reveals that, although B2B companies are investing financially in social media, they are not backing this up with clear strategies to their staff on the use of social media or by investing in the people resources necessary to make it work effectively. Fewer than 12 per cent of organisations surveyed have full time social media teams in place, according to an article on Sean Mahdi, director in PwC's digital transformation practice says, 'Social media is changing the way people work, shop, receive service and relate to one another.
Vinna eller försvinna | Disruptive Media. Den här texten har tidigare publicerats på Trendspaning.se En digital strategi kan vara avgörande Är ditt företag ett reaktivt offer för omständigheter eller en proaktiv vinnare?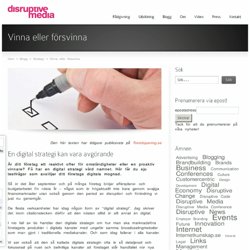 Linkedin
11 infographics for your next presentation. By Arik Hanson | Posted: October 3, 2011 Presentations are a way of life in the communications profession.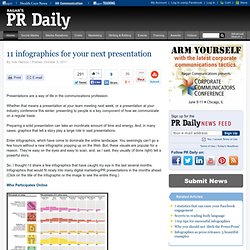 Whether that means a presentation at your team meeting next week, or a presentation at your industry conference this winter, presenting to people is a key component of how we communicate on a regular basis. Preparing a solid presentation can take an inordinate amount of time and energy. Social Media Report. Social media is coming of age.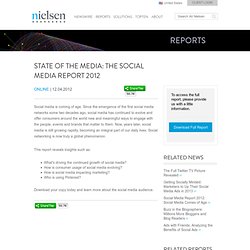 Since the emergence of the first social media networks some two decades ago, social media has continued to evolve and offer consumers around the world new and meaningful ways to engage with the people, events and brands that matter to them. Now, years later, social media is still growing rapidly, becoming an integral part of our daily lives. Social networking is now truly a global phenomenon. This report reveals insights such as: 22 Social Media Alerts Your Business Should Be Using. By Adam Holden-Bache on Sep 09, 2011 One of the easiest ways businesses can take advantage of social media is by establishing alerts that cover a wide range of topics.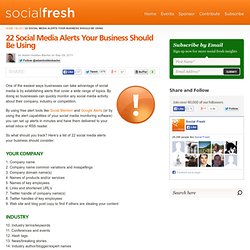 By doing so businesses can quickly monitor any social media activity about their company, industry or competition. By using free alert tools like Social Mention and Google Alerts (or by using the alert capabilities of your social media monitoring software) you can set up alerts in minutes and have them delivered to your email inbox or RSS reader. So what should you track? Ny Statistik om Sociala Medier. Föreläsning på IT-gymnasiet i Örebro | Det sociala molnet. Fredagen den 8e april hade IT-gymnasiet i Örebro temadag med ämnet Sociala medier.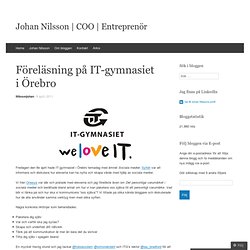 Syftet var att informera och diskutera hur eleverna kan ha nytta och skapa värde med hjälp av sociala medier. Vi från Onesys var där och pratade med eleverna och jag föreläste även om Det personliga varumärket i sociala medier och berättade bland annat om hur vi kan paketera oss själva till ett personligt varumärke. Vad bör vi tänka på och hur ska vi kommunicera "oss själva"? Vi tittade på olika kända bloggare och diskuterade hur de alla använder samma verktyg men med olika syften. Here. Have a free LinkedIn Companies Toolkit - Adam Kleinberg - Traction. Så kan din nätprofil ge karriärskjuts. Han har en minutiöst uppdaterad cv på nätverkssajten Linkedin och twittrar dagligen om sådant som berör hans yrkesområde ekonomi, börs och finans. 1 000 personer följer honom på Twitter.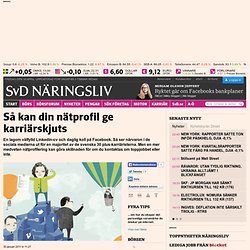 Henrik Mitelman, chefsstrateg på SEB Enskilda, har en medveten internetnärvaro, och en strikt uppdelning mellan den privata och den professionella profilen. Han är inte särskilt aktiv på Facebook, och twittrar aldrig privat. – Jag följer en strategi med twittrandet som innebär stark närvaro, regelbundenhet och att det alltid ska knyta an till eko­nomi. Sociala medier - Arbetsförmedlingen - Möjligheternas mötesplats.
Marknadsföra i SM/ marketing with SM. Facebook. Branchout. Tisdag, 4 januari, 2011 Affärsnätverka på Facebook! För dig som vill skilja på privatliv och yrkesliv i sociala medier kan BranchOut vara ett användbart komplement till nätverkandet och kontaktskapandet på LinkedIn. BranchOut beskriver sig själva som "online career networking platform" och hjälper dig att skapa din yrkesmässiga profil på Facebook. BranchOut är en applikation* för Facebook. Det är alltså inte Facebook som […] Social media news, strategy, tools, and techniques. Socialwebb. Twitter-tips.
Blogg
10 Reasons Why Social Is Your Future SEO Strategy. The social web and search results support each other and are inexorably linked. It goes beyond a mere passive connection, the two create an active, virtuous cycle growing more powerful daily. I mocked up a quick version of what I view the cycle as: Everything You Need To Know About Social Media.
---