Social Media Infographics
What Internet Users Do Online. Three major technology revolutions have occurred during the period the Pew Research Center has been studying digital technology – and yet more are on the horizon.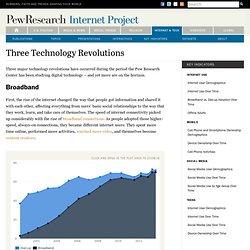 Broadband First, the rise of the internet changed the way that people got information and shared it with each other, affecting everything from users' basic social relationships to the way that they work, learn, and take care of themselves. The speed of internet connectivity picked up considerably with the rise of broadband connections. As people adopted those higher-speed, always-on connections, they became different internet users: They spent more time online, performed more activities, watched more video, and themselves become content creators. Mobile. 5 Social Media Marketing Trends: New Research. Are you being asked to prove the value of social media for your business?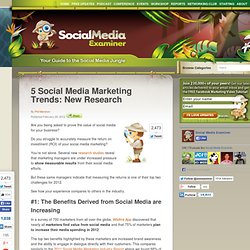 Do you struggle to accurately measure the return on investment (ROI) of your social media marketing? You're not alone. 22 Ways to Create Compelling Content When You Don't Have a Clue [Infographic] Why Is " #Infographic Thinking" The Future And Not A Fad? #digitaljournalism #video. Why Is " #Infographic Thinking" The Future And Not A Fad?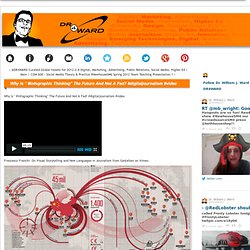 #digitaljournalism #video Francesco Franchi: On Visual Storytelling and New Languages in Journalism from Gestalten on Vimeo. I look 4Ward to your feedback. Keep Digging for Worms! Guest post by Brianne Boysen.
Guidelines and Governance
Infographic | The Day the Internet Stood Still. On January 18th, it was hard to miss what was the largest (digital) protest in world's history as millions of people, and the largest internet companies stood up against the proposes SOPA and PIPA laws (watch the 5mn "what is SOPA" video here).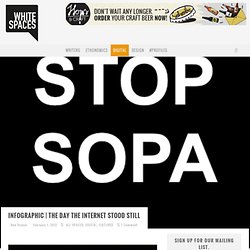 If you don't know what SOPA and PIPA are, both are basically law proposals that would end up making it impossible to have user-generated content sites and services like YouTube, WordPress.com, Disqus, or even Ubergizmo because if one user or commenter uploads a copyrighted image, or content, the whole site could be taken down. Today, websites are required to remove that content and most are actively participating in the fight against piracy.
To date, both laws have been put on hold, but not eliminated. Evolution of Phone Support. On a scale of 1 to 10, one being "please, anything but that" and 10 being "this is the best thing that might have ever happened to me," how much do you like picking up the phone and calling customer service?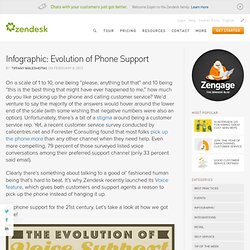 We'd venture to say the majority of the answers would hover around the lower end of the scale (with some wishing that negative numbers were also an option). Unfortunately, there's a bit of a stigma around being a customer service rep. Yet, a recent customer service survey conducted by callcentres.net and Forrester Consulting found that most folks pick up the phone more than any other channel when they need help. Even more compelling, 79 percent of those surveyed listed voice conversations among their preferred support channel (only 33 percent said email). Clearly there's something about talking to a good ol' fashioned human being that's hard to beat. How social media is making polling obsolete — Cloud Computing News. Measuring the Business Impact of Social Media [INFOGRAPHIC] Social media is no longer a stop-and-go investment, but rather a long term strategic channel that, when integrated with other marketing efforts, allows brands to connect with users over time.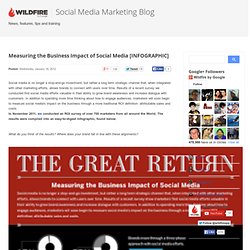 Results of a recent survey we conducted find social media efforts valuable in their ability to grow brand awareness and increase dialogue with customers. In addition to spending more time thinking about how to engage audiences, marketers will soon begin to measure social media's impact on the business through a more traditional ROI definition: attributable sales and costs. In November 2011, we conducted an ROI survey of over 700 marketers from all around the World.
The results were compiled into an easy-to-digest infographic, found below. Social Media Jobs and Salaries Guide. How Big is Blogosphere [Infographic] The Blogosphere is growing at rapid pace.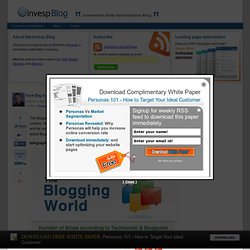 Blogging these days is not just about sharing content. Its much more than that. Its about Analytics, trends, social networking traffic, revenues and lot more. Our infographic "How Big is Blogosphere" will be covering some interesting facts about Blogging World. Twitterpalooza: Twitter Statistics In Focus. Statistics are the true storyteller for how a company performs, and where it is going.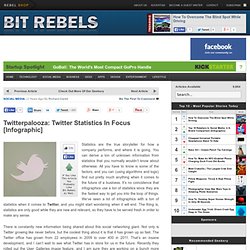 You can derive a ton of unknown information from statistics that you normally wouldn't know about otherwise. All you have to know is some of the factors, and you can (using algorithms and logic) find out pretty much anything when it comes to the future of a business. It's no coincidence that infographics use a ton of statistics since they are the fastest way to get you into the loop of things.
---