Collaboration platforms/ technologies
It's a time of transition for Anybots, the 11-year-old Silicon Valley company which makes remote-controlled robots that are meant to serve as "mobile telepresence systems."
Anybots Names Former Cisco Exec David Rogan CEO, Company Enters Into 'Rebuild Mode'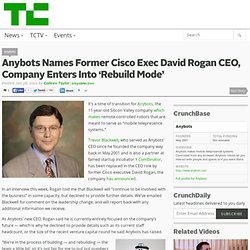 by Ben Hecht | 9:00 AM January 10, 2013 Leaders and organizations are acknowledging that even their best individual efforts can't stack up against today's complex and interconnected problems.
Collaboration Is the New Competition - Ben Hecht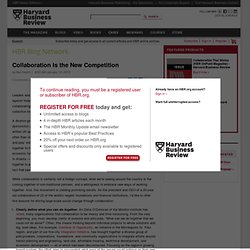 Quantified Self
The Quantified Self[1] is a movement to incorporate technology into data acquisition on aspects of a person's daily life in terms of inputs (e.g. food consumed, quality of surrounding air), states (e.g. mood, arousal, blood oxygen levels), and performance (mental and physical). Such self-monitoring and self-sensing, which combines wearable sensors (EEG, ECG, video, etc.) and wearable computing, is also known as lifelogging. Other names for using self-tracking data to improve daily functioning[2] are "self-tracking", "auto-analytics", "body hacking" and "self-quantifying".[3] History[edit] Today the global community has over a hundred groups in 34 countries around the world.[9] With the largest groups in San Francisco, New York, London, and Boston having over 1000 members each.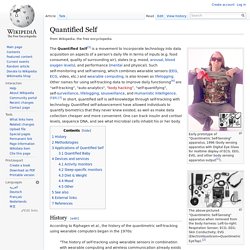 The Team Brain: Beyond Email, Meetings, and Middle Management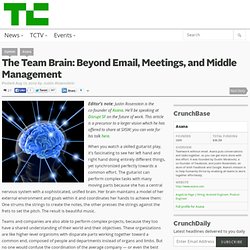 Editor's note: Justin Rosenstein is the co-founder of Asana.
Intranet owners and other IT product or service owners are often confused when they hear the term "Digital Workplace".
It's a Bird, it's a Plane...it's The Digital Workplace | The Content Economy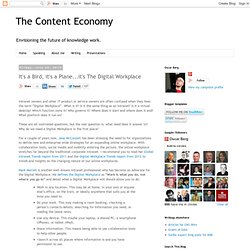 What the Yammer Acquisition Says About Microsoft – and Enterprise Social Networking
By Al Campa On July 11, 2012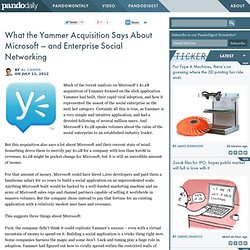 Microsoft Canada survey results found workers and bosses often feel more productive working remotely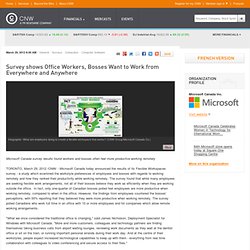 MICROSOFT CANADA CO. | Survey shows Office Workers, Bosses Want to Work from Everywhere and Anywhere
[Note: This is the fifth in a series of posts about the Social Enterprise and the Big Shift.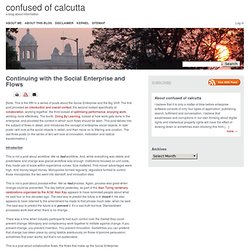 Continuing with the Social Enterprise and Flows
On Collaboration
Introduction Last week I spent some time looking at the Social Enterprise through the lens of The Big Shift. Responses, in terms of comments, suggestions, retweets, Likes and +1s were heartening, and I am grateful. Thank you. Today I'm going to continue with that perspective, this time drilling down into the subject of collaboration.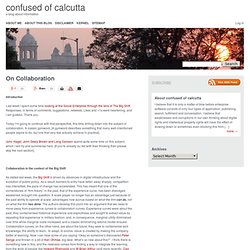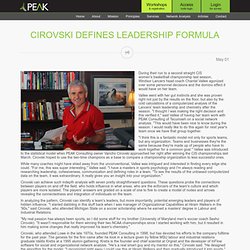 Cirovski defines leadership formula | Consultation Assessment Articles
During their run to a second straight CIS women's basketball championship last season, Windsor Lancers head coach Chantal Vallee agonized over some personnel decisions and the domino effect it would have on her team. Vallee went with her gut instincts and she was proven right not just by the results on the floor, but also by the cold calculations of a computerized analysis of the Lancers' team leadership and chemistry after the season. "I thought I was making the right decision and this verified it," said Vallee of having her team work with PEAK Consulting of Tecumseh on a social network analysis. "This would have been nice to know during the season.
2012 Global CEO Study
Overview For some time, businesses have been refining and optimizing their networks of suppliers and partners. But something just as meaningful has been happening – the sudden convergence of the digital, social and mobile spheres – connecting customers, employees and partners in new ways to organizations and to each other.
The Power Of Coordination
The ancient Chinese general Sun Tzu once wrote that "power comes from formation." Fundamentally the way one creates power is by coordinating the pieces in a strategic formation. This is like a great chess player setting up the first few moves to position her pieces in an optimal pattern.
Street art to takeover The Rocks, Sydney - Arts & Entertainment - Lifestyle - Fairfield Advance
Arlene Weintraub9/7/11 General Assembly, a New York-based technology incubator, has raised $4.25 million, as announced today on the company's blog by co-founder Brad Hargreaves. The funding round was led by Maveron, the Seattle-based firm co-founded by Starbucks CEO Howard Schultz, with participation from Amazon's Jeff Bezos, Yuri Milner, Tom Vander Ark, Alexis Ohanian, Hosain Rahman, and Alex Asseily. General Assembly opened in January in a 20,000 square-foot space that more closely resembles a college than a typical incubator. It was initially supported by organizations like Skype, Ideo, Silicon Valley Bank, and the New York City Economic Development Corp.
General Assembly Incubator Takes in $4.25 Million
Google: Mobile, social, cloud changing the way we work
2 February 2012Last updated at 19:05 ET By Sebastien Marotte VP, Google Enterprise, EMEA Mobile multi-tasking: Google believes that mobile technologies and the rise of the tablet is changing the way we work As part of our Future of Work series running throughout February, we asked some experts to give us their take on how the way we work is going to change.
No man (or woman) is an island – and this statement can't be any truer if you're a designer or developer. Though paid/subscription services like Basecamp and Zimbra are great, individuals strapped for cash have a ton of alternatives that provide similar (if not better) features. In this article, you'll find 15 free tools to help you facilitate remote/web-based collaboration. Whether you need basic whiteboarding/brainstorming tools or fully-featured project management applications – you should be able to find a tool or two that's worth checking out.