Collaboration platforms/ technologies
Anybots Names Former Cisco Exec David Rogan CEO, Company Enters Into 'Rebuild Mode' It's a time of transition for Anybots, the 11-year-old Silicon Valley company which makes remote-controlled robots that are meant to serve as "mobile telepresence systems."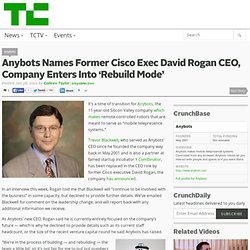 Trevor Blackwell, who served as Anybots' CEO since he founded the company way back in May 2001 and is also a partner at famed startup incubator Y Combinator, has been replaced in the CEO role by former Cisco executive David Rogan, the company has announced. In an interview this week, Rogan told me that Blackwell will "continue to be involved with the business" in some capacity, but declined to provide further details. We've emailed Blackwell for comment on the leadership change, and will report back with any additional information we receive.
As Anybots' new CEO, Rogan said he is currently entirely focused on the company's future — which is why he declined to provide details such as its current staff headcount, or the size of the recent venture capital round he said Anybots has raised. Collaboration Is the New Competition - Ben Hecht. By Ben Hecht | 9:00 AM January 10, 2013 Leaders and organizations are acknowledging that even their best individual efforts can't stack up against today's complex and interconnected problems.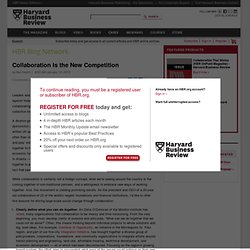 They are putting aside self-interests and collaborating to build a new civic infrastructure to advance their shared objectives. It's called collective impact and it's a growing trend across the country. A diverse group of local leaders — private, public, philanthropic, and nonprofit — fed up with the dysfunction around them, come together to challenge conventional wisdom and fix problems long written off as unsolvable, such as poverty, unemployment, and a failing education system.
More often than not, they lack the formal authority to solve the problem and don't have an obvious 'plug and play' solution. Quantified Self. The Quantified Self[1] is a movement to incorporate technology into data acquisition on aspects of a person's daily life in terms of inputs (e.g. food consumed, quality of surrounding air), states (e.g. mood, arousal, blood oxygen levels), and performance (mental and physical).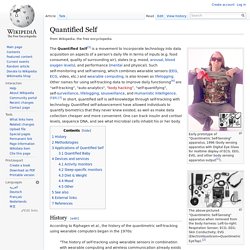 Such self-monitoring and self-sensing, which combines wearable sensors (EEG, ECG, video, etc.) and wearable computing, is also known as lifelogging. Other names for using self-tracking data to improve daily functioning[2] are "self-tracking", "auto-analytics", "body hacking" and "self-quantifying".[3] History[edit] Today the global community has over a hundred groups in 34 countries around the world.[9] With the largest groups in San Francisco, New York, London, and Boston having over 1000 members each. The Team Brain: Beyond Email, Meetings, and Middle Management. Editor's note: Justin Rosenstein is the co-founder of Asana.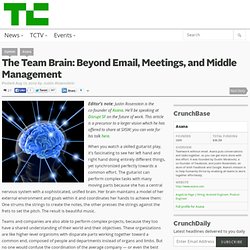 He'll be speaking at Disrupt SF on the future of work. This article is a precursor to a larger vision which he has offered to share at SXSW; you can vote for his talk here. When you watch a skilled guitarist play, it's fascinating to see her left hand and right hand doing entirely different things, yet synchronized perfectly towards a common effort. The guitarist can perform complex tasks with many moving parts because she has a central nervous system with a sophisticated, unified brain. It's a Bird, it's a Plane...it's The Digital Workplace | The Content Economy. InShare13 Intranet owners and other IT product or service owners are often confused when they hear the term "Digital Workplace".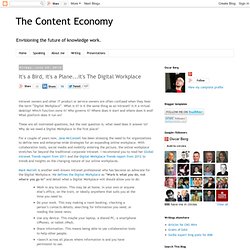 What is it? Is it the same thing as an intranet? Is it a virtual desktop? What the Yammer Acquisition Says About Microsoft – and Enterprise Social Networking. By Al Campa On July 11, 2012 Much of the recent analysis on Microsoft's $1.2B acquisition of Yammer focused on the slick application Yammer had built, their rapid viral adoption, and how it represented the assent of the social enterprise as the next hot category.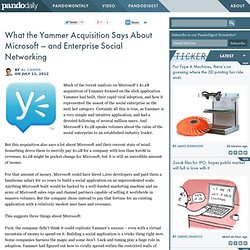 Certainly all this is true, as Yammer is a very simple and intuitive application, and had a devoted following of several million users. And Microsoft's $1.2B speaks volumes about the value of the social enterprise to an established industry leader. But this acquisition also says a lot about Microsoft and their current state of mind. MICROSOFT CANADA CO. | Survey shows Office Workers, Bosses Want to Work from Everywhere and Anywhere. Microsoft Canada survey results found workers and bosses often feel more productive working remotely TORONTO, March 29, 2012 /CNW/ - Microsoft Canada today announced the results of its Flexible Workspaces survey - a study which examined the workstyle preferences of employees and bosses with regards to working remotely and how they ranked their productivity while working remotely.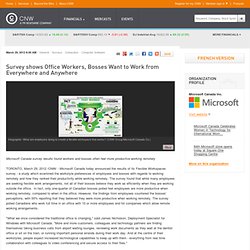 The survey found that while many employees are seeking flexible work arrangements, not all of their bosses believe they work as efficiently when they are working outside the office. In fact, only one-quarter of Canadian bosses polled feel employees are more productive when working remotely, compared to when in the office. However, the findings from employees countered the bosses' perceptions, with 55% reporting that they believed they were more productive when working remotely. Continuing with the Social Enterprise and Flows. [Note: This is the fifth in a series of posts about the Social Enterprise and the Big Shift.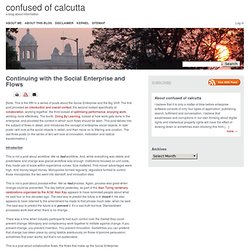 The first post provided an introduction and overall context; the second looked specifically at collaboration, working together; the third looked at optimising performance, enjoying work, working more effectively. The fourth, Doing By Learning, looked at how work gets done in the enterprise, and provided the context in which such flows should be seen. This post delves into the subject of flows in detail, and introduces the concept of enterprise social objects.
In later posts I will look at the social objects in detail, and then move on to filtering and curation. On Collaboration. Introduction Last week I spent some time looking at the Social Enterprise through the lens of The Big Shift.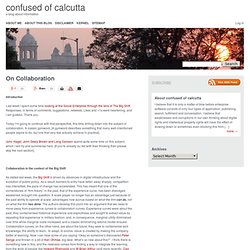 Responses, in terms of comments, suggestions, retweets, Likes and +1s were heartening, and I am grateful. Thank you. Today I'm going to continue with that perspective, this time drilling down into the subject of collaboration. Cirovski defines leadership formula | Consultation Assessment Articles. During their run to a second straight CIS women's basketball championship last season, Windsor Lancers head coach Chantal Vallee agonized over some personnel decisions and the domino effect it would have on her team.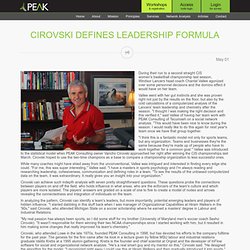 Vallee went with her gut instincts and she was proven right not just by the results on the floor, but also by the cold calculations of a computerized analysis of the Lancers' team leadership and chemistry after the season. "I thought I was making the right decision and this verified it," said Vallee of having her team work with PEAK Consulting of Tecumseh on a social network analysis.
"This would have been nice to know during the season. 2012 Global CEO Study. Overview For some time, businesses have been refining and optimizing their networks of suppliers and partners. But something just as meaningful has been happening – the sudden convergence of the digital, social and mobile spheres – connecting customers, employees and partners in new ways to organizations and to each other. The Power Of Coordination.
The ancient Chinese general Sun Tzu once wrote that "power comes from formation." Fundamentally the way one creates power is by coordinating the pieces in a strategic formation. This is like a great chess player setting up the first few moves to position her pieces in an optimal pattern. Street art to takeover The Rocks, Sydney - Arts & Entertainment - Lifestyle - Fairfield Advance. General Assembly Incubator Takes in $4.25 Million. Arlene Weintraub9/7/11 General Assembly, a New York-based technology incubator, has raised $4.25 million, as announced today on the company's blog by co-founder Brad Hargreaves. The funding round was led by Maveron, the Seattle-based firm co-founded by Starbucks CEO Howard Schultz, with participation from Amazon's Jeff Bezos, Yuri Milner, Tom Vander Ark, Alexis Ohanian, Hosain Rahman, and Alex Asseily.
General Assembly opened in January in a 20,000 square-foot space that more closely resembles a college than a typical incubator. It was initially supported by organizations like Skype, Ideo, Silicon Valley Bank, and the New York City Economic Development Corp. Google: Mobile, social, cloud changing the way we work. 3 February 2012Last updated at 00:05 By Sebastien Marotte VP, Google Enterprise, EMEA Mobile multi-tasking: Google believes that mobile technologies and the rise of the tablet is changing the way we work As part of our Future of Work series running throughout February, we asked some experts to give us their take on how the way we work is going to change.
Draw Diagrams Online using Collaborative Diagram Tools. 15 Free Tools for Web-based Collaboration. No man (or woman) is an island – and this statement can't be any truer if you're a designer or developer. Though paid/subscription services like Basecamp and Zimbra are great, individuals strapped for cash have a ton of alternatives that provide similar (if not better) features. In this article, you'll find 15 free tools to help you facilitate remote/web-based collaboration. Whether you need basic whiteboarding/brainstorming tools or fully-featured project management applications – you should be able to find a tool or two that's worth checking out.
---