Drawings
Drawing Is Awesome. My moleskine on the Behance Network. Mingo clambake. Andrea joseph's sketchblog. Marc Johns. Kipling West. About this Series: Kipling West's meticulous illustrations command your attention.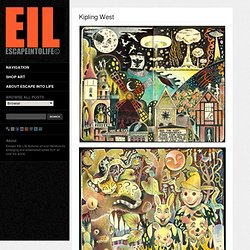 At first glance, the prismatic colors and flowing line work grab your eyeballs. Tight detail and pulsating composition impress and inspire as the image unfolds to reveal hidden creatures and mysterious symbols. After that, you simply fall into the page and become happily engulfed in a strange and beautiful wonderland. Over 20 Creative Ways to Take a Seat | FindInspirations.com. Prickly Pair Chairs website: Valentina Gonzalez Wohlers homepage Valentina Gonzales blends two iconographic elements: the classical French Louis XV oval chair originated in Rococo period and the Nopal cactus symbolizing Mexican heritage and national pride.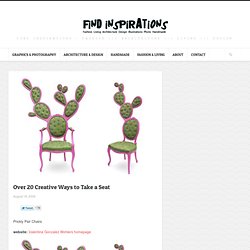 "Shapes, materials, colours, textures and finishes collide in irreverent and playful harmony; the Prickly pair chairs are a statement against prejudice and preconceptions." Lila Jang's canape website: via wrongdistance.com. Steve Gibson - Artist. Spectacular Sharpie Art on Styrofoam Cups. Awesome Pencil Drawings From Students Notebooks. Awesome Pencil Drawings From Students Notebooks Posted on 28 June 2010 Crni When I was in high school I was pretty bored on the most of the lessons I had to attend, especially maths and physics.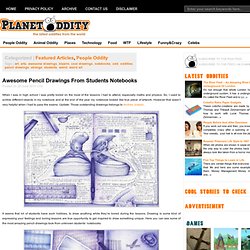 So, I used to scrible different objects in my notebook and at the end of the year my notebook looked like true piece of artwork. However that wasn't very helpful when I had to pass the exams.
---