SQL Server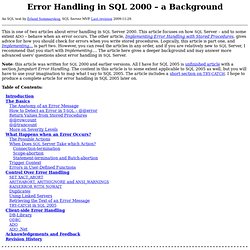 Error Handling in SQL Server – a Background
An SQL text by Erland Sommarskog, SQL Server MVP. Last revision 2009-11-29. This is one of two articles about error handling in SQL Server 2000.
Topic Status: Some information in this topic is pre-release and subject to change in future releases. Pre-release information describes new features or changes to existing features in Microsoft SQL Server 2014. Firewall systems help prevent unauthorized access to computer resources.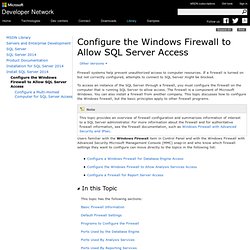 Configuring the Windows Firewall to Allow SQL Server Access
Microsoft SQL Server Shutting Down Every Night - Microsoft SQL Upgrade - Network Helpdesk | SkyByte Consulting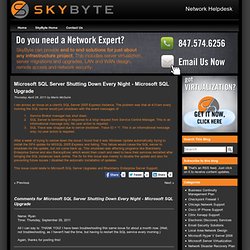 I ran across an issue on a client's SQL Server 2005 Express instance.
SQL Server: More light shed on "non-yielding scheduler" and Indexes stats
Understanding the error "An operation on a socket could not be performed because the system lacked sufficient buffer space or because a queue was full." - SQL Protocols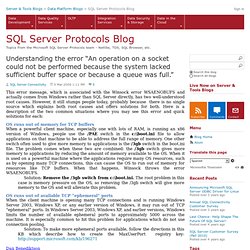 This error message, which is associated with the Winsock error WSAENOBUFS and actually comes from Windows rather than SQL Server directly, has two well-understood root causes.
comments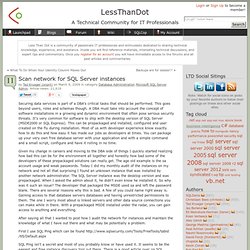 Scan network for SQL Server instances
Fix problems with programs that can't be installed or uninstalled
installation - Manually removing sql server 2008
Upgrade from SQL 2005 to SQL 2008 might fail with MsiGetProductInfo error - Microsoft SQL Server Tips & Tricks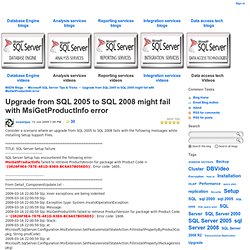 Consider a scenario where an upgrade from SQL 2005 to SQL 2008 fails with the following messages while installing Setup Support Files. TITLE: SQL Server Setup failure.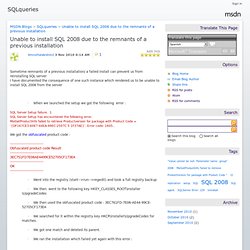 Unable to install SQL 2008 due to the remnants of a previous installation - SQLqueries
Sometime remnants of a previous installation/ a failed install can prevent us from reinstalling SQL server
This article describes how to uninstall a stand-alone instance of SQL Server.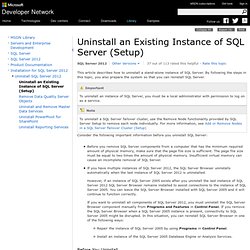 How to: Uninstall an Existing Instance of SQL Server (Setup)
DROP DATABASE (Transact-SQL)
Removes one or more user databases or database snapshots from an instance of SQL Server or user databases from the Windows Azure SQL Database server.
31 Days of Disaster Recovery Welcome to my series on Disaster Recovery. I will spend the entire month of January focusing on all things related to disaster recovery including topics like corruption, data integrity, data loss, DBCC commands, and more.
Day 1 of 31 Days of Disaster Recovery: Does DBCC Automatically Use Existing Snapshot? | SQLSoldier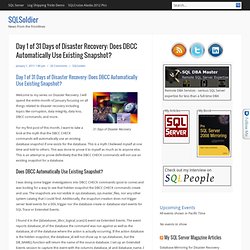 Trimming More Transaction Log Fat
In my previous post on streamlining the operations of the transaction log, I discussed two of the most common causes of extra log records being generated: dead weight from unused nonclustered indexes and page split operations (that cause index fragmentation).
Trimming the Transaction Log Fat
In many SQL Server workloads, especially OLTP, the database's transaction log can be a bottleneck that adds to the time it takes a transaction to complete.
Part 1 of a blog series visually demonstrating the layout of objects on data pages in SQL Server
Merrill Aldrich : Visualizing Data File Layout I
Part 2 of a blog series visually demonstrating the layout of objects on data pages in SQL Server
Merrill Aldrich : Visualizing Data File Layout II
Error on install : The INSTANCESHAREDWOWDIR command line value was not specified.
I am installing on Windows Server 2008 64 bit. We had to use the command line option, and the server installed fine, but during the installation of the tools, the setup stopped with Unknown error. Here is the extract from my log file(s):
Error message in the SQL Server Errorlog file after you upgrade SQL Server 2000 to SQL Server 2005 on a server that is running Windows Server 2003: "Unable to update password policy"
SQL Server Trace Flags
SAP on SQL Installation on Mount Points - Running SAP Applications on SQL Server - Site Home - MSDN Blogs
"UNDOCUMENTED" | SQLPort
SQL Servers Virtual Columns and Row Cracking
My saved files on SlideShare
sp_dbmmonitorresults (Transact-SQL)
database mirroring
SQL Server and the "Lock pages in memory" Right in Windows Server | Glenn Berry's SQL Server Performance
How to tell if you have instant initialization enabled? - Paul S. Randal
Using AWE Memory in SQL Server 2000
SQL Server 2005/2008/2012 Setup Checklist | Brent Ozar Unlimited
Great SQL Server Debates: Lock Pages in Memory
SetFileIoOverlappedRange Can Lead to Unexpected Behavior for SQL Server 2008 R2 or SQL Server 2012 (Denali) - CSS SQL Server Engineers
Scripting out SQL Server Logins
How to transfer logins and passwords between instances of SQL Server
Changing the default SQL Server backup folder
sp_BLITZ – SQL Server Takeover Script | Brent Ozar Unlimited
Immerse Yourself In SQL Server