Illustration
BRENDAN WENZEL / ILLUSTRATION | New work • Prints • and more from NY based Artist / Illustrator Brendan Wenzel.
katie vernon art + illustration
kailey lang illustration
The Duke of Chops rules and holds lands north of the Gruntsworth River as sovereign. He is the second child of the late King Zevon VI, Emperor of Verdis, and younger brother of the current king, Lord Zarren Hamfist. Young Zorr and his brothers and sisters, were captured by the dark wizard, Blacksnout, and held in his fortress for many years. While captive they learned and practiced the Pork Magics, a powerful sorcery based on the arcane elements formed in pigs. After many years in the fortress of Blacksnout, a teenage Zorr and Zarren, used their magical skills to escape. Blasting their way through thousands of enemies, the two brothers emerged victorious in what would be later known as the Battle of Butchers.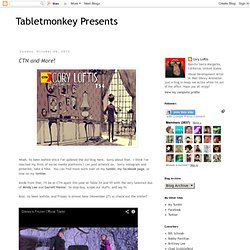 S.G.DeCarlo
CROWDED TEETH
AntimonyArt
Fran Giffard . Drawing
the artwork of Susie Ghahremani
Illustration Portfolio of Sami Viljanto
ESMORC Illustration & Fine Art
Kelly McKernan
Current & Upcoming Shows PRISMA Collective 2nd Annual Group Exhibition - February 15th // WWA Gallery // Los Angeles, California In Dreams - First Annual David Lynch Tribute Show - March 8th // Spoke Art // San Francisco, California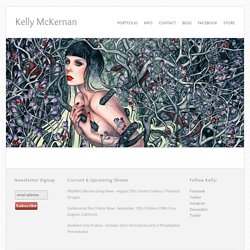 Sophie Blackall
geninne.com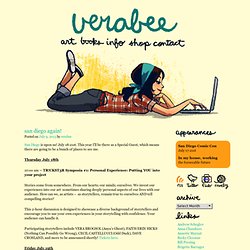 San Diego is upon us! July 18-21st. This year I'll be there as a Special Guest, which means there are going to be a bunch of places to see me. Thursday July 18th
hannahchristenson.com
- Home
RAYMOND LEMSTRA
Mai Ly Illustration
Maily Degnan is a Florida born illustrator who received her BFA at the Savannah College of Art and Design. She is currently living in Baltimore and studying at the Maryland Institute College of Art, where she is pursuing her MFA in Illustration Practice. Maily is obsessed with tedious line work and pattern making, along with creating humorous illustrations that make light of unfortunate events. She enjoys juxtaposing upsetting subject matter with children's-book-like illustrations. This pairing of opposites often comes across as quirky and offbeat, which is exactly her aesthetic. Some of Maily's favorite things include stop motion, mermaids, pugs, and John Waters.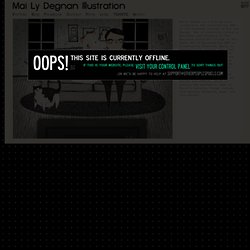 PHILIP GIORDANO
Doron Sohari - Home
Stephanie Engel Illustration
Caitlin Hackett Art and Illustration
Stephane TARTELIN ::: Illustration, Graphic design, Motion design ::: Paris, France :::
Main : Anna Parini
Meg Hunt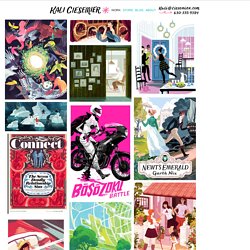 Making the World a Better Place Maria Callas Google Doodle Holiday Entertaining Tips Who Will Care For Me? Newt's Emerald
KALI CIESEMIER-Illustration
christiane Beauregard
Erika Moen
Design & Illustration | Welcome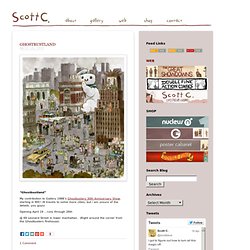 Hey, look! A NEW BOOK FOR YOU. GREAT SHOWDOWNS THE RETURN is the second collection in the Great Showdowns series.
Gabrielle Rose
Red Wombat Studio
Andy Council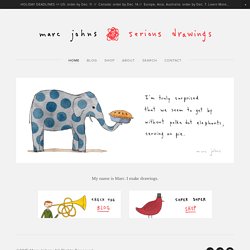 Paul Jarvis writes about entrepreneurship and carving your own path, among other things. I really enjoy his writing. So I was thrilled when he asked me to make a drawing for the cover of his latest book, Everything I Know (softcover
SonmiSonmi.com - The Visual Art of Julia Sonmi Heglund
Ryder Doty
BT Livermore: Illustrator, Letterist, Maker-of-Things
Esther Aarts Design, Illustration and Handlettering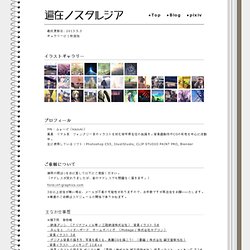 Ubiquitous nostalgia
最終更新日: 2013.5.3 ギャラリーに1枚追加 イラストギャラリー プロフィール HN : ふぉ~ど(kazuki) 風景・リアル系・ファンタジー系のイラストを好む岩手県在住の絵描き。背景画製作やCGの彩色を中心に活動中。
Matthew Forsythe
Caitlin Clarkson Illustration
LOUIS ROSKOSCH
Rory Kurtz Illustration Blog
Home - Jonathan Edwards Illustration
Jamie Littler Illustration
annaeatspaint
Daniel Krall
InklingArt: Emma Lazauski
Wendy MacNaughton
katiecandraw.com
Jonatan Iversen-Ejve
Amelie Mancini
LEFT FIELD CARDS