Lists
100 Movies to See Before You Die: The Modern Classics. The Top 100 Anime Movies of All Time. Www.ctrichard.com/files/Guardian1000Summary.pdf. Best Comedy of All Time - CollegeHumor. 13 killer films that take place in just one room.
Year in Review: The 15 Best Foreign Films of 2009. Martyrs* (Pascal Laugier, France) This brutal, bloody, and occasionally terrifying movie also made Robert Fure's Best Horror list, and it most definitely deserves the honor.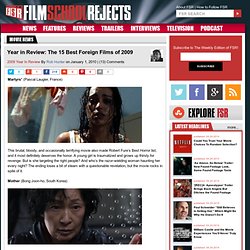 A young girl is traumatized and grows up thirsty for revenge. But is she targeting the right people? And who's the razor-wielding woman haunting her every night?
---