Web Design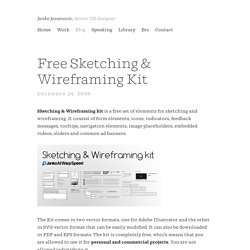 Sketching & Wireframing kit is a free set of elements for sketching and wireframing.
All sizes | iPhone Application Sketch Template v1.3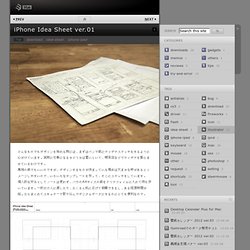 downloads iPhone Idea Sheet ver.01 download , idea-sheet , iphone-ipad どんなものでもデザインを始める際には、まずはペンで紙にアイデアスケッチをするように心がけています。
三階ラボ | iPhone Idea Sheet ver.01
To mock-up the user interface of a website, software or any other product, you'll need some basic UI elements. And this is where wireframing kits and UI design kits come in handy. When you want to create a low-fidelity prototype for your projects, you can use these kits to give your idea a certain shape, keeping it abstract and not losing yourself in details. In this post, we've prepared an overview of useful web and mobile user interface kits , handy PDFs and resources that you can use in your projects.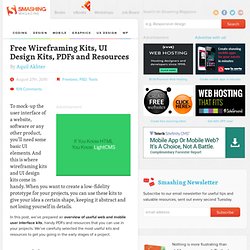 We often look at application design and website design as two different, if related, fields. The lines blur a bit with web apps (which are technically both apps and websites), but we still tend to try to compartmentalize them. Even designers who work on both kinds of designs often view them as separate things.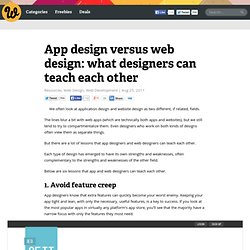 App design versus web design: what designers can teach each other
Sketching and wireframing are a specialized style of drawing, used for fleshing out preliminary complex ideas, group brain-storming, a lo-fi method for evaluating interaction concepts, and as a way of roughly perfecting a design technique. Sketch and wireframe paper is essentially drawing paper that is designed specifically for this purpose. You could use it for web page design, web app design, architectural or structural design, graphic design, movie direction, animation… basically any type of design that needs a physical creative outlet or group collaboration. Not all sketch and wireframe sheets are universal, most are specialized for a particular medium, such as storyboards and specialized grid paper (axonometric perspective templates). Below you will find a concise collection of ready to print sketching, wireframing and note-taking templates .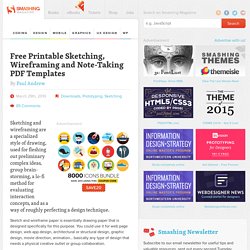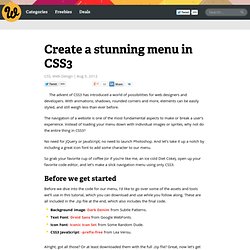 Create a stunning menu in CSS3
The advent of CSS3 has introduced a world of possibilities for web designers and developers. With animations, shadows, rounded corners and more, elements can be easily styled, and still weigh less than ever before.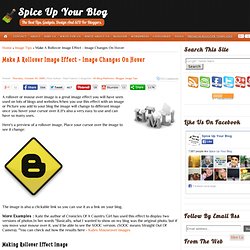 Make A Rollover Image Effect - Image Changes On Hover
A rollover or mouse over image is a great image effect you will have seen used on lots of blogs and websites.When you use this effect with an image or Picture you add to your blog the image will change to differant image once you hover your cursor over it.It's also a very easy to use and can have so many uses.
How do I Make An Image Change On MouseOver?
How do I make an image change on mouse over? This is a popular one. If you don't already know, this allows you to have an image on a web page, and when you place your mouse over that image, it changes to another one. This is a great way to make your site interactive. How to do it To add this to your web page, you first have to add the following code right after your <HEAD> tag, before your <title> tag.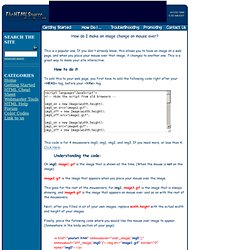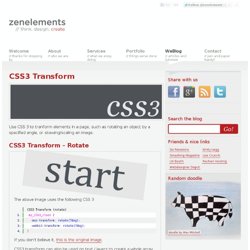 Use CSS 3 to tranform elements in a page, such as rotating an object by a specified angle, or skewing/scaling an image. The above image uses the following CSS 3 If you don't believe it, this is the original image . CSS3 transform can also be used on text / layers to create a whole array of exciting new designs.
CSS3 Transform
Prevent Menu "Stepdown"
Published by Chris Coyier If you are familiar with the concepts of "floats", you know that if you float a page element to the left, that the next page element will move up next to that element on the right, if possible.
I am running into some issues with IE7 that I can't seem to fix on my own.
stair step menu, slide show issues in ie7
CheatSheet
Gmap Uploader
Posted by Maggie on 02/27/2012 Topics: progressive enhancement
A Responsive Design Approach for Navigation, Part 1
We're going to build a simple, responsive web site navigation.
How to style Google Forms | Morning Copy
dConstruct 2012 - Media Queries
dConstruct 2012 · Home
Learn how to earn $125 or more per hour as a freelancer - Click Here One of the first posts on DesignM.ag was 101 Awesome Portfolio Sites , which drew an excellent response from readers. Many of the current readers/subscribers weren't around at that point, so if you enjoy seeing examples of excellent portfolio sites I encourage you to take a look. In the past few months I've seen a number of outstanding portfolio sites that weren't included in that post, so I put together this collection of another 50. UPDATE: We recently launched a gallery dedicated to showcasing the best portfolio sites – Folio Focus .