Regard sur les sociétés humaines
ASIE • Du business aux bonnes actions
Des millions d'individus vivent dans l'esclavage, victimes d'un trafic très difficile à combattre par les autorités. En Asie, des entreprises et des décideurs économiques viennent de créer un club discret pour lutter contre ces pratiques, témoigne le China Daily. Pendant la journée, ils exercent les métiers les plus prestigieux de Hong Kong : ils sont banquiers, experts-comptables, avocats ou cadres supérieurs dans les télécoms.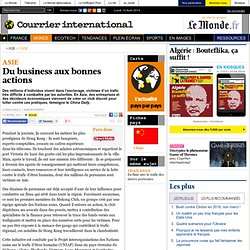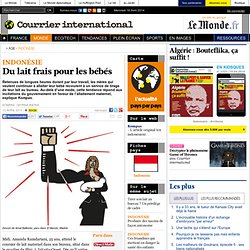 INDONÉSIE • Du lait frais pour les bébés
Retenues de longues heures durant par leur travail, les mères qui veulent continuer à allaiter leur bébé recourent à un service de tirage de leur lait au bureau. Au-delà d'une mode, cette tendance répond aux incitations du gouvernement en faveur de l'allaitement maternel, explique Kompas. Midi.
Hamza al-Khatib, un enfant battu à mort, devient l'emblème de la révolution - SYRIE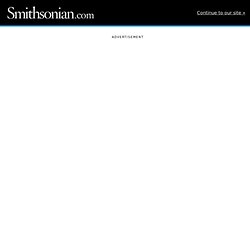 Little Franklin Delano Roosevelt sits primly on a stool, his white skirt spread smoothly over his lap, his hands clasping a hat trimmed with a marabou feather. Shoulder-length hair and patent leather party shoes complete the ensemble. We find the look unsettling today, yet social convention of 1884, when FDR was photographed at age 2 1/2, dictated that boys wore dresses until age 6 or 7, also the time of their first haircut. Franklin's outfit was considered gender-neutral. But nowadays people just have to know the sex of a baby or young child at first glance, says Jo B. Paoletti, a historian at the University of Maryland and author of Pink and Blue: Telling the Girls From the Boys in America, to be published later this year.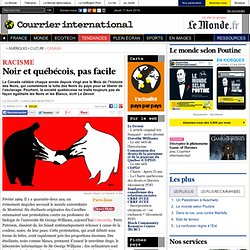 RACISME • Noir et québécois, pas facile
Le Canada célèbre chaque année depuis vingt ans le Mois de l'histoire des Noirs, qui commémore la lutte des Noirs du pays pour se libérer de l'esclavage. Pourtant, la société québécoise ne traite toujours pas de façon égalitaire les Noirs et les Blancs, écrit Le Devoir. Février 1969.