Social Media
The Social Media Salary Guide [INFOGRAPHIC] Social Media Week is upon us, so we thought it would be appropriate to delve into the social media industry and see how its salaries stack up.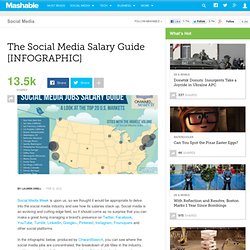 Social media is an evolving and cutting-edge field, so it should come as no surprise that you can make a great living managing a brand's presence on Twitter, Facebook, YouTube, Tumblr, LinkedIn, Google+, Pinterest, Instagram, Foursquare and other social platforms. In the infographic below, produced by OnwardSearch, you can see where the social media jobs are concentrated, the breakdown of job titles in the industry, and how much dough the average social mediate is bringing home each year. (The graphic shows the 25th and 75th percentiles for salary, pulled from Indeed). 5 Essential Spreadsheets for Social Media Analytics. Ann Smarty is a search marketer and full-time web entrepreneur.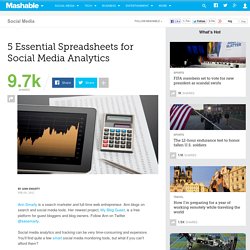 Ann blogs on search and social media tools. Her newest project, My Blog Guest, is a free platform for guest bloggers and blog owners. Follow Ann on Twitter @seosmarty. Social media analytics and tracking can be very time-consuming and expensive. You'll find quite a few smart social media monitoring tools, but what if you can't afford them? 10 Tips for Creating a Social Media Policy for Your Business. Policy.
It can be a dirty word, especially in social media communities. Why? Poorly written social media policies restrict, deter and deaden social media engagement–the exact opposite of what businesses want. However, great social media policies support, protect and empower high-quality engagement. It is about empowerment and trust. Social media - Social commerce revenues will grow sixfold in five years, says a new report. While few retailers have reported sustained success with selling products on Facebook, social commerce is set to take off over the next five years as consumers and retailers become accustomed to buying from social media storefronts, according to a report by consulting firm Booz & Co.
The report, "Turning 'Like' to 'Buy': Social Media Emerges as a Commerce Channel," estimates that social commerce sales will reach $5 billion worldwide this year, with $1 billion coming from the United States. By 2015, social commerce sales will total $30 billion, with $14 billion coming from the United States. The report defines social commerce as a channel in which consumers make purchases within a social network's platform, rather than at a retailer's e-commerce site. Turning "Like" to "Buy": Social Media Emerges as a Commerce Channel. Turning "Like" to "Buy": Social Media Emerges as a Commerce Channel by Matt Anderson, Jennifer Brusa, Jerell Price, and Joe Sims Published: January 19, 2011 The market for social commerce (s-commerce) will explode over the next five years as companies race to establish stores on social networking sites.
As this growth surge happens, social commerce will take its place alongside stores, telesales, and the more traditional Web to emerge as a significant sales channel in its own right. Improving social media monitoring…
---