#NewhouseSM4
Penn State spent $5M on crisis comms, investigations. Penn State University has spent more than $5.3 million on firms for internal investigations and crisis communications, including work done by Ketchum and Kekst and Company.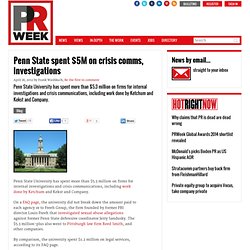 On a FAQ page, the university did not break down the amount paid to each agency or to Freeh Group, the firm founded by former FBI director Louis Freeh that investigated sexual abuse allegations against former Penn State defensive coordinator Jerry Sandusky. The $5.3 million-plus also went to Pittsburgh law firm Reed Smith, and other companies. By comparison, the university spent $1.2 million on legal services, according to its FAQ page. How Streaming Video Is Killing the DVD [INFOGRAPHIC] Will the DVD die off like the LaserDisc and VHS Tape before it?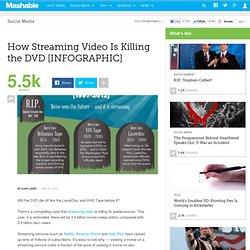 There's a compelling case that streaming video is killing its predecessors. This year, it is estimated, there will be 3.4 billion movie views online, compared with 2.4 billion disc views. Shazam signs exclusive advertising partnership with ITV. 4 Reasons Pinterest Wins with Women (And Facebook Loses) Look out Facebook FB +7.24%.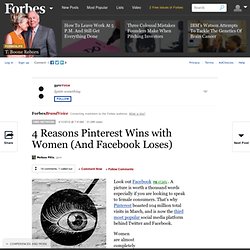 A picture is worth a thousand words especially if you are looking to speak to female consumers. That's why Pinterest boasted 104 million total visits in March, and is now the third most popular social media platform behind Twitter and Facebook. Women are almost completely responsible for Pinterest's success—according to Inside Network's AppData. In fact, 97 percent of the site's users are women. Women trust recommendations from Pinterest more than any other platform, per BlogHer's annual study on women and social media.
Broadcast Yourself. Path, FamilyLeaf and Pair, Small-by-Design Social Networks. 5 User-Friendly Tools for Building Your Online Portfolio. Heather R.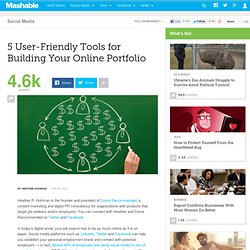 Huhman is the founder and president of Come Recommended, a content marketing and digital PR consultancy for organizations with products that target job seekers and/or employers. You can connect with Heather and Come Recommended on Twitter and Facebook. In today's digital world, your job search has to be as much online as it is on paper. Social media platforms such as LinkedIn, Twitter and Facebook can help you establish your personal employment brand and connect with potential employers — in fact, almost 90% of employers are using social media to recruit potential employees [PDF].
What better way to have all of your online and offline job search tools in one place than in a portfolio? The $1 Billion Instagram Success Story, Instagram Style. 191 Flares1131494510--×191 Flares Okay, so by now everyone and their mother has more than likely heard about the sale of photo app Instagram to Facebook for $1 billion in shares and cash.
There are already a phalanx (awesome word, if maybe misplaced here) of posts from bloggers and analysts talking about the reasons for the sale, and what it means for Facebook and, more importantly perhaps, Instagram. 6 reasons PR is so stressful. One of my more colorful bosses was a communications exec with a distinguished military background.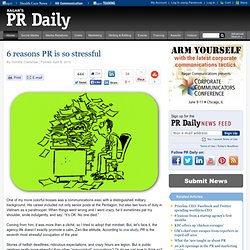 His career included not only senior posts at the Pentagon, but also two tours of duty in Vietnam as a paratrooper. When things went wrong and I went crazy, he'd sometimes pat my shoulder, smile indulgently, and say: "It's OK. No one died." Coming from him, it was more than a cliché, so I tried to adopt that mindset. But, let's face it, the agency life doesn't exactly promote a calm, Zen-like attitude. Instagram Users Fail to Welcome Their New Overlord. What is Crowdsourcing? Facebook Acquires Instagram in $1 Billion Deal. Facebook has made its first significant purchase, acquiring the hot mobile photo-sharing app Instagram for $1 billion.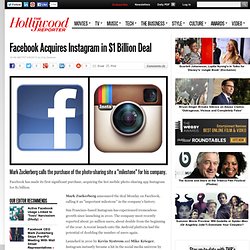 Mark Zuckerberg announced the deal Monday on Facebook, calling it an "important milestone" in the company's history. San Francisco-based Instagram has experienced tremendous growth since launching in 2010. The company most recently reported about 30 million users, about double from the beginning of the year. A recent launch onto the Android platform had the potential of doubling the number of users again. Tumblr. This Creepy App Isn't Just Stalking Women Without Their Knowledge, It's A Wake-Up Call About Facebook Privacy.
This app is meant to all be in good fun, but it's potentially a weapon in the hands of stalkers.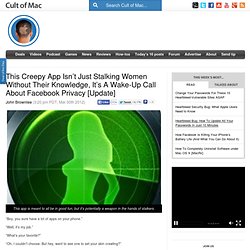 "Boy, you sure have a lot of apps on your phone." "Well, it's my job." "What's your favorite?" "Oh, I couldn't choose. Share photos and videos on Twitter. The State Of LiveJournal — Stats & Growth Over The Years [Exclusive Infographic] With all the buzz around newer social networks like Twitter, Facebook, Path, and Pinterest, it's easy to forget that there are older social networks out there that are still thriving.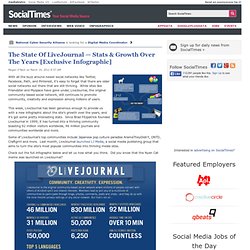 While sites like Friendster and Myspace have gone under, LiveJournal, the original community-based social network, still continues to promote community, creativity and expression among millions of users. This week, LiveJournal has been generous enough to provide us with a new infographic about the site's growth over the years, and it's got some pretty interesting stats. Social Media 101. The History of the Internet [infographic] What Is The Lowdown On Downloading Mobile Apps. Social TV highlights and takeaways from SXSW. Both Natan and I enjoyed a few days in Austin for SXSW Interactive this week, navigating even longer lines than last year, dodging the occasional rainstorm and searching for 3G service that actually worked.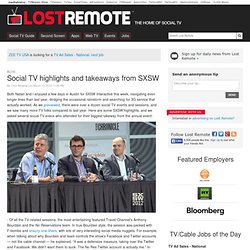 As we previewed, there were over a dozen social TV events and sessions, and we saw many more TV folks compared to last year. Here are some SXSW highlights, and we asked several social TV execs who attended for their biggest takeway from the annual event: SXSW Buzz: Integrating Brands in Social TV. Among the most-discussed topics at this year's South by Southwest (SXSW) Interactive conference held in Austin, Texas, was the increasing interaction between television and social media.
Jonathan Carson, CEO of Digital for Nielsen, kicked off a panel discussion by sharing the latest insights on how consumers are engaging with television programming via social media. Social buzz about TV content is widespread, evolves over the course of a season, and spikes around premieres and finales, which can result in a rise in ratings, Carson noted. Two weeks prior to a particular finale, for example, a 14 percent increase in buzz volume correlated to a one percent increase in ratings for people 18-34 years old.
Carson also said that increased smartphone and tablet penetration will likely boost simultaneous usage between TV and mobile devices through real-time social conversations. Madonna Plays Social-Media Game Just Right To Promote MDNA. Madonna may not be on Twitter, but she's got her social-media game face on in the lead-up to the release of her 12th studio album, MDNA — and we think she's doing a savvier job of promoting her album than most stars better known for their social-media presence. While Lady Gaga, Justin Bieber and Rihanna have adopted Twitter as their forum of choice when communicating with fans, Her Madgesty has been ramping up her Facebook presence as MDNA's March 26 release nears.
She's been socializing minute-long snippets of several MDNA album tracks — including "I'm Addicted" and "Gang Bang" — posting behind-the-scenes pictures of tour rehearsals and polling her fans about which back-catalog songs they'd like to hear when she hits the road. Is Pinterest Driving More Traffic Than Twitter? [STATS] Instagram hits 27 million users, says Android app coming 'soon' Peel App Takes Next Step in Social TV. 17% use social networks to discover new TV shows. To Follow or Not to Follow: Should Small Businesses Follow Everyone Back on Twitter? Oxygen Media Partners With ACTV8.ME for THE GLEE PROJECT Season 2. How Social TV Helped Save a Fox Sports Marketing Campaign | Trending Topics: What's Hot Right Now in Social Media.
AmEx & Twitter's "Sync – Tweet – Save" Program | Bluefin Labs: Social TV Analytics. TV viewing being driven by social media buzz, says report - Media News. Inside look at Time Warner Cable Media's approach to social TV. Video Chatting w/Ken Burbary of Digitas in #NewhouseSM4 · anjudd.
---