Flickr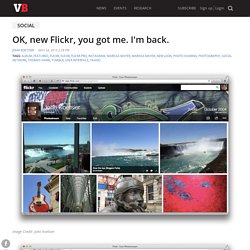 OK, new Flickr, you got me. I'm back.
I knew something good was happening when I saw the rectangles. This week I did something that I hadn't done for five months and 12 days: I went to Flickr on my laptop, accessed some photos on my hard drive, uploaded them, named them, tagged them, and organized them in a set.
6 April 2012 17:42 GMT / By Danny Brogan Flickr has improved its editing suite after partnering with Aviary. Written in HTML5, Aviary's editor also makes it possible for Flickr users to touch up and improve their photos on their Apple iPad, something that wasn't possible previously.
Flickr improves editing suite with Aviary partnership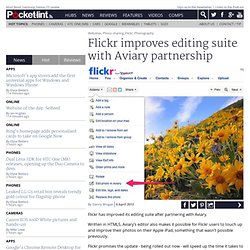 Flickr disables Pinterest pins on all copyrighted images (exclusive)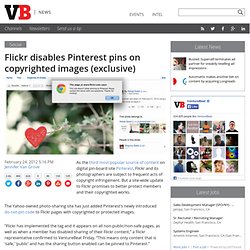 As the third most popular source of content on digital pin-board site Pinterest , Flickr and its photographers are subject to frequent acts of copyright infringement. But a site-wide update to Flickr promises to better protect members and their copyrighted works.
Flickr will be rolling out a number of changes in the coming months, beginning with a new photo stream design, Justified View, and a new uploading feature, Uploadr.
Flickr Gets a Makeover, Looks Like Pinterest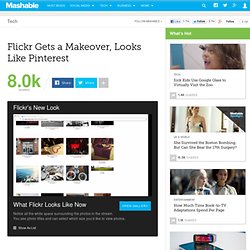 Flickr 2011: The Year in Photos | Social Media Optimization & Search Engine Optimization
When I talk Social Media with people, clients and potential clients the focus is really placed on Facebook. I absolutely love the power of Facebook, because of the huge number of people that are engaged in sharing amazing content on a daily basis.
The Importance of Flickr In Your Marketing Mix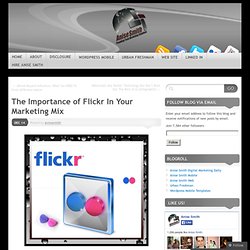 Flickr for Android Beats Instagram to The Punch
Yahoo's Flickr is about to punish the popular photo-sharing iPhone app Instagram for not releasing an Android version yet. Flickr launched its Android app Wednesday — complete with Instagram-like filters. The new Android app brings the Flickr photo stream to Google's mobile OS.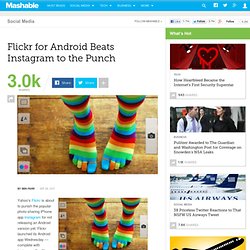 #Flickr, #GeoFences and your #Privacy: Pay attention
Amid Photo-sharing Boom, Flickr Wanes
On the back of the rise of upstarts like Instagram and Tumblr, the seven-year-old photo-sharing stalwart Flickr may be "dying", said Nick Douglas of Slacktory . Douglas designed a few charts to visualize the downward slope Flickr is experiencing in terms of the number of photos uploaded by its users.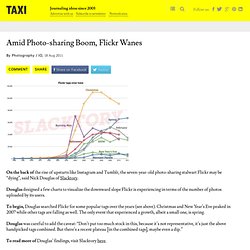 Instagram is booming twice as much as #Flickr
Klout adds #Blogger, #Tumblr, #Instagram, #Flickr & #Last.FM
#Klout adds #Blogger, #Tumblr, #Instagram, #Flickr & #Last.FM
anisesmith.amplify
Empire Avenue Chat web event
Galerie de Anise Smith