Flickr
Flickr – The Solution to Your Photo Storage Issues. Having a camera on your phone means you can take plenty of pictures anytime, anywhere for free.
Those special moments can be easily preserved for prosperity, but there are some downsides to cell phone pictures. First, the space on your phone can be consumed by your photos so you run out of space for other things, such as apps, music and other data. OK, new Flickr, you got me. I'm back. I knew something good was happening when I saw the rectangles.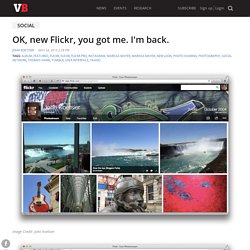 This week I did something that I hadn't done for five months and 12 days: I went to Flickr on my laptop, accessed some photos on my hard drive, uploaded them, named them, tagged them, and organized them in a set. The magic of the Internet happened before my eyes, and they joined the other rectangular images on the venerable photo-sharing site. And finally, for the first time in almost half a year, I had something beside square pics on my Flickr photostream. Yahoo announced its massive revamp of the Flickr service with three missing Es, calling the updated site Biggr, Spectaculr, and Wherevr.
But really, the update boils down to two massive changes: Dropping freemium and making an old and tired user interface awesome. Flickr improves editing suite with Aviary partnership. Flickr has improved its editing suite after partnering with Aviary.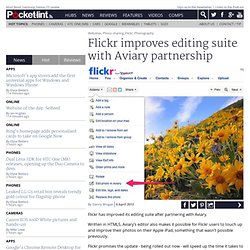 Written in HTML5, Aviary's editor also makes it possible for Flickr users to touch up and improve their photos on their Apple iPad, something that wasn't possible previously. Flickr promises the update - being rolled out now - will speed up the time it takes to edit a photo online as well as how quickly it takes to initially upload your pics. Flickr disables Pinterest pins on all copyrighted images (exclusive) As the third most popular source of content on digital pin-board site Pinterest, Flickr and its photographers are subject to frequent acts of copyright infringement.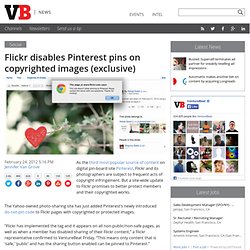 But a site-wide update to Flickr promises to better protect members and their copyrighted works. The Yahoo-owned photo-sharing site has just added Pinterest's newly introduced do-not-pin code to Flickr pages with copyrighted or protected images. "Flickr has implemented the tag and it appears on all non-public/non-safe pages, as well as when a member has disabled sharing of their Flickr content," a Flickr representative confirmed to VentureBeat Friday. "This means only content that is 'safe,' 'public' and has the sharing button enabled can be pinned to Pinterest." Pinterest, as a refresher, is the digital pin-board site that encourages members to "pin," via bookmarklet, the products, recipes, clothes, photos, and other items they love to collections called boards. Flickr Gets a Makeover, Looks Like Pinterest. Flickr will be rolling out a number of changes in the coming months, beginning with a new photo stream design, Justified View, and a new uploading feature, Uploadr.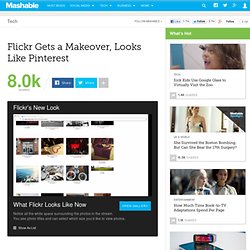 Markus Spiering, Flickr head of product, discussed these changes with Mashable Tuesday. The company's main focus, he says: user engagement. Justified View, which will go live Feb 28, trades Flickr's current white space-filled layout for something that looks a lot more like Pinterest (as has become the trend in web design). Flickr 2011: The Year in Photos | Social Media Optimization & Search Engine Optimization.
The Importance of Flickr In Your Marketing Mix. When I talk Social Media with people, clients and potential clients the focus is really placed on Facebook.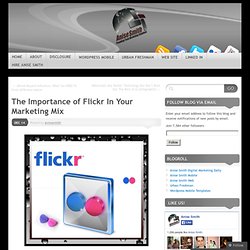 I absolutely love the power of Facebook, because of the huge number of people that are engaged in sharing amazing content on a daily basis. I am lucky to have an amazing group of people sharing amazing information on a regular basis. Facebook is HUGE, but we can't get lost in its power and do ourselves a disservice to our entire social media presence. Think about some of the things that are shared on Facebook. We see news stories, video and pictures. Flickr for Android Beats Instagram to The Punch. Yahoo's Flickr is about to punish the popular photo-sharing iPhone app Instagram for not releasing an Android version yet.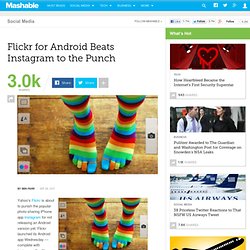 Flickr launched its Android app Wednesday — complete with Instagram-like filters. The new Android app brings the Flickr photo stream to Google's mobile OS. #Flickr, #GeoFences and your #Privacy: Pay attention. Amid Photo-sharing Boom, Flickr Wanes. On the back of the rise of upstarts like Instagram and Tumblr, the seven-year-old photo-sharing stalwart Flickr may be "dying", said Nick Douglas of Slacktory.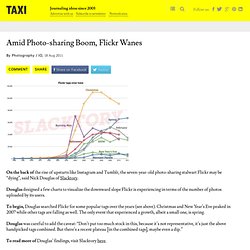 Douglas designed a few charts to visualize the downward slope Flickr is experiencing in terms of the number of photos uploaded by its users. To begin, Douglas searched Flickr for some popular tags over the years (see above). Christmas and New Year's Eve peaked in 2007 while other tags are falling as well. The only event that experienced a growth, albeit a small one, is spring. Douglas was careful to add the caveat: "Don't put too much stock in this, because it's not representative, it's just the above handpicked tags combined. Instagram is booming twice as much as #Flickr. Klout adds #Blogger, #Tumblr, #Instagram, #Flickr & #Last.FM. #Klout adds #Blogger, #Tumblr, #Instagram, #Flickr & #Last.FM. Anisesmith.amplify. Empire Avenue Chat web event.
Galerie de Anise Smith.
---