Anisesmith
Anise Smith
Anise Smith Marketing, Full Sail Graduate, QR Code Marketer.
Buddypress. Plugins.
NFC: Near Field Communications. Branding. Virtual Worlds. Tweakpress. Positively Social. Cloud Computing. Pearlnet. Augmented Reality. Semantic Web 3.0. QR Codes. Social Media. Anise's #SocialEmpire. Empire Avenue. Ryanjz. #UsGuys. Josepf. Delicious. Pearltrees videos.
Anisesmith. Location Philadelphia, PA, US About Anise Smith Graduate of Full Sail University, Internet Marketing Masters Degree program: Specializing in Mixing Traditional Marketing such as Print, Web and Promotional Products with New Media Marketing Technologies such as Social Medial Marketing, Mobile Marketing and Virtual Worlds.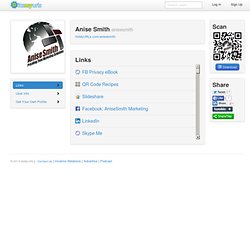 Throw in some Search Engine Optimization, Social Media Optimization and Web Analytics, now that's what I call a Marketing Mix. Help.
E-A-G-L-E-S
---
anisesmith Dec 13 2010

Hey Josepf...it is really WOW! I am playing around getting the hang of it. Would love to join #USGuys...let me know what I need to do.

josepf Dec 13 2010

also, added you to my "pearltree" so can easily follow you. :-) You should join #UsGuys hastag on Twitter!!!!

josepf Dec 13 2010

Anise -- pretty cool or what? (generic advice sending to all) -- IMPORTANT NOTES -- please do not duplicate effort - just content. meaning IF something is already shared you can preview it and "Duplicate" it. Way cool feature. So say you do your own Pearltree on your Favorite Blogs? I can "duplicate, add to #UsGuys and as you make changes they will automatically flow over to my clone... Please feel free to shout out with any questions!!!
---