Anisesmith
Anise Smith
Anise Smith Marketing, Full Sail Graduate, QR Code Marketer.
NFC: Near Field Communications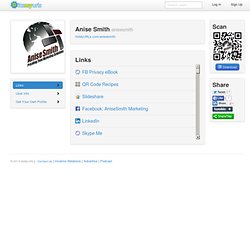 Location Philadelphia, PA, US About Anise Smith Graduate of Full Sail University, Internet Marketing Masters Degree program: Specializing in Mixing Traditional Marketing such as Print, Web and Promotional Products with New Media Marketing Technologies such as Social Medial Marketing, Mobile Marketing and Virtual Worlds. Throw in some Search Engine Optimization, Social Media Optimization and Web Analytics, now that's what I call a Marketing Mix.
anisesmith