Amalthea - Laff's
13 Simple Steps To Get You Through A Rough Day. 23 Pictures Of Justin Timberlake Doing Amazing, Amazing Things. LOTS OF PUNS. ...A guy goes into a nice restaurant bar wearing a shirt open at the collar and is met by a bouncer who tells him he must wear a necktie to gain admission.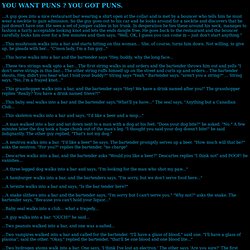 So the guy goes out to his car and he looks around for a necktie and discovers that he just doesn't have one. He sees a set of jumper cables in his trunk. In desperation he ties these around his neck, manages to fashion a fairly acceptable looking knot and lets the ends dangle free. He goes back to the restaurant and the bouncer carefully looks him over for a few minutes and then says, "Well, OK, I guess you can come in -- just don't start anything. " Greg Rutters Definitive List of The 99 Things You Should Have Already Experienced On The Internet Unless Youre a Loser or Old or Something. 17 things no one probably have told you yet (comics by alex noriega) - wave avenue. Posted by rd on Monday, August 15, 2011 · Mozambique based illustrator Alex Noriega loves drawing, reading and drawing even more.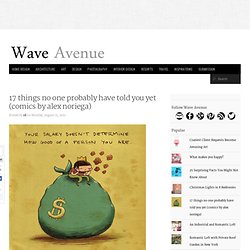 Alex was born and raised in Barcelona, went to Llotja, an art and illustration school also in Barcelona. Ohhh shit | highDEAS. Fallen Princesses by Dina Goldstein. An orphan baby raccoon. Floating Soccer Pitch on Devour. Awesome Avengers scenes. How to make your friends like you. C-c-c-C-C-C-ongo breaker! Posts in the Wit and Wisdom Category at Funny Facebook Status Updates. Your Daily Life in GIFs (5.14.12) When you break up with someone: When someone on Facebook is fishing for compliments: When you're in the club with a friend: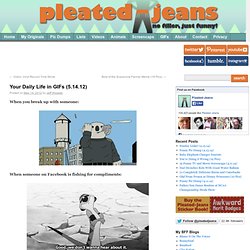 "Graduation, Then and Now" by Caldwell Tanner. Just a waterdrop in front of a world map. My fridge has a mustache... Your argument is invalid. My Shower Routine. To Do List - 101photography. Untitled. 15 Awesome Photographs of Animals Posing for The Camera. We have compiled many cute animals posts in the past and you guys have always appreciated the idea of random cuteness but this time we decided to come up with something that is more of professional photography yet entertaining.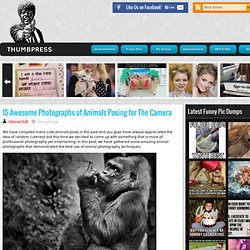 In this post, we have gathered some amazing animal photographs that demonstrated the best use of animal photography techniques. Photograph by Scott Denny. 20 GIF Reactions to Real-Life Situations (9.26.11) | Here's a fresh round of animated GIFs that perfectly characterize how it feels when we encounter these everyday scenarios.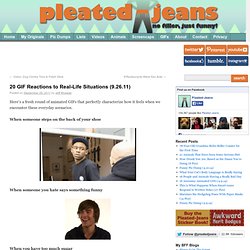 When someone steps on the back of your shoe When someone you hate says something funny When you have too much sugar When you see your ex after the breakup. A Guide To Recognizing 21st-Century Subcultural Tribes. The Most WTF iPhone Texts | Runt Of The Web. The iPhone may represent technological innovation at its height.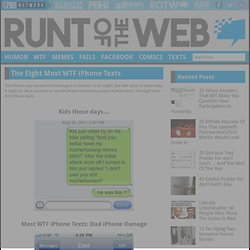 But with some of these texts, it might be more accurate to say the iPhone represents people at their worst. The eight most WTF iPhone texts: Kids these days… Most WTF iPhone Texts: Dad iPhone Ownage Mom humiliates her son over text. Hilarious anonymous notes left on neighbours doors. By Daily Mail Reporter Updated: 07:53 GMT, 14 February 2012 It is the unfortunate reality of tightly-packed apartment blocks and high rises: the annoying neighbour.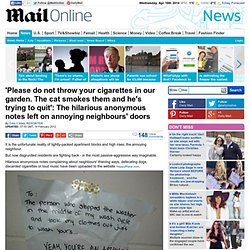 But now disgruntled residents are fighting back - in the most passive-aggressive way imaginable. Hilarious anonymous notes complaining about neighbours' thieving ways, defecating dogs, discarded cigarettes or loud music have been uploaded to the website HappyPlace.com. Epic Facebook Fail & EPIC FAIL .COM : #1 Source for Epic Fail and Fail Pictures, Fail Videos, and Fail Stories. Epic Facebook Fail57 By jason in Net Fail on April 1, 2011 Browsing: Epic Facebook Fail Share: FACEBOOK twitter Comment: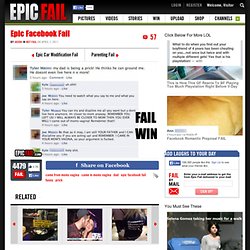 Overheard on the Goldman Sachs Elevator. An anonymous career banker inside Goldman Sachs opened a twitter account (@GSElevator) with the intention of revealing the hilarious banter that takes place in the privacy of the GS elevators.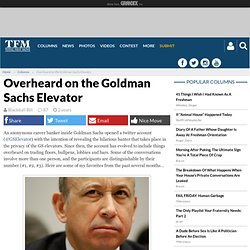 Since then, the account has evolved to include things overheard on trading floors, bullpens, lobbies and bars. Some of the conversations involve more than one person, and the participants are distinguishable by their number (#1, #2, #3). Here are some of my favorites from the past several months… #1: She's only about 3 weeks of anorexia away from looking hot. #2: Maybe 4. #1: Hey fat fuck, I already know what your resolution is. MAGIC GREEN HAT from Joe Burton - StumbleUpon. Parents Shouldn't Text & Dad Wins - StumbleUpon. Party Rules - StumbleUpon. - StumbleUpon. I Raff I Ruse.
---