Frank Lloyd Wright
Frank Lloyd Wright Foundation
Frank Lloyd Wright - Louis Penfield House - Willoughby Hills, Ohio
Graycliff - Wright on the Lake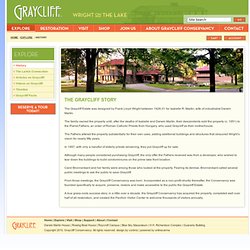 The Graycliff Estate was designed by Frank Lloyd Wright between 1926-31 for Isabelle R. Martin, wife of industrialist Darwin Martin. The family owned the property until, after the deaths of Isabelle and Darwin Martin, their descendents sold the property (c. 1951) to the Piarist Fathers, an order of Roman Catholic Priests from Hungary, who used Graycliff as their motherhouse. The Fathers altered the property substantially for their own uses, adding additional buildings and structures that obscured Wright's vision for nearly fifty years. In 1997, with only a handful of elderly priests remaining, they put Graycliff up for sale.
Frank Lloyd Wright | The Cooke House | Virginia Beach
The Ennis House - Frank Lloyd Wright, Los Angeles 1924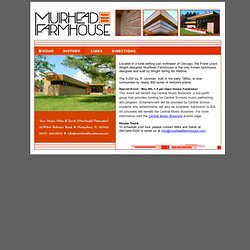 Located in a rural setting just northwest of Chicago, the Frank Lloyd Wright-designed Muirhead Farmhouse is the only known farmhouse designed and built by Wright during his lifetime. The 3,200 sq. ft. Usonian, built in the early 1950s, is now surrounded by nearly 800 acres of restored prairie. Special Event - May 4th, 1-5 pm Open House Fundraiser This event will benefit the Central Music Boosters, a non-profit group that provides funding for Central Schools music performing arts program.
Muirhead Farmhouse Bed & Breakfast
Frank Lloyd Wright's Martin House Complex :: Home